More than a month ago, I wrote a column about a tragedy which had occurred in New York City in which the victim had been the young Belizean bride in a wedding I attended during the summer of 1966 in New York City. All I knew of Mrs. Junior Reneau was that her first name was Carlota, that she was light-skinned, and beautiful, and that her mother was dark-skinned.
Well, the lady Gertrude Smith Flowers (the former Radio Belize star) filled in some blank spaces when she flew home from New York last month for her dad's funeral in Rancho Dolores. Gertrude, who has been a loyal friend of mine for many, many years, made a visit to the newspaper to do some business after the funeral, and she tied up several loose ends after nearly fifty years of questions on my side.
Gertrude told us in the newspaper office that Carlota Moss was in the class ahead of hers at Pallotti High School. She remembers that Carlota was beautiful, yes, that she had come to Belize from Honduras, and that she likely left Belize, British Honduras, in 1964, perhaps before graduating.
In my column, I had mentioned that I remember tamales being served at the wedding, my sense being that the bride's mom had made some, and they were delicious. I did not mention that I also remember the bride's mom chiding my small group of young guys at the wedding reception for some over-exuberance or the other on our part, and I remember thinking at the time that the older immigrants from Belize, like herself, were seriously impressed by being in America. And so, I thought at the time of the violent tragedy of how totally devastated Carlota's mom must have been. (It had been clear that Carlota was the apple of her mom's eye.) My sense was, then, that before the unthinkable occurred, it must have been for Carlota's mom that America was "all good," as we would say.
##########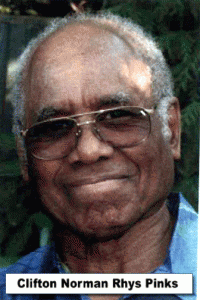 Back in 2014, I had received the funeral program for a Belizean who travelled to England to fight in the ranks of the Royal Air Force (RAF) during World War II. Through the years, every now and then I had heard Clifton Pinks' name mentioned by people like my dad, who studied briefly in London in the late 1950s, and the lady Nadia Cattouse, who has lived in England from the time I was a child, perhaps before I was even born.
I'd preserved the funeral program for Clifton Norman Rhys Pinks, buried in Staffordshire on Friday, September 19, 2014, ever since then, with the intention, always, to use it as reference in writing a column about his life, thus opening a larger discussion on the many untold stories of Belizeans who travelled to England and Scotland in the 1940s to defend the "motherland," and built families and lives there over the decades.
The late, great Clifton Pinks was born in Belize in 1923, attended St. John's College, and worked briefly in the British Honduras civil service. In 1941 he volunteered to train as an officer in the RAF, based in Canada, and he arrived in England in 1943 to serve in the RAF as a Signalman Air Gunner. He met Margaret Mary Tivey in Manchester in 1945, married her and raised a family in England. Clifton flew back to British Honduras with the first plane with medical relief after Hurricane Hattie in 1961.
Clifton Pinks was RAF welterweight boxing champion and the RAF champion in the 100 and 220 yard sprints, and the hop, skip, and jump. He was also Scottish Universities champion in the 100 and 220 yard sprints. He was married for 65 years, fathered five children, and was survived by ten grandchildren and four great grandchildren.
Mr. Pinks was also a basketball referee and Secretary for the English and RAF Basketball Associations. He retired from the Ministry of Defence in 1988. Between 1988 and 2000, he represented Belize at Royal Commonwealth Ex-Servicemen League functions, meeting Nelson Mandela, the Queen, Prince Phillip and other dignitaries. He carried the flag for Belize at the Albert Hall for the Remembrance Service.
##########
I would like to take this opportunity, with your kind permission, to acknowledge the Christmas and holiday greetings sent to me by post by the families of Leo Gomez in Houston, Texas, and Darrel and Linda Belisle in Encino, California. Darrel is a cousin of mine. He is the son (or possibly the grandson) of my maternal granduncle, Kenny Belisle.
Nowadays, I do my correspondence with electronic mail, and so, not being in possession of any e-mail addresses (only house addresses) for the Leo Gomez family and Darrel, this is how I have to acknowledge their warm thoughts. (I am reminded of how reluctant we older folk at Amandala were to become computerized when Glenn Tillett returned from New York in 1991 with his modern thinking.)
And while I'm at it, I may as well send my best wishes and express my gratitude for their kindnesses over the years to Gertrude Smith (of course) and Goldbourne Simpson in New York City and Evondale Coburn, who moves between Florida and Georgia. These are faithful friends of mine, and I wish them much love and many blessings.