On Baron Bliss Day, 9th March, 1928, the writer journeyed on his bicycle from Belize to the Pine Ridge area near Freetown on the Old River, about ten miles, to witness a cricket match. On arrival he found quite a large number of people from Belize, including thirty or forty bicycles and four motor cars. On returning the idea came to him of organizing an expedition from Belize to Cayo on bicycles.
At first the subject was dismissed as impossible. But, like a recurring decimal sum, the thought came back again and again.
On arrival at Belize it was mentioned to Mr. Hildebrand W. Haylock, who at once pledged his wholehearted support. The next morning the proposal was mentioned to Lt. Col. The Hon. James Cran, M.D., O.B.E., V.D. (then Principal Medical Officer), and Miss L. M. Roberts, the indefatigable and efficient Matron of the Public Hospital. The Matron at once said it was an excellent idea and that she would gladly give a contribution of $5.00. The Colonel said, "I cover that amount." Due, therefore, to the encouragement and sympathy of the above named persons, the Expedition immediately took definite shape.
– Monrad Siegfried Metzgen in BLAZING TRAILS, 1928, discovered by Emory King in 2002 and printed by BRC Printing.
Belize City has changed so much over the last four, five, decades. Migration to the United States has taken place from all the urban areas of the nation (Corozal Town, Orange Walk Town, San Ignacio/Santa Elena, Benque Viejo, Dangriga, Punta Gorda), but the change is most stunning in Belize City because the ethnic flavor of the old capital was so distinctly black back then. In these last four, five decades, the territory of Belize, formerly the colony of British Honduras, has moved from a time when the clear majority of the population was black to today, when blacks are definitely in the minority.
Belize's change in ethnic makeup was effected without any kind of social upheaval because black Belizeans were happy to move from Belize to the big cities of the United States – New Orleans, New York City, Chicago, and Los Angeles, in the first instance, and afterwards Houston, Miami, and Atlanta. The masses of the Belizean people, especially those in Belize City, saw this place as primarily swamp (most of us didn't know our own country), and even though the 1960s were a time of surging nationalism here, the evidence is that the majority of black Belizeans saw a better future for themselves over there in the big cities of the United States. This is real.
During the 1960s and 1970s, and into the 1980s, most Belizean/Americans who reached a financial position where they could visit Belize for a holiday, did so during the September celebrations month. Christmas visits were always a big deal, but September was surely the bomb. Two, three decades ago a significant amount of the September energy shifted to Florida, one reason being that a lot of Belizeans had documentation problems and could not come home to Belize and return to America. There are big parties in September and October in Florida, where the Belizean/American nation, both documented and undocumented, can fly in from all the big cities and renew acquaintances.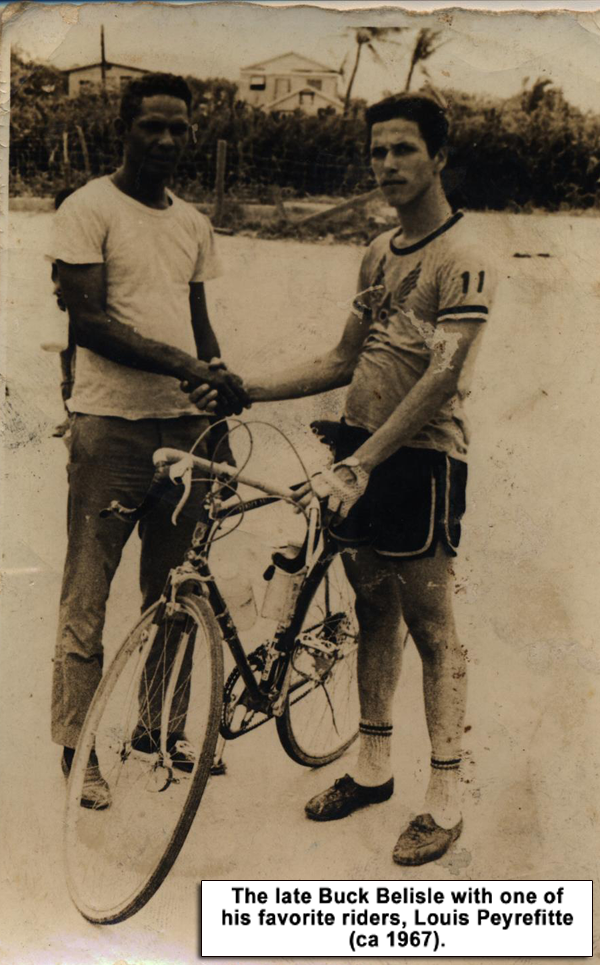 At what point Easter visits home became a big deal for Belizean/Americans, it is impossible to pinpoint. Let's say about two decades or so ago, for argument's sake. The last time a Belizean won the Holy Saturday Crosscountry bicycle race before the invasion of the Americans, was in 1986, when Matthew Smiling (and a speedy recovery to you, my Belizean brother) came home with Michael Lewis and won. The following year, all this American foolishness (just a personal opinion) began, and it was not until 1990 that another Belizean, in the person of Charlie Lewis, won again. After the three straight decisive victories by Americans in 1987, 1988, and 1989, Belizeans had begun to wonder if we would ever win our own race again.
Monrad Metzgen, the Belizean who organized the very first Crosscountry in 1928, was a light-skinned Creole, or perhaps even what we call "Belize white." For sure he was a man who moved in the circles of British Honduras' colonial elite, those who revered the mighty British empire. But at Easter time, almost all such people left the capital city (at that time this Belize City was called "Belize Town," or just plain "Belize") for the cayes, coastal villages, and lagoon resorts nearby. Let's say San Pedro Ambergris Caye, Caye Caulker, Caye Chapel, St. George's Caye, Sergeant's Caye, English Caye, Gales Point Manatee, Mullins River, Northern Lagoon, and so on. (It took too long to sail to places like Tobacco Caye, Glovers Reef, Placencia, and so on during those days.) My point is: what was Mr. Metzgen doing in the capital city during Easter of 1928: all of his class had left. The only people who remained in the capital on Easter weekend were poor, working class, black people who could not afford to move out for the Easter vacation.
My parents were not rich, but from the time I knew myself we spent Easter vacation at a caye, in most cases Spanish Caye, but at Sergeant's Caye on one occasion and St. George's Caye on another. My late maternal uncle, Buck Belisle, was a unique guy in the sense that he was a great fisherman, and the Easter vacation was prime time for his fishing exploits, but he was also a Holy Saturday Crosscountry fanatic. By the 1960s, he would leave Belize City Holy Saturday morning, driving in his car behind his cyclists after the race started at 5 a.m., go to Cayo and back (the race would take eight hours and more in those days), and then leave for Spanish Caye in his sailboat maybe 4, 5 the same afternoon/evening. The rest of the family would be out there eagerly awaiting his arrival, and he would tell us stories of that day's race, and stories of old races and old champions, until late into the night. Early Easter Sunday morning, he went fishing.
At what point Holy Saturday Crosscountry became a corporate affair, it is, again, hard to say for sure. Up until the 1960s and probably even the 1970s, Crosscountry was cosa nostra – a private, annual, sacred ritual of the masses of the Belizean people who could not afford Easter vacations. My uncle sponsored the two-time (1972-1973) champion, Anthony "The Tank" Hutchinson, basically on his own. Kenrick "The King" Halliday, who won four Crosscountry races during the 1970s, was sponsored by Sydney Sikaffy, who was a businessman but not at the corporate level. George Gabb was a sculptor and artist, not a corporation: he sponsored Alfred "Sparks" Parks, who won two 'Countries in the 1970s.
The first Crosscountry champion who was claimed by a corporate entity was Alpheus Williams, who was linked with Ovaltine and Santiago Castillo, Ltd., but I remember Alpheus as one of my uncle's riders. Alpheus won three Holy Saturday races between 1981 and 1984. My personal feeling is that my uncle did most of Alpheus' sponsoring, and Ovaltine was just icing on the cake. But, Alpheus is dead and my uncle is dead.
For sure, with Ward Zauner in 1987, Crosscountry began to become a corporate plaything. In economics, they would call it "trade liberalization," I guess. There followed decades of frequent Holy Saturday heartbreak for the majority of us Belizeans. We reached a cultural/historical nadir a few years ago, I think, when the legendary Johnito Miguel, four time 'Country champion, visited Belize from Los Angeles for Easter, and it was as if no one knew him or knew he was here. Fifty years ago, Johnito was our king: now our kingdom is scattered all over the big cities of America, and when we gather here on Holy Saturday, it is more in nostalgia than in celebration.
Indeed, Belize has changed, and Belizeans who visit us from America must be prepared to accept that change, and adjust to it. I understand that my perspective, as expressed in this column, is that of an elder. For younger Belizeans, Easter weekend in Belize has morphed into a time of fabulous parties and festivities in the holiday resorts. But In the colonial days, all poor Belizeans had on Easter weekend was the saga and drama of Crosscountry, when young boys became men, young men become kings, and Holy Saturday was pure cosa nostra. This is the way we were.
Power to the people. Remember Danny.