What Evan X Hyde needs to ask himself is exactly what those dues that he was paying in the "swamp" were purchasing. Did it buy an upliftment for our youth or just fame, fortune and bragging rights for himself? Did it help to lift our young people out of poverty and desperation or did it just make them bitter? When I left Belize many years ago, we did not have burglar bars for we did not need them. One murder a year was a big deal and friendliness was the order of the day. I would not blame Evan X for all that has happened to us, but I would question how much his philosophy has helped.
– pg. 31, G. Michael Reid in THE BELIZE TIMES of Sunday, August 7, 2016
I'm glad that G. Michael Reid chose to answer my column of a couple weeks ago, but I'm disappointed that he could not find it in himself to address the issue of Ralph Fonseca. I had raised the Ralph issue in the very beginning of the column in question, because G. Mike was on Ralph's payroll, and his specific assignment, during the first Said Musa term, was attacking Evan X Hyde on what was known as FM 2000. (This radio station became what is called "Positive Vibes" at some point in 2008.)
At the same time that these attacks on myself at FM 2000 were being carried out in order to increase Ralph's influence among the People's United Party's (PUP) faithful, Ralph was using the United Democratic Party (UDP) newspaper to launch weekly, vicious attacks on the University of Belize (UB), which was under my chairmanship from its foundation in August of 2000 until 2004. The UDP newspaper editors who orchestrated the attacks on the university and myself were Dale Trujeque and Herbert Panton, but Ralph gained access to them through his very good friend from their Bowen & Bowen days – Hon. Michael Finnegan, the UDP Mesopotamia area representative.
Yours truly, then, was under serious attack in both PUP and UDP circles. When he was weakening me, Ralph was strengthening himself. The Prime Minister, Hon. Said Musa, had been my friend and revolutionary colleague back in the 1970s, and there was the philosophical issue of where his government would go after he came to power in August of 1998. All of us now know that Said allowed Ralph to run the financial business of his government like a private domain, but in the beginning Mr. Musa tried, especially at the university, to maintain his friendly relations with myself.
The issue in Third World countries like Belize is national liberation. We were born here as "British subjects" in a colony called British Honduras. Before colonialism, we were outright slaves. Slavery means you work in order for your master to become rich. Colonialism means you work so that the colonial master can enrich his motherland. In our subjugated case, that motherland was Great Britain.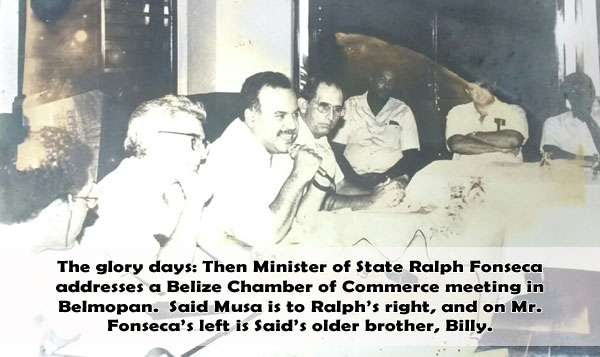 So then, in 1981, we finally achieve political independence. But, we're not liberated, because we are so desperately poor. That means that we need economic development, because in order to achieve national liberation and national dignity, a nation-state needs to pay its bills and finance improvement in its standard of living. But, which comes first: development or liberation? The chicken or the egg?
During the 1970s, it appeared that Premier George Price was materially influenced by the young socialist attorney, Assad Shoman, to the point where Mr. Price ran the Belizean economy as if liberation of the people would be a foundation on which to build development. During this period, Said Musa was Assad's great ally.
Ralph Fonseca became a factor in the still ruling PUP in the early months of 1984 after Barry Bowen fired him from the chief executive position at Belikin. The ruling PUP was in philosophical and organizational disarray at the time. Following the December 1983 Belize City Council defeat by the Opposition UDP, C. L. B. Rogers, the awesome but unelected Home Affairs Minister, had been purged from Cabinet, but the PUP right wing, led by Louis Sylvestre, Fred Hunter, and Joe Briceño, remained in place. Harry Courtenay was supporting Assad and Said, but he became ill around April of 1984, and the PUP right wing, apparently with the acquiescence of Corozal's Florencio Marin, Sr., took over. Assad Shoman ceased attending Cabinet meetings. It was into that unstable situation that Ralph Fonseca stepped. He became the PUP's standard bearer for the new Queen's Square constituency with general elections due at the end of 1984.
The PUP was defeated for the first time in those general elections of 1984, but afterwards Ralph became prominent in the rebuilding of the party, with the complete blessing of the iconic Mr. Price, who had special affection for him, from Ralph's childhood, because Ralph's dad, the late Rafael Fonseca, had been Mr. Price's brilliant financial guru throughout the 1960s and 1970s.
Ralph Fonseca's approach to development was diametrically opposed to Assad Shoman's. Ralph's history in the 1989-1993 and 1998–2008 PUP administrations brand him as a classic neoliberal. He believes in money first, money second, money third … People are of little or no account in the neoliberal scheme of things. Ralph was bound to clash with me. For years during his first administration, Said tried to be friends with both of us. But clearly, Ralph was far more important to him, and then all hell broke loose in August of 2004.
Said and Ralph lost control of the PUP when Johnny Briceño was elected PUP Leader in March of 2008. Using a special instrument called The National Perspective between 2009 and late 2011, Said and Ralph regained control of the PUP and installed Francis Fonseca as PUP Leader. During all those years, G. Michael Reid remained a loud Ralph Fonseca acolyte.
I'm suggesting to G. Mike that he come out of the personality world and begin to examine some economic development theory and history. (I recommend, for starters, Naomi Klein's THE SHOCK DOCTRINE: The rise and fall of disaster capitalism, Metropolitan Books, 2007.) Ralph Fonseca's neoliberalism failed abysmally in Belize where the liberation of the Belizean masses was concerned. Dean Barrow's brand of macro neoliberalism and micro welfare state is also failing dramatically. What is your recommendation, G. Mike? Just calling for a return to the PUP is a personality solution which is not worthy of a gifted writer like yourself. Some people feel that Lord Ashcroft controls both the UDP and the PUP. How would you deal with the Lord of Chichester, G. Mike? I don't want to hear what Ralph thinks. Tell me what you think.
Power to the people. Remember Danny Conorquie.