Short term, the sedition arrest of February 1970 was a mistake by the ruling People's United Party (PUP), but over the long term the sedition arrest benefited the power structure in Belize. What it did, was force the UBAD cultural movement into conventional political party thinking, and this led to UBAD's demise by early 1973.
I will accept all the blame for the political party decision in August of 1970 following our sedition acquittal in Supreme Court the month before. Because I saw the sedition arrest as a political arrest, I felt that the best way to prepare for such arrests in the future, which I expected, would be to organize ourselves along party political lines.
In September of 1971 the Methodist Church in Belize gave me a job teaching English at Wesley College, which I did for the 1971/72 school year. (The principal of Wesley College during the 1970/1971 school year, the late Rev. Coleridge Barnett, had been one of four witnesses for our defence during the sedition trial. Having left Belize with his ailing wife after the 70/71 school year, Rev. Barnett had been replaced by the man Joey Belisle.) It was only a few weeks after I began teaching at Wesley that Hon. Philip Goldson's National Independence Party (NIP) approached the UBAD Party in order for us to enter into a coalition with the NIP for the December 1971 Belize City Council election.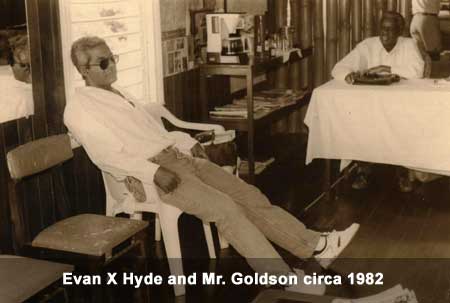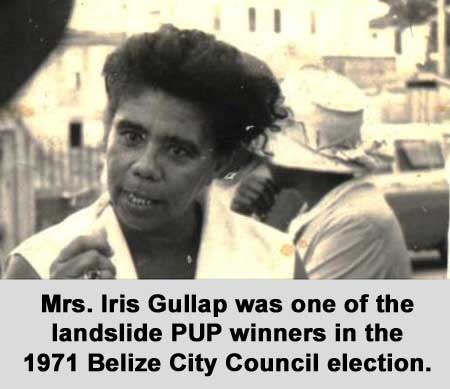 In our editorial for this Tuesday's Amandala, we chose a core sampling of seven families each for the ruling United Democratic Party (UDP) and the Opposition PUP. After arbitrarily choosing the total of fourteen families, as an analytical, academic exercise, we realized that thirteen of those fourteen families were either Roman Catholic (7) or Anglican (6). One was Methodist, just one. This is the Young family.
In 1971, however, it may have been that the extended Young family was divided. In 1969, Dr. Colville Young, who may actually be an Anglican, had gone against Mr. Goldson's NIP and joined the executive of Dean Lindo's People's Development Movement (PDM). In 1971, nevertheless, the most powerful member of the Young family remained the attorney Horace Young, and he was decidedly Methodist. (To complicate matters, one of Mr. Horace's younger brothers, Lawrence, was a legal clerk in Mr. Lindo's law chambers and an executive member of his PDM.)
I do not believe that I could have been given a teaching job at Wesley College in 1971 if Mr. Horace did not consent. I believe that I was given the job with the friendly intention to "rehabilitate" me after the two years I had spent running the streets unemployed and getting myself into various kinds of trouble.
I was an immediate hit at Wesley College, because I was fighting the PUP government and almost all the Wesley College students were from anti-PUP families. I could not possibly have been completely "rehabilitated" during the few weeks between the time when I joined the Wesley College faculty and when the NIP offer came for an election coalition with the UBAD Party. Still, the offer/request did come, and, as president of UBAD, I led the move to accept.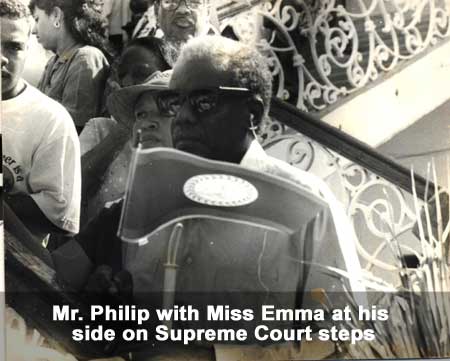 Why did I do so? By now, you all must know that I never conceived of myself as an electoral politician. There were three reasons to accept Mr. Goldson's offer. One was that he was a national hero with huge popular support. He was asking for our assistance. The fact of his being the official Leader of Her Majesty's Loyal Opposition was a second reason to accept, because an alliance with him gave prestige to UBAD, which had never participated in an election before. Yet another reason was that this was an opportunity for the UBAD Party to learn how election campaigns and elections worked. (Personally, I thought that it would be like doing research for my creative writing in the future, because you cannot write a major creative work about modern Belize without electoral politics playing a role.)
At what point it became known to us that Lindo's PDM, which had been in a hasty and ill-fated coalition with Mr. Goldson's NIP for the December 1969 general election, would be boycotting the NIP/UBAD alliance, I really cannot say. What I can say is that by the time the news broke that Lindo would not be with us, I don't think any of us in UBAD really cared. We should have.
What I remember is that in the middle of the campaign, I proposed that NIP/UBAD hold a public meeting without going through the formality of requesting police permission. My logic was that if they arrested any of us, this would be positive street publicity for our campaign, and if they did not, then the point would have been made that the police permission formality, for a meeting one block away from the Central Police Station, was pointless, if not ridiculous. I remember that the two NIP Senators, Simeon "Agapito" Hassock and Ulric "Buntin" Fuller, reacted with horror to the proposal. And at that point, I knew for sure that the NIP/UBAD coalition was doomed to lose.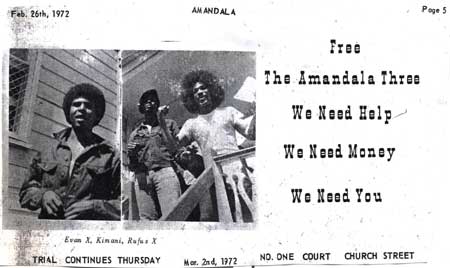 The NIP was offering six candidates, and the UBAD Party offered three. On the night of the counting of ballots at St. Mary's Hall, when it became obvious around maybe 10 p.m. that the PUP would win big, the NIP/UBAD coalition, which had absolutely been led by the NIP, mysteriously became UBAD's baby. So that, when we walked out of St. Mary's Hall, defeated, around 7 a.m. the following morning after all the ballots were counted, I can't remember any of the NIP being with us: it seemed it was all UBAD, including some Wesley College students who had stayed up all night with us. A group of PUP supporters were on the other side of the street jeering us as we came down the steps. The UBAD Party had become the real Opposition for them. But, the invisible reality was that it was Dean Lindo's PDM which would now control the Opposition. The NIP was dead, and it was dead because powerful Opposition families and icons had decided that Mr. Goldson, despite his massive street popularity, had to go.
I was, needless to say, a political naïf. If you are not wealthy, you have to pay in sweat and tears for your education in these matters. Accompanied by Ismail Shabazz, I went all the way to New York City by bus, through Los Angeles, and in so doing paid for some of my political education. I began to understand that we UBADers were only foot soldiers for some big people behind the scenes.
As soon as I returned from New York, the paramilitary and police raided my West Canal Street home (there were simultaneous raids on Rufus X and Kimani Kenyatta at their respective homes) in the dark one February 1972 morning. The PUP still wanted my head, more than ever, but Mr. Goldson, with whom we had been allied, had gone away to London to study law. The landscape was changing, but it was behind the scenes. What the people felt and preferred in the streets would prove less important than some rich people's desire to "fight communism."
Wesley College, and by extension the Methodist Church, treated me very kindly until I finished the school year around June of 1972. I knew I had to return to the streets, but it was not because I was looking at politics. I believed that if I had any serious writing to do, I had to be in the streets to do it.
In the streets, you see, denominational Christian religion does not play much of a role. In the streets was where I was at home. In polite society, the major Christian denominations are dominant, because they control the schools, and every parent is begging for his or her child to be educated. In controlling the schools, the Christian denominations control the votes. That is why thirteen of the fourteen core political families are either Roman Catholic or Anglican. Do you get the sense?
Power to the people.
Related Articles
Share
About Author
(0) Readers Comments