By the way, also staying at my Aunt Gladys' home in Rutland Road were two women, one named Elma, another named Millie, and also Mrs. Rosado, her grandson Michael, and Sylvino Rosado, whom I had been to school with at Holy Redeemer. Chibby or Chibo as he is called, was working and going to school at Pace College. After a while, we started calling him "Cuban," because his long hair made him look like Che Guevara, who wasn't Cuban either, but so be it.
–    pg. 10, NORTH AMERIKKAN BLUES, Evan X Hyde, Benex Press, 1971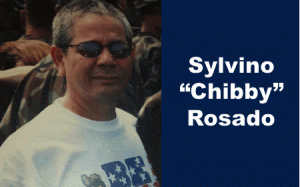 I don't know how many of his friends know that Chibby Rosado died earlier this year and was buried (cremated, possibly) without any kind of fanfare. I found out about Chibby's passing about three months ago, when my wife mentioned it in conversation. Chibby had been dead for months at the time. One of my wife's friends had casually brought up the subject.
I was stunned. How could a man who was so cool and popular and successful just leave The Jewel, and the planet indeed, without anyone hearing about it? Sylvino "Chibby" Rosado had been living in Caye Caulker for many years, but he and his wife, the elder daughter of the late Cito Gough and his late wife, Rita, also had a home in Belize City. Chibby, a highly accomplished accountant who worked for years with the Roe insurance group after coming home to live maybe twenty or twenty five years ago, had left his wife on the island and was in Belize City for a couple days. Apparently, he collapsed and died in the shower while preparing to return to Caye Caulker.
I was at Holy Redeemer Boys School with Chibby and one of his cousins, Reynaldo Rosado, but Carlson Gough and I were skipped from Standard IV to Standard VI, 1958 I would say, and Chibby would have been a year behind me at St. John's College.
When I landed in Brooklyn, New York, in late August of 1965, Chibby Rosado and his aunt, Rosita, were living in the same house at #563 Rutland Road where I stayed before travelling to New Hampshire to begin college. The house was owned by my grandaunt, the late Gladys Lindo Ysaguirre. She was a divorcee who had left British Honduras to live and work in New York City from after World War I. She had cut the house into rooms, and there was another lady from Belize who also lived upstairs. (I wrote this before I did the research in Blues.) This was a two-storey house. A Jamaican couple and their teenaged daughter lived downstairs, but I never knew if they were also tenants, or actually owned the downstairs.
When I spent the summer of 1966 in Brooklyn, Chibby and I spent a lot of time hanging out with the Lindo brothers – Bill and Michael. Chibby was still living at my Aunt Gladys' house, but she had put me out early that summer, so I was living in the basement of a house owned by the late Eric Card at #722 Snediker Avenue in East New York.  Michael Lindo lived on the first floor of that house.
Chibby was a small guy, almost tiny, but he had the heart of a lion. He told me that he had been expelled from SJC for fighting with the Jesuit, Robert O'Toole. O'Toole was the most militaristic of the Jesuits at Landivar in the middle 1960s; no ordinary student would have dared to fight with him. But Sylvino Chibby was no ordinary guy.
In Brooklyn, he was working and going to school at Pace College in the evenings. Chibby had set out to be an accountant, and he got the job done.
A light-skinned Hispanic, Chibby wore his hair long, and when he put on a beret, as he often did, he resembled Che Guevara so much that we began to call him "Cuban," although, as you know, Che was really an Argentinian. In that summer of 1966, Che had already left Cuba after the Revolution and disappeared. He may have been in the Congo in 1966. For sure, Che ended up being killed the following year in Bolivia.
We were doing a lot of subway riding to move around that summer, then, around the middle of August the Lindo brothers' maternal grandfather, the wealthy Swaapy Tillett, sent airplane tickets for them to fly home to spend the September celebrations. Chibby and I became closer during those three or four weeks when Bill and Michael were gone.
I remember we went to Yankee Stadium one time to see Pele's Santos of Brazil play an Italian team.  Chibby and I drank beer, ate hot dogs, and made noise for Brazil, of course. We may have also smoked cigarettes. I remember a Brazilian defender named Toninho scored two penalties for Santos, after fouls on Pele, and Santos won, 4-2. That was a fun time.
Another time we went to Shea Stadium to watch the New York Mets play the Atlanta Braves. The legendary Hank Aaron was batting for the Braves, and Bob Shaw was pitching for the Mets. I turned my head for something, and in that split second the ball was bouncing off the centerfield fence. The great Aaron had doubled, stand up.
I began to lose track of the Cuban after that summer. Arguing over the Vietnam War with Belizeans in New York, I began to avoid the city. I spent the summer holidays of '67 in Belize. I'm pretty sure, however, that Chibby was with a group of us at Michael Lindo's home the night before I flew home in June of 1968.
Chibby remained in Brooklyn, finished school, and began working. His first marriage was to Allyson Fairweather, Norman's younger sister. The years and decades went by. Chibby's second marriage was to Lynn Daise Gough. They lived in New Orleans for some years, where they lost a son to a tragic motorcycle accident.
When they finally returned home to live, Chibby and I never saw each other, except one, single time, even though his younger sister, Dolores, who is married to Ralph Hulse, has lived behind me in Buttonwood Bay since the early 1990's. When I was chairman of the new University of Belize (2000-2004), I contacted Chibby to see if I could get him to take an accountant vacancy we had at UB, but there were problems with sealing the deal.
Chibby Rosado's mom died young, leaving several children. He was raised by his aunt, Rosita, and I always remember her as one of the very, very few Hispanics in Belize who were outspoken supporters of Philip Goldson's National Independence Party (NIP). I never chatted with Miss Ros about her politics, but I was always interested to find out why she was NIP. In the early and middle 1960s in Belize, it was seldom that a "Spanish" person would be NIP. There was a high-ranking Hispanic NIP leader by the name of Jaime Staines. He had run and lost against Mr. Price, the People's United Party (PUP) Leader, as the National Party (NP) candidate in the Belize North constituency in the 1957 general election, and then Mr. Staines ran and lost for the NIP to the PUP's Mrs. Gwendolyn Lizarraga in the Pickstock constituency in both the 1961 and 1965 general elections.
You know, I've reached the age where I pay attention to death announcements. As far as I know, there was none for Sylvino Chibby. I knew that one day I had to give him the honor he deserved. That day is today. We liked you a lot, Cuban, and we held you in high esteem. You were a man, a Belizean man. The Lord giveth, and the Lord taketh away. Blessed be the name of the Lord.
Related Articles
Share
About Author
(0) Readers Comments