IGNACIO RAMONET: At that time, the United States was collaborating with the South African apartheid regime.
FIDEL CASTRO: Totally. And in that respect, there's something very important that I forgot to tell you, since we were mentioning South African Fascism and apartheid. I should tell you that while Cuba was in Angola and Angola was being invaded by South Africa, the United States made arrangements to transfer to South Africa – racist, Fascist South Africa – several atomic bombs, similar to those it exploded in Hiroshima and Nagasaki, which means that that war in Angola – this is something that people often forget – was fought by Cuban and Angolan soldiers against an army and a government that had eight atom bombs, provided by the United States through that great supporter, that eternal supporter of the blockade, Israel. And there were those who hoped that (those bombs) would be used against us – we had our suspicions, I'll tell you, and we took all precautions, (under the assumption that) the South Africans were going to drop a nuclear weapon on our troops.
– pg. 317, FIDEL CASTRO: MY LIFE, Fidel Castro and Ignacio Ramonet, Scribner, 2006  
Assad Edgardo mailed me on Tuesday afternoon to remind me that Wednesday, July 18, was Nelson Mandela's birthday, his 100th in fact. Mr. Assad wanted me to make sure to pay respect.
I will have to go back in time. When I went to the United States to begin college in August of 1965, Assad Shoman and Said Musa had already been in London studying law for a couple years. They would have been well informed about the great Mandela, London being a city of cognoscenti, in intimate contact with the landscape on the African continent.
Myself, as I have said before, I was a total naif in 1965. Ignorance was what was religiously inculcated in British Honduras in those days, ignorance of everything and everyone in the rest of the world involved in the struggle for freedom, justice, and equality, the struggle against racism, colonialism, imperialism, and the inhumanity of man to man.
In 1971, I wrote a book called North Amerikkkan Blues, about my three years at Dartmouth College. I felt then that the story of my experiences at Dartmouth would enable Belizeans to understand my transformation from a naif to a revolutionary, and perhaps assist Belizean students studying abroad in the future to cope with the culture shock.
Blues is embarrassing for me to read these days, because it seems so immature in my senior years. But, it is truthful: this is how it was back then for I.
The fact of the matter is that my first week at Dartmouth I met an African from Malawi by the name of Guy Mhone. He taught me many things, and assisted in my departure from naiveté.
After our first meeting, and immediate friendship, Mhone and I drifted apart. One reason was that our attempts to participate in the black American student organization on campus were not fruitful, mainly because black Americans were not interested in Malawi (Africa) or Belize (British Honduras). The second reason was that Guy, who was four years older than I, chose to live in a dormitory called Cutter Hall, the most cosmopolitan and knowledgeable about world affairs on campus. Naïve Evan Anthony was domiciled in a single room in a six-room suite (nine students) on the second floor of a three-storey, heavily American dormitory called Bissell Hall.
A white American student named Steve Cline from across the corridor who lived in a double room, and I began hanging out a lot. He and his roommate disliked each other. In Blues, I was very rough on Cline, but we were so close that he invited me to spend the spring break of 1966 in his hometown – Lacrosse, Wisconsin, which I did.
Then in the fall term of the 1966/67 school year, we both joined a previously all-white fraternity named Zeta Psi. In the winter term of 1967, however, I began to become alienated from Zeta Psi because the brethren disapproved of a militant demonstration by black Dartmouth students against a visit to the college by George C. Wallace, the racist governor of Alabama who was seeking the 1968 presidential nomination for the Democratic Party.
In the spring term of 1967, Guy Mhone and I had begun hanging out so much I invited him to spend the summer in Belize, which he did. Premier George Price gave Guy, an economist, a summer job in the Ministry of Finance. Meanwhile, I was employed at V. H. Courtenay's law firm for the summer months.
Mhone taught me about Madiba, which was Mandela's pet name. Mhone was very much aware of how Hugh Masekela, a spectacular trumpeter and composer, and his one-time wife, Miriam Makeba, a superb singer and beauty, had been forced into exile from apartheid South Africa because of their support for the policies of Nelson Mandela, who had been imprisoned in 1963 after taking up arms seeking to free his homeland.
Guy Mhone himself had barely escaped from Malawi in 1965. He had been a student leader protesting against the policies of Malawi President, Hastings Kamuzu Banda. Banda was collaborating with the apartheid government in South Africa. For this, the students of Malawi considered Banda a traitor, and the brilliant, cool Guy Mhone was a prominent leader of their resistance. Had he not escaped from his homeland, Mhone would have been jailed or killed by Banda.
After we graduated and I returned home in 1968, Mhone, who dared not return to Malawi under Banda, did post-graduate studies and gained a Ph.D. in economics. He taught for a while at an American university in upstate New York, which is when I lost contact with him, around 1979.
Apparently, after Robert Mugabe, a heroic guerrilla fighter who essentially freed Rhodesia, led Zimbabwe to independence in 1980, Mhone may have begun working in some capacity with the revolutionary Zimbabwe government. I say this because my cousin, the late Margie Fairweather Laing, told me years later that she had seen him at a Zimbabwe embassy function in Washington around 1985. While Nelson Mandela became a revolutionary saint during his twenty seven years in jail in South Africa, Mugabe became autocratic, and reviled, as the President of Zimbabwe, basically in the period after the death of his first wife. But Robert Mugabe did great things for Zimbabwe in the early years of his rule.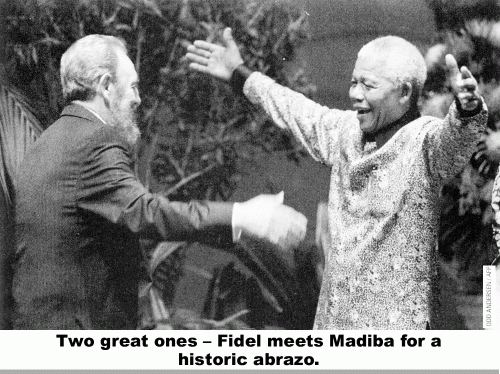 Freed from jail in 1990, Nelson Mandela became President of a free South Africa in 1994. When I finally re-established contact with Mhone in the late 1990s, he was teaching at a university in Johannesburg. Before his untimely death around 2004, Guy Mhone was considered one of Africa's greatest economists.
I'm sure Mhone contributed substantially to my radicalization as a young man. But he himself was very mild-mannered and calm.  It is he whom I remember on the birthday of the great Nelson Mandela, an attorney who gave up his elite profession to take up arms fighting for freedom. For us black-conscious members of the human race, Nelson Mandela was like a black Christ. He was very, very special, and we loved him so.
In Belize in 2018, we should remember that Mandela held Fidel Castro in the very highest of regard.  Mandela loved Fidel, because it was Cuba under Fidel which had actually broken the military power of apartheid South Africa, indirectly enabling Mandela's freedom. It was beautiful to watch when these men met in free South Africa, two lawyers who had sacrificed their freedom and risked their lives to liberate their people.
The education system in Belize does not teach our students these things. 37 years after political independence, Belize still features a white supremacist education system. Who is to blame for this?  Unfortunately for poor Belize, we never had any attorney named Nelson or Fidel. We would have been better off as a people had we produced a Mandela or a Castro.
Power to the people.