BELIZE CITY, Mon. Sept. 19, 2016–The Opposition People's United Party celebrated National Service Day, today, Monday, September 19, by first laying wreaths on the tomb of the late PUP Leader, Rt. Hon. George Price, who died five years ago today, and from the Lord Ridge Cemetery in Belize City, a convoy of PUP parliamentarians journeyed to Belmopan and further honored the legacy and spirit of Price by declaring their assets and liabilities at the Integrity Commission office, staffed by its secretary, because government has not appointed an Integrity Commission.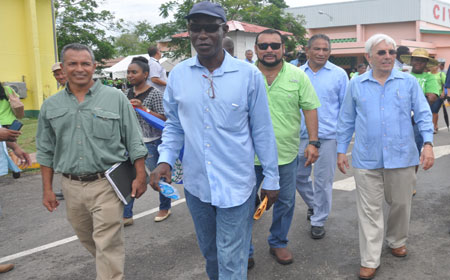 The idea of an Integrity Commission came about during the reform of governance that was undertaken when Belize signed into law the Prevention of Corruption in Public life Act in 2007. Since the signing of the Prevention of Corruption Act, however, there has never been an Integrity Commission appointed.
Hon. Cordel Hyde, the Lake Independence area representative, told Amandala that they were paying homage to Rt. Hon. Price because "that man had iron integrity and today was a fitting day to honor him in this fifth year of his passing."
Hon. Hyde explained that the PUP is serious about good governance and today's trip to the Integrity Commission's office was to signal the seriousness with which the PUP is taking good governance.
Amandala expressed the sentiment that there is no Integrity Commission.
"You are right to think so, sir," Hon. Hyde responded, "There is no Integrity Commission, but parliament voted money to finance that office and there has been a secretary there for the longest time. In fact, the parliament votes money for the secretary and not much else."
Hon. Hyde said that the secretary individually took their applications and went through them to make sure that everything was in order, and received them, so they are lodged there until the Prime Minister "wakes up from his sleep and decides that he is going to install an Integrity Commission so that those folks can do their work and they can get back to the business of running this country properly."
"So from here on, will the pressure continue to mount for the Barrow government to come to some sense of accountability?" Amandala asked Hon. Hyde.
"Mr. Barrow and his government seem to think that democracy stops on Election Day, when in reality, it is just beginning, because you have to account to the people. The people are your bosses; you are not their bosses," Hon. Hyde responded.
Amandala asked the former two-term Prime Minister and area representative for the Fort George constituency, Rt. Hon. Said Musa, how important was it for the PUP parliamentarians to have lodged their paperwork at the Integrity Commission office.
"Well, it might seem as just a symbolic act, but a very important one, that all our parliamentarians today, on National Service Day, done five years since our great leader passed away. So it is very important at this time when the integrity of leaders are being called into question, and as Mr. Price's example stood for what Michael Manley called 'iron integrity.'" he remarked.
Hon. Musa said that the fact that the visit of the PUP parliamentarians to the Integrity Commission office and the mammoth teachers protest were taking place at the same time was a happy coincidence.