BELIZE CITY, Mon. Feb. 9, 2015–Former PUP Minister of Home Affairs and Budget Planning, Ralph Fonseca, told Amandala this evening that remarks aired in an interview with Eugene "Fatback" Webster, a former employee of his son, the late Ralph "Ralphie" Fonseca, Jr., were "ridiculous and pure fabrication."
Webster, more popularly known as "Fatback," who worked as personal bodyguard to Fonseca, Jr., up to the time of his death in a freak accident, gave an interview to talk show host Alfonso Noble for his Fus Ting Da Morning show aired this morning, Monday, on WAVE Radio and Television.
The interview, however, which was obviously pre-recorded, was posted on Noble's Facebook page yesterday, Sunday.
On September 11, 2007, Webster was in Fonseca's Toyota Prado SUV when it collided with a trailer that became unhitched just outside Orange Walk Town, killing both Ralph Fonseca, Jr., and Ralph Balderamos, a friend of his, instantly.
Webster himself sustained serious injuries that required a number of surgeries, and now, he told Noble, he is in need of a hip replacement.
In the interview, however, Webster made jaw-dropping allegations about being "chanced" by Ralph Fonseca, Sr., the former PUP Minister of Home Affairs and the father of "Ralphie," as the junior Fonseca was popularly known.
"Da greed mek Ralphie dead," Webster told his interviewer, then went on to ask, "Why Mr. Ralph di do me this for?"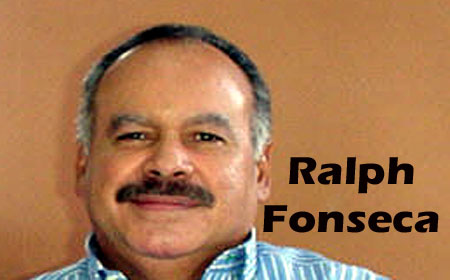 Among the allegations that Webster made is that he has not been paid for the 18 years of service that he provided to Fonseca.
In addition, Webster claimed that "all mi money whey mi had inna Ralphie safe, them teck dat. Me bruk now. Dad [referring to Ralph, Sr.] said he was not around when they moved the safe."
Amandala was furnished with the settlement agreement between Webster and Raul Cuello, the owner of the trailer that caused the horrific accident, which stated that Webster was to be paid $167,000.
Webster told Noble that the agreed payment of $450 weekly was stopped before the five-year period had elapsed.
In a telephone interview, Ralph Fonseca told Amandala that "Webster is ungrateful and is fabricating this whole thing."
"We took care of him. I even gave him my son's house to live in. My son had already paid about $60,000 toward his mortgage. There was only $50,000 plus interest remaining," Fonseca explained.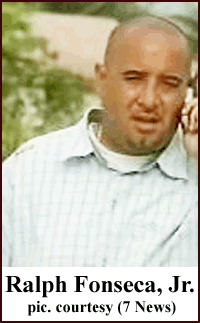 Webster told Noble that he has already paid the $50,000 for the house that the agreement calls for, but he has not been able to get the ownership documents.
That, however, appears not to be a matter that involves Fonseca, as might have seemed to be the case in the interview with Webster, but relates to an agreement between Cuello and Webster, who, according to Fonseca, still resides at the house.
In the signed agreement, Webster had "acknowledged the payment of the sum of $3,600 already disbursed to him by Cuello."
The agreement details: "Cuello shall pay to Webster the sum of $40,000 immediately upon the execution of this agreement. Webster will use the sum to pay for his travel expenses to seek medical treatment in the U.S.A.
"Cuello shall guarantee and take over the mortgage payment due to the Development Finance Cooperation (DFC) from United Development Corp. Ltd. (the residence of Webster) being loans advanced by DFC to United Development Corp. Ltd. and charged or secured on the residence of Webster situate at Los Lagos, Ladyville, Belize District, Belize. The said loan shall not exceed the principal sum of BZ$50,000 plus interest accruing thereon."
The agreement goes on to say that Cuello would pay the outstanding sum in weekly installments of $225 over a ten-year period or $450 over a five-year period.
It is stated in the agreement that by signing that document, "Webster agrees to absolve Cuello, his successors, agents, employees and assigns from any and all actions, liability or claim which may, directly or indirectly arise or have arisen from the road traffic accident in which Webster was a passenger and sustained bodily injuries when a Toyota Prado motor vehicle driven by one Ralph Balderamos collided with a truck and trailer owned by said Cuello driven at the time by one Albert Chan, an employee of the said Cuello."
Chan was later acquitted of all criminal charges in relation to the accident that the state had brought against him.
The agreement was dated March 9, 2011, and was drafted by attorney Fred Lumor, S.C.
In a letter dated February 2, 2015, addressed to chartered accountant George Swift, Lumor outlined the agreement that the two men (Cuellar and Webster) had made and ended the letter saying: "The final balance of BZ $73,400 was agreed to be paid by either $225 consecutive weekly payments over a period of 10 years, or BZ$450 consecutive weekly payments over a period of five years.
"The issue is therefore arithmetic and not law. The parties should be able to verify the payments made by Mr. Cuello to Mr. Webster and as such, bring the matter to an end."
A breakdown provided to Amandala shows that Webster had received $118,750, instead of the $117,000 that was outstanding to him under the terms of the agreement. According to the breakdown, Webster thus received $1,750 more than what the agreement called for.
When asked why he has not paid Webster for his years of service, Fonseca categorically denied that Webster worked for him.
"He was employed by my son, and it was not the kind of formal employment," Fonseca pointed out.
Fonseca denied that his son had money in the region of one million dollars stashed away in a safe, as Webster had asserted, and he described as "nonsense" the claim Webster made that "Ralphie" had 37 million dollars in various countries "all over the world."
"Ralphie had 37 million whi e dead left all over the world, and I mi good fu 1.5 million. No think I mi deh side ah am and I mi bruk," Webster said, "but they tek all mi funds."
"Where would my son get that kind of money from?" Fonseca asked.
Amandala also asked Fonseca about Webster's assertion that he has "things" buried on a farm.
"The only thing buried on the farm is my son's Prado," Fonseca replied.
Related story: Freak accident kills two Ralph, Jrs.