He points to anomalies in places where the percentage of registered electors is unusually high
BELIZE CITY, Wed. Aug. 23, 2017–The NGO community is not happy with the decision by the Barrow administration to defer the re-registration of electors until after the 2018 municipal elections—a long overdue exercise which has been delayed by a decade through successive amendments to the law.
Speaking at the conclusion of the Senate meeting yesterday, NGO Senator Osmany Salas spoke on this issue, which, he said, is "of national importance."
"This is a matter that should be of concern to every single Belizean, in particular every Belizean of voting age," said Salas.
He said that when we talk about the tenets of our political democracy, we are talking about several different important matters: the right to vote, freedom of expression, the availability of choice between parties, and a free and fair election process which should result in a legislature that is representative and accountable.
Free and fair elections mean that the will of the people shall form the basis of government in a democratic society, and the Belize Constitution guarantees us the right to vote in elections, he added.
In addition to the upcoming election, though, Belizeans may soon be asked to participate in a plebiscite (a national referendum) on the International Court of Justice issue, so it is very important that we get it right, the senator said.
---
The oddest case is, in fact, the municipality of Orange Walk Town, which has the highest ratio of electors to overall population – at 86%, which would suggest that nearly 9 out of every 10 persons in that town can vote.
---
"It has been almost a generation since our last re-registration exercise and a lot has changed," said Salas, adding that this has a direct bearing on the electoral divisions.
The law says that Belize shall have no less than 28 divisions; we have 31 but there are a couple figures that should concern all of us, the Senator went on to say.
He noted that the latest figures from the Elections and Boundaries Department as well as the mid-year population estimates show that there are 10 divisions in Belize City, which together have just over 44,000 registered electors. The City's population is just over 62,000 people, which indicates that 71% of the City's population is of voting age—an eyebrow-raising statistic, Salas said.
"We know that we have a young population, under 18, so the way I look at it, there is no way in the world that c I can comfortably accept that only 29% of Belize's City's population is under the age of 18," he said.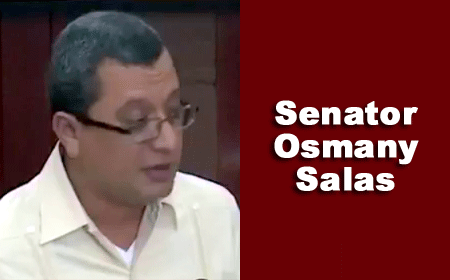 The last census of 2010 says that 36% of Belize's population is under 15. (Belize's under-18 population is in excess of 40%, which means that the voting-age population should be less than 60%; some sources say 53% to 58%.)
He notes that the percentage represents those who are over 18 and who are also registered to vote. (Notably, there are adults who have not registered to vote.)
This, said Salas, should be alarming to everyone there at the Senate meeting, and he charged that it is incumbent that the voters list is cleaned, and reflects our situation now, 20 years after the last re-registration exercise was carried out.
Our newspaper notes, based on our assessment of the data from both sources which Salas cited, that the oddest case is, in fact, the municipality of Orange Walk, which has the highest ratio of electors to overall population – at 86%. This would suggest that nearly 9 out of every 10 persons in that town can vote. There are 11,786 registered electors and the SIB's mid-year estimate for that municipality is 13,679.
Leader of Government Business, Senator Godwin Hulse, replied to Salas, saying that his point is well taken and has been addressed, as there is going to be re-registration next year.
Hulse also addressed the need for proportional representation in Parliament, saying that the situation "is a child of the 'first past the post system,'" which saw Donald Trump rise to presidency in the USA although he lost the popular vote. This can only change, he said, when one moves to a proportional electoral system and preferably for the upper house of parliament.