BELIZE CITY, Mon. July 9, 2018– The poor accommodations and terrible playing surface was not enough to dampen the spirits of some "die hard" football fans who showed up at the MCC Grounds yesterday afternoon, hell bent on witnessing the Over-40 match between playoff contenders Kulture Yabra and defending champions San Pedro Veterans; but their spirits were certainly not lifted by the disappointment at being "stood up" by "no show" game officials.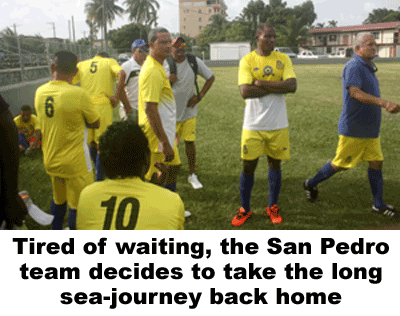 With playoffs a couple weeks away, four North Group teams are in contention for two playoff spots; and the two front-runners, longtime rivals Kulture Yabra and San Pedro Veterans were in full force for this important match. Kulture had called on the services of Mervin "Rugged" Flores and Aaron "Wiley" Locario/Ciego from Dangriga; while San Pedro had pulled out the two Hendricks brothers, Oliver and Christopher, whose dad, the legendary Orvin "Stud" Hendricks had also come down from Orange Walk to witness this one.
Match Commissioner, Steve "Jerry Collins" Myles was at his desk well before 3:30 p.m., and had reviewed the team rosters and made copies available to us.  Both teams had their first eleven warming up, with five or more substitutes on their respective team benches. Nobody was short-staffed today; at least, not the teams.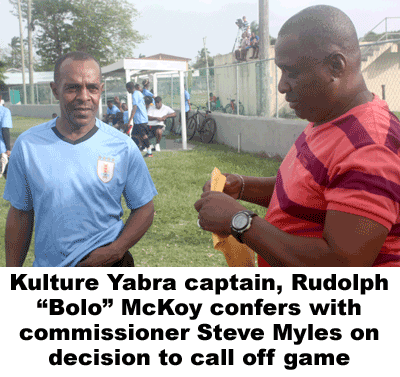 As the official kick-off time of 4:00 p.m. approached, and no referee or linesman had entered the playing area, Commissioner Myles was seen making calls on his cell phone.
His efforts were futile; and the realization slowly dawned on players and fans alike, that today's game was in jeopardy.
The sad news had been received earlier in the day about the passing of referee Leroy Clother, and the serious illness being experienced by another Belize City referee, Charles "Chubby" Young; but it was anticipated that a traditional minute of silence would be observed before kickoff. The games had not been cancelled; and officials had reportedly been detailed.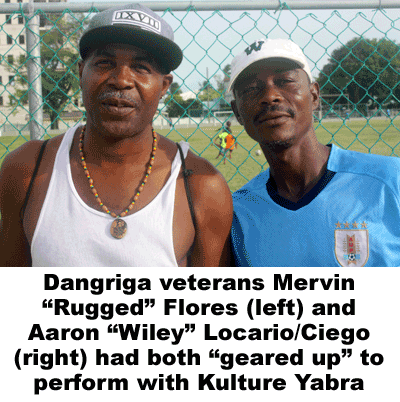 By around 4:50 p.m., San Pedro player/manager Raul "Coco" Gonzalez informed Commissioner Myles that his team would have to leave on the return sea-journey to San Pedro, as it was getting late, and evident that no referee was available.
For their part, with their fans lingering in the southern bleachers, the Kulture Yabra players, still in uniform, used the occasion to play a friendly scrimmage among themselves.
The 2018 National Over-40 is an FFB (Football Federation of Belize) sanctioned tournament. The Over-40 Tournament Regulations stipulates the punishments, financial and otherwise, to be sustained by players and teams for infractions, including for no-show at scheduled games; but where referees are concerned, their conduct falls under the jurisdiction of the National College of Referees, an arm of the FFB.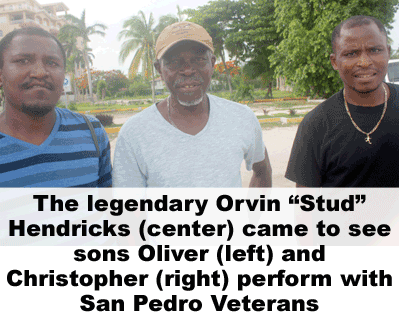 An explanation of the next step forward has been promised by National Over-40 Committee Chairman, Peter Alvarez of Belmopan, who informed us that a similar "no show" of officials had occurred yesterday in the scheduled game at the Carl Ramos Stadium between Dangriga New Site Erei and Benque Viejo Veterans.
Related Articles
Share
About Author
(0) Readers Comments