Headline
— 25 March 2017
— by Adele Ramos
BELIZE CITY, Thurs. Mar. 23, 2017–Belize today joined a number of other Caribbean countries which have imposed a ban on imports of corned beef originating from Brazil, including cans of Grace corned beef, which could have been unscrupulously passed into trading networks, as a consequence of bribes allegedly paid to officials in Brazil to have unsanitary products approved.
The Caribbean corned beef distributor, GraceKennedy, which sources beef from Brazil, announced that in full compliance with the directive of the Government of Jamaica, it has suspended sales of corned beef originating from Brazil and it immediately withdrew the product from the Jamaican market.
"As a result of this issue a team from Grace Foods [subsidiary of the GraceKennedy group] has planned an urgent trip to Brazil to meet with our suppliers and do further investigations around the concerns raised," the company said.
Tonight, Amandala found four different brands of Brazilian corned beef — Grace, Caribbean Choice, Sussex and LaFa — in two major supermarkets. The Grace and Caribbean Choice brands said on the label that they have been packed under Brazilian government inspection. The Grace brand is visibly stamped with a logo signifying that it had passed official inspection by Brazil's Ministry of Agriculture.'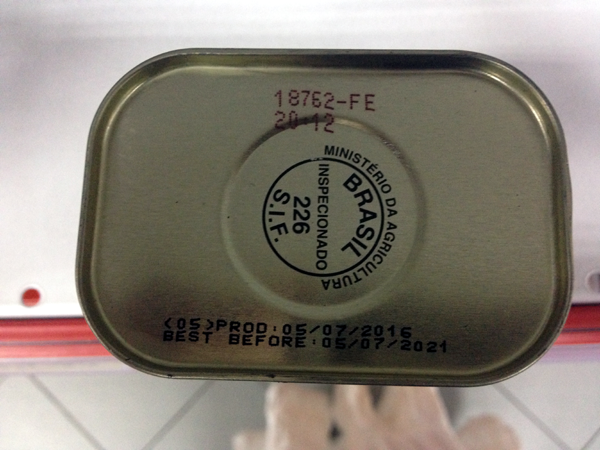 The Belize Agricultural Health Authority (BAHA) issued a statement this evening announcing four measures. It announced a suspension of the issuance of import permits for corned beef from Brazil until authorities are able to conduct due diligence and the source is declared safe.
It also announced that all corned beef on its way to Belize will be retained, to verify that they come from approved facilities for export. They will also be tested by BAHA to determine the product's wholesomeness for human consumption.
Furthermore, corned beef already imported and held in warehouses in Belize will be quarantined and then tested to find out if it is fit for human consumption.
"BAHA, in coordination with the Ministry of Health, will sample and test corned beef at the retail level to ensure its wholesomeness," the BAHA announcement said.
On Monday, March 20, Jamaica's Ministry of Industry, Commerce, Agriculture and Fisheries announced a ban in a press conference.
"The Brazilian companies implicated by the Brazilian authorities supply 99.5 per cent of the corned beef on the local market," an official release said.
Trinidad and Tobago has also imposed a ban, in the wake of scandal that rotten corned beef and poultry had allegedly entered the supply chain in Brazil.
"There is no way for the consumer to tell which brands are actually linked to companies named in the scandal. But just to be very clear and fair to the consumer…we have already decided there will be no further imports from Brazil until we are in a position to permit those imports," CMC quotes Agriculture Minister Clarence Rambharat as saying, after indicating that one supermarket had at least 14 brands from Brazil on its shelves.
Meanwhile, international news reports say that Brazil's JBS SA, the world's biggest meatpacking company, has suspended beef production at 33 of its 36 plants, amid the corruption scandal which has led to bans from importers such as the European Union, Mexico, Canada, and Chile.
In its release today, BAHA said that, "According to a document from the delegation of Brazil in the WTO, document G/SPS/GEN/1545, 'on 17 March 2017 the Brazilian Federal Police detected irregular practices involving certification of meat and meat products by staff members of the Ministry of Agriculture in 21 meat processing facilities that handled beef, poultry and poultry products.' As measures taken to curtail those irregular practices, Brazil informed that three of these facilities have had their operations halted and all 21 are being re-audited and have been suspended from exporting."
After meeting with corned beef importers, BAHA is declaring that "…corned beef was verified as the sole product being imported from Brazil."
It said that, "Inquiry into the source of corned beef by importers and verified by BAHA's database on imports has indicated that they were not from any of the 21 facilities that have been identified by the Brazilian authorities. It is important to note that the last importation of corned beef into Belize occurred on November 2016; however, these were manufactured in July of 2016."
The release did not say anything of the move by Grace to pull its corned beef from shelves in the Caribbean.
In a notice to consumers in the Caribbean, Grace said that it has activated a product withdrawal exercise and it has urged its customers that they can return their corned beef for a full refund or keep it, pending the outcome of investigations into the wholesomeness of the product.
Related Articles
Share
About Author
(0) Readers Comments