Sports
— 24 December 2016
— by Micah Goodin
BELIZE CITY, Wed. Dec. 21, 2016–Here are the final results and individual awards for the National Secondary Schools Sports Association (NSSSA) basketball championships, hosted by Stann Creek Ecumenical High School at the Stann Creek Ecumenical gymnasium on Friday and Saturday, December 16-17.
NSSSA Female Basketball Championship
San Pedro High School (SPHS) basketball girls did not win a single game in 6 outings when they represented Belize at the CODICADER Games in Tegucigalpa in September of this year, but it toughened them enough to win the NSSSA 2016 championship.
Aliyah Elliot of SPHS won Most Blocks, Most Rebounds, Most Steals, Most Assists and Most Valuable Player awards.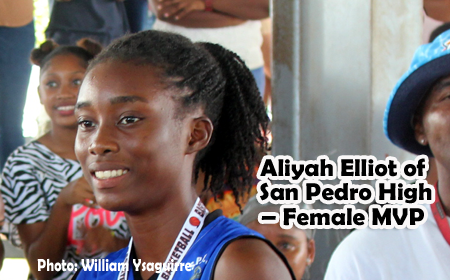 Normalee Gomez of Julian Cho High School from Big Falls, Toledo, won Most Points.
Julian Cho girls took 2nd place in the tournament; and Belize City champs, Anglican Cathedral College girls took 3rd place.
NSSSA Male Basketball Championship
Stann Creek Ecumenical's NSSSA Basketball MVP Donell Arzu could have won 4 Golds for Belize in Track & Field at the CODICADER Games in September, but he chose basketball as his favorite sport. The Belize boys only won 2 basketball games at CODICADER; but CODICADER rules say you can only participate in one sport, so he could not compete in athletics.
In the NSSSA male basketball finals on Saturday, Ecumenical led most of the game, but the Wesley College boys had tied the game 46-46 with a minute left on the clock. Ecumenical's team captain, #9 Jonard Castillo then scored what proved to be the winning basket, as Wesley made a costly turnover, and Ecumenical just held on to the ball until the final buzzer.
Donell Arzu of Ecumenical High won Most Valuable Player, Most Points, Most Rebounds & Most Steals awards.
Wesley's Gregory Buckley, at 7'1″ easily the tallest man on the court, won Most Blocks.
Ecumenical team captain Jonard Castillo won Most Assists.
Wesley College boys took 2nd place in the tournament; and 3rd was San Pedro High.
Related Articles
Share
About Author
(0) Readers Comments