The Castro family is back in the news. Shayanne Castro is the daughter-in-law of Transport and NEMO Minister Edmond Castro
BELIZE CITY, Mon. Sept. 25, 2017–The family of NEMO and Transport Minister, Edmond Castro, is back in the news again. This time it is his daughter-in-law, Shayanne Castro, 27, the wife of his son, Wasani Castro, who has run afoul of the law. She was today arraigned in the Belize City Magistrate Court, where she appeared before Chief Magistrate Sharon Fraser and pleaded not guilty to the charge of "possession of a controlled drug with intent to supply."
She was offered and met bail of $9,000 plus one surety of the same amount. Additionally, she was ordered to surrender her travel documents. She is to return to court on December 22.
According to police reports, the Special Assignment Team visited her home at #26 Sarstoon Street in Belize City just before 7 o'clock on Saturday night. Officers conducted a search of the building, which led to the discovery of a black garbage bag containing 11,900 grams of cannabis. A further search led to the discovery of a knapsack containing 128 grams of cannabis, which, in conjunction with the cannabis in the garbage bag, amounted to a total of 12,028 grams, or 26.5 pounds.
Our newspaper noted a trend in which persons found with substantial amounts of cannabis were charged with drug trafficking. So as to not assume that Castro was given preferential treatment because of her father-in-law, we asked the police press office for an explanation of the charges.
Senior Superintendent Marco Vidal responded, "Possession with intent to supply is a drug trafficking offence. It differs from mere possession."
He added, "We were advised years ago by the DPP's Office how to draft complaints for the various drug trafficking offences, like supplying, possession with intent to supply, cultivation etc. Before that, we just charged everything as 'drug trafficking'."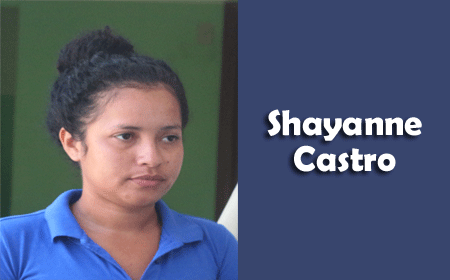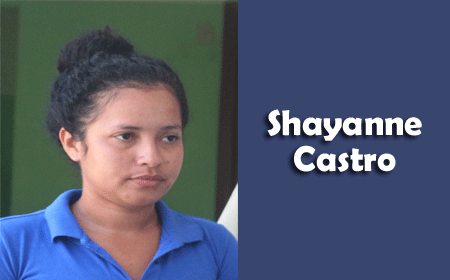 "The DPP's office sent precedents to the units in the department that deal with these offences regularly, and we have been charging in this manner for the past few years. So in short, it is drug trafficking, but the specific offence is possession with intent to supply, because of the quantity," he explained.
Coincidentally, on the same day that Castro was charged, officers found two guns on the street on which she resides. The first was a 12-gauge New Haven Mossberg shotgun, which police said they simply found "under some grass." The other gun was a .9mm pistol with a wooden grip, along with a magazine and a .380 CFL live round.
Of note is that Shayanne Castro is not the first Castro associate to be busted with cannabis. In June, Gian Espadas, 22, was charged with drug trafficking after he was busted with 12 pounds of cannabis when police stopped and searched his SUV in the West Landivar area of Belize City. He is currently out on bail.
In August, Jafari Castro, was one of three men charged for harm after Galen University student Kevin Brown was badly beaten in San Pedro over some stolen jewelry. That matter is still before the court.
In June, there were reports that both Castro brothers had been involved in a physical altercation with police for traffic violations. However, no charges were ever brought against the brothers or the officer in question.
Later that same day, both brothers were busted with 89 cases of Mexican beer which were reportedly smuggled from Botes, Mexico. However, again, the brothers faced no charges, as the matter was settled out of court with the Customs Department.