BELIZE CITY, Sun. June 18, 2017–Heights in, Brown Bombers out
The final regular season games, to determine the top-4 playoff teams, were played on Saturday, June 17, in the 6th Smart Mundialito 13 & Under football tournament at the MCC Grounds. And when the last game of the day was over, history was made in the Mundialito, as for the first time ever, Heights FC will go on to the semifinals, while also for the first time in six years, Brown Bombers will fail to see playoff action.
The race was tight for the last two playoff spots, and game 6 on Saturday, featuring playoff bound Ladyville Rising Stars and Brown Bombers, was crucial for the Bombers' hopes.
In game 1 on Saturday, Collet Strikers dropped Belize Elementary Spurs, 2-0, with a goal each from Chris Maskall and Darnell Jones. Game 2 saw Ladyville Jaguars and Reality Youth ending in a 1-1 stalemate. Alex Croft shook the net for Jaguars, while Shemar Thomas hit the target for Reality Youth. In game 3, City Boys edged Heights FC, 2-1, with a goal apiece from Tom Moguel and Kevaughn ?, while Kenyon Smith tallied for Heights FC. In game 4, Hattieville Riverside Boys bombed Sampson Academy, 6-0, with 2 goals from Oswald Young and 1 each from Enoch Rhaburn, Jayden Brown, Jose Almendarez and Tyrin Martinez. Game 5 was a nil-nil draw between Warriors FC and Carlston FC. And in game 6, Brown Bombers fell, 2-0, to Ladyville Rising Stars, who got a goal each from Marvin Card and Cesar Garcia. A victory could have clinched the fourth playoff spot for the Bombers over Heights, who lost earlier in the day to City Boys. (See finals standings below.)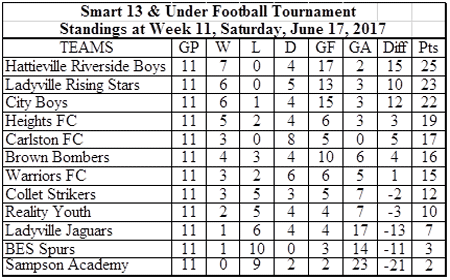 Interestingly, three of the four teams in this year's playoff semifinals are from outside of Belize City. Only #3 seed City Boys is from Belize City; the other 3 teams are from Hattieville, Ladyville and Mahogany Heights.
Knockout semifinals schedule:
Saturday, June 24, MCC
1:00 p.m. – #1 Hattieville Riverside Boys vs #4 Heights FC
2:00 p.m. – #2 Ladyville Rising Stars vs #3 City Boys