Dear Editor,
There is no time limit to how long a struggle for justice takes, so one has to be ready to go the long haul.  We have been fighting for an end to racism and classism most of our lives.  Growing up and facing racism in a white society on one hand and joining the civil rights movement on the other, brought us together and has sustained us through 45 years of marriage.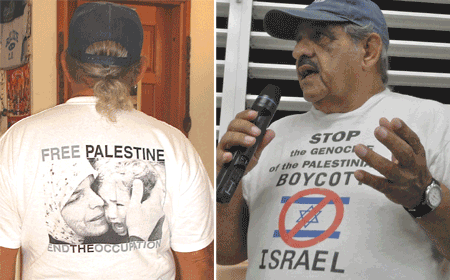 It should be no surprise to anyone that we have supported the struggles of the Palestinian people since the mid-sixties and continue to do so.  It should be no surprise to anyone that the struggle continues.
We have been asked, on a number of occasions, if we were still fighting for justice and our answer is, "We are still breathing, aren't we?"  As long as we have breath to give, we will be working for equity and justice around the world.
After writing so many articles and working in various ways to bring light to the horrors of the Israeli treatment of the Palestinian people, which includes advocacy for a boycott of Israel before the boycott movement started, you might understand how difficult it has been to write yet another article.
Our concerns on Belize's relation to Israel, the move to boycott Israel for their policy to drive the Palestinian people into extinction and the small outcry to oppose these acts warrants much press.  When we read Clinton Luna's article, "Always a Traitor Among Us", it helped us frame how to phrase these issues.
Israel is a racist nation; they opened their doors to "all Jews" to come, but what they really meant was Jews of European dissent (check articles on the amount of Ethiopian Jews held in Israeli prisons).  If you are black, stay back.  Belize should be condemning the apartheid and genocidal actions of Israel; we were part of the divestment and boycott movement against South Africa and we are anything, if not consistent.  But, so far, it appears that Belize "honors" Israel.
Israel helped train death squads in many places, including a number of Central American countries, like Guatemala.  Recently, members of the Belize police have gotten training from Israelis and look at the devastation that has caused – police treating Belizeans like enemies like the way Israelis treat Palestinians – fine training indeed.
Yet, the Minister of Foreign Affairs gave Israelis the right to come to Belize without a visa. The National Evangelical Association of Belize (NEAB) condemns the Belize government for supporting the United Nation's condemnation of the United States plans to move their embassy to Jerusalem, in violation of international law.  "Christian Zionists" in Belize give their support to Israel as their promised land; yet any of them who are not white will likely not be welcome.
And now Israel bans groups and people who show or have shown any sympathy for the Palestinians.
We need, as a country, to realize who are friends and who are enemies. Countries steeped in racism and militarism are not our friends.  They may come bearing "gifts ' but those "gifts" come with a price tag.  Belize is a country that is rich in natural resources that foreign interests want.  They care nothing about the richness of the people, our diversity of cultures.  We are only seen as a place to exploit.
These are interests that deny the rights of people and nature.  Their only allegiance is to accumulating more money, at any cost.  They deny the science of climate change because it gets in the way of profit.
If we keep going down this path, we not only destroy Belize but also participate in destroying all life on earth, as we know it.  Those that say the world is coming to an end according to Biblical prophecy are saying, "Give up, give in".
We say no giving up or giving in.  We say we and our kids and grandkids have a right to a healthy environment and a safe world.  The way we can fail is to do nothing.
Take action, if it is only talking/educating others.  Every voice gives hope for the future.
We are happy to speak on television, radio or to groups.  Contact us at [email protected]
BOYCOTT ISRAEL
George & Candy Gonzalez
Cayo
Related Articles
Share
About Author
(0) Readers Comments