DANGRIGA, Sun. Apr. 15, 2018– Here are the Week 8 results from the Stann Creek Football Association (SCFA) Cup 2018 competition being played at the Carl Ramos Stadium.
Two games were played over the weekend on Friday night, April 13. In the opener, Wagiya prevailed, 3-2, over Pomona Warriors, with a goal each from Bernard Higinio (1'), Guy Sutherland (28') and Izah Rowland (85'); while Yibemeh Lewis (23') and Timothy Estero (33') scored for Pomona Warriors. And in the nightcap, Izon Gill (42' PK) converted the only goal of the game from the penalty spot, to give Sampson Proper Fix the 1-nil victory over Pomona Impacts.
Below is a copy of the SCFA Cup 2018 standing, after eight weeks of regular season. We have four more weeks of regular season remaining.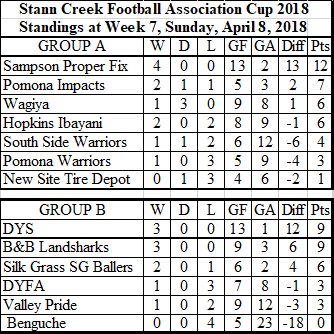 Scheduled games for Week 9:
Friday, April 20
6:30 p.m. – Pomona Warriors vs South Side Warriors
8:30 p.m. – B&B Land Sharks vs DYS
(Legend: DYFA – Dangriga Young Footballers Academy; DYS – Department of Youth Service Ballers).