At the completion of Week 4 games this past weekend in the Premier League of Belize (PLB) 2016-2017 Closing Season, defending champions Belmopan Bandits SC are still riding high in their quest to secure a berth in Stage 1 of the CONCACAF Champions League 2017.
Belize's representative in the CONCACAF Champions League 2017 is to be the champion that posts the highest aggregate total of points in the PLB Opening and Closing Seasons 2016-2017. Belmopan Bandits SC won the Opening Season. Even if another team should win the Closing Season, their only hope of taking the Champions League berth away from the Bandits would be if they can garner enough points in the Closing Season to make up for the Opening Season gap that the Bandits put between them. A look at the numbers below (Final Opening Season standings, and current Closing Season standings) indicates that the odds are exceedingly heavily in the Bandits' favor; and, indeed, they are "taking no prisoners," as they remain undefeated at the top of the current standings.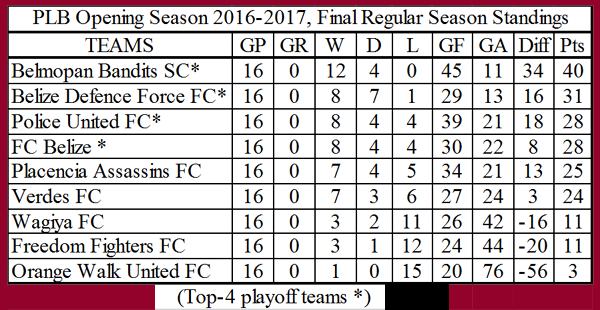 Two games each were played this past Saturday and Sunday in Week 4 of the PLB Closing Season 2016-2017.
On Saturday night at the Isidoro Beaton Stadium in Belmopan, it was home standing Belmopan Bandits SC, 2-0, over visiting Verdes FC, on a goal each from Honduran Jairo Roches (21') and Brazilian Aloisio Teixeira (49'). It was Verdes' first defeat this season. Meanwhile, down in Independence it was the same score as home squad Placencia Assassins FC got a goal apiece from Ashton Torres (58') and Delone Torres (68') to secure the 2-nil victory over still winless FC Belize.
On Sunday, out west at the Norman Broaster Stadium, veteran striker Daniel "Danny" Jimenez struck for a brace again (48' & 55') to lead Police United FC to a 2-1 win over visiting Wagiya FC, whose only goal was by Latrell Middleton (45'). Danny also scored twice last week in their 2-2 draw with Placencia Assassins, and he seems to have re-discovered the goal-scoring touch under new Police head coach, Aaron "Gambis" Gamboa. Meanwhile, here at the MCC Grounds in Belize City, Punta Gorda's Freedom Fighters gave city fans another exciting show, as the game was not decided until the waning moments, but they came up short on the scorecard, as homestanding BDF FC got a goal each from Trimayne Harris (9'), Jeremy Gentle (37') and Shane "Chucky" Flores (86') to clinch the 3-1 win over the visitors. BDF's 2-0 first half lead was cut in half at the 75th minute by Freedom Fighters' Rookie of the Opening Season, Jarren Lambey, and they were gunning for the equalizer; but Chucky's 86th minute goal, on a fine feed from Trimayne, put the game out of reach for BDF.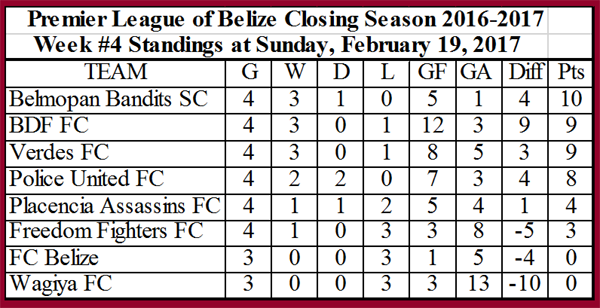 Upcoming Week 5 schedule:
Sunday, February 26
4:00 p.m. – Wagiya FC vs Placencia Assassins FC – Carl Ramos Stadium
4:00 p.m. – FC Belize vs Police United FC – MCC Grounds
4:00 p.m. – Verdes FC vs BDF FC – Norman Broaster Stadium
4:00 p.m. – Freedom Fighters FC vs Belmopan Bandits SC – Victor Sanchez Union Field
Related Articles
Share
About Author
(0) Readers Comments