BELIZE CITY, Fri. June 16, 2017–The Supreme Court usually hears bail applications on Fridays, so it is on this day that remanded persons who are seeking to be released from custody on bail are usually brought to the court on a removal warrant.
Nicholi Rhys was brought to court today, but he had no bail application hearing scheduled. Instead, the removal order for his transfer from the remand section of the Belize Central Prison was issued to facilitate an application from the Crown for his bail to be revoked.
Crown counsel Jackie Willoughby appeared before Supreme Court Justice Herbert Lord to argue that the two bails that Rhys had been granted should be revoked, and that he should remain in prison until his cases are completed.
Rhys was represented at the hearing by attorney Dickie Bradley, who was holding brief for attorney Leroy Banner, who had represented Rhys after he was remanded to prison on a charge of aggravated burglary and his bail application was denied.
Crown counsel Willoughby submitted that Rhys had violated the conditions of his bail by getting arrested for another offense, and that as a consequence, the two bails that he had posted should be revoked and he should remain in prison until his cases before the courts are completed.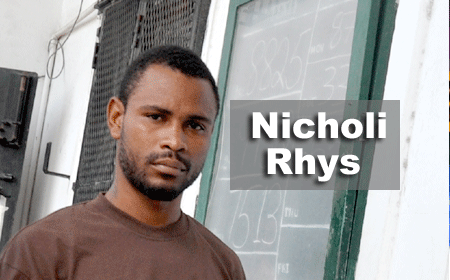 In his submissions, Bradley told the court that bail for a man or a woman is not a privilege, but a right. Bail "is basic law,"
Bradley told the court. "We are not to use bail as a punishment for any citizen," he went on to say.
Bradley explained to the court that the two cases for which Rhys had posted bail have been before the courts for far too long, and that that is not in keeping with the recent restructuring and time limits of cases in the Magistracy that was ordered by Chief Justice Kenneth Benjamin.
"Why are these two relatively minor cases still before the court?" Bradley asked.
One of the cases is for possession of illegal drugs — 1.2 grams of cannabis that police busted six persons, including Rhys, with.
"1.2 grams of weed, even if they want to hold it, all of them can't hold it," Bradley said, illustrating the minuscule amount of the cannabis.
Bradley argued that Rhys' rights under the Constitution of Belize are being violated because the possession of illegal drug charge that he has before the court dates back to April 13, 2014.
Rhys' other case that is still pending is for possession of unlicensed ammunition — one bullet that police busted him and five other persons with, in November 2015.
Bradley argued that Supreme Court Justice Hanomansingh set no conditions for the bail that was granted to Rhys for the firearm offense.
"There were no conditions, so he has not violated any," said Bradley.
Bradley turned his attention to the recent arrest and subsequent remand of Rhys that was based on a complaint by Mario Galvez, who had alleged that Rhys committed an aggravated burglary at his home on May 22. It is on the basis of his (Galvez's statement) that Rhys was remanded, Bradley said.
Bradley also pointed out that there were no witnesses to corroborate Galvez's complaint.
Bradley dropped a bombshell when he told the court that he had in his possession a statement, signed by Galvez, that he has forgiven Rhys and his ex-girlfriend, Esther Garcia (Garcia was charged for conspiracy to commit aggravated burglary and was released on Supreme Court bail), so he does not wish to continue with the matter.
"Why is this man still in prison right now, when Mr. Galvez has given a statement on May 29? That is the real travesty of justice right now," Bradley submitted. "When a complainant has withdrawn a complaint from a citizen who is in jail, they are to take him out of jail at the earliest and set him free," said Bradley.
Justice Lord dismissed the bail revocation application and ordered that Nicholi Rhys be taken back before Senior Magistrate Sharon Fraser at the earliest convenience to have the matter of the complaint of Galvez rectified.