Headline
— 25 August 2018
— by Courtney Menzies
BELIZE CITY, Thurs. Aug. 23, 2018– Yesterday, Wednesday, The Republic of China (Taiwan), through the "Taiwan Rice Donation for Humanitarian Relief" project, donated 10,000 bags of rice, weighing 22 pounds each, to the Ministry of Human Development, Social Transformation and Poverty Alleviation. This seemingly innocent gesture has sparked controversy in the country.
Hon. Anthony "Boots" Martinez, Minister of Human Development, Social Transformation, and Poverty Alleviation, who received the rice, expressed his appreciation for the rice, while Hon. Jose Mai, PUP area representative for Orange Walk South, is singing a different tune, saying that this donation hurts Belize more than it helps it.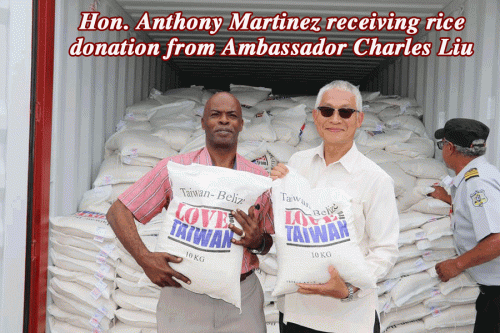 Hon. Martinez admitted that he doesn't know how the donation will actually affect rice farmers, but he says that this donation will be distributed through feeding programs which are run by non-government organizations (NGOs). These feeding programs depend on donations in order to keep running.
Martinez insisted that sometimes these feeding programs are not sustainable, and so the donation will be a big help to them. He asked whether those persons who object to the donation would have preferred that the donation be refused, and that people go hungry instead.
In wake of comments that Taiwan should have donated money instead, Martinez said that Taiwan donated the rice because they had a surplus of it, not a surplus of money.
He also said that the donation was not planned. Last year, Taiwan had said that if they had a surplus of rice they would be willing to donate it, so it was not something Belize had asked for; Taiwan offered it.
When concerns arose about whether the rice was "plastic rice", which is fake rice made from plastic that many people claim is being sold in different countries, Martinez said that he did not open the bags and check, and that he was simply there to receive it.
Hon. Jose Mai, who is also the PUP's regional Deputy Party Leader for the North, said at PUP headquarters on Queen Street this afternoon that the country did not need the donation because we already have a surplus of rice in the country. He explained that if Taiwan wanted to donate rice to the feeding programs, they could have bought it from the local farmers.
Mai said that the value of the rice is $125,000 US, which puts it at about 96 cents per pound, whereas rice in Belize could be purchased for 87-90 cents per pound.
Mai said that as TV news stations were airing the news about the rice, three local farmers called him with concerns. He said he was flabbergasted to learn of the donation as well. He claimed that the fear of the farmers is that this will be setting a precedent that will become a regular occurrence.
Mai said that "every pound of rice imported displaces a pound of rice that pays taxes and provides employment."
Perhaps one of Mai's biggest concerns is that Taiwan is participating in "dumping," which is when countries "dump" their surpluses on lesser developed countries.
He claimed that the government went about this donation very "haphazardly" because, according to him, the CEO of the Ministry of Agriculture as well as the Cabinet, was unaware of it until it happened. He also claimed that the proper importation protocols were not followed, such as those involving the Ministry of Trade and the checking of the rice by BAHA.
Regarding this "disorganized" and "haphazard" receiving of the donation, Mai said, "You start behaving like mange, only when it itches, you scratch." Mai went on to say that "not because you're given something means you have to take it."
According to a press release from the Government of Belize, besides feeding programs, recipients of the donation also include clients of the Ministry of Human Development, the Ministry of Health for its hospitals, the Ministry of National Security, NEMO, Kolbe Foundation, The Inspiration Center, Helpage, Hand in Hand, Mercy Clinic, Salvation Army, the Mental Health Resource Center, and VOICE.
The release ends by saying that the donation "will be distributed countrywide after being cleared from customs later this week."
Related Articles
Share
About Author
(0) Readers Comments