The above Amandala quote is from another aspiring young Belizean footballer, Wayne "Mini Man" Reynolds, in the late 1970s (or early 80s), before Belize's entry into FIFA in 1986, and the advent of semipro football in 1990 began opening doors for Belizean footballers.
BELIZE CITY, Wed. Aug. 22, 2018– Proud father, Hilberto "Hilly" Muschamp was overcome with emotion this morning when Krem WUB host Evan "Mose" Hyde asked if he had pondered the magnitude of the achievement of his son, Jardehl, in being selected as one of only 3 among a group of 68 who had travelled from 27 different states of the U.S. and 3 other countries besides Belize, to be invited "to join the Barca Academy for the 2018/2019 school year" and become a member of their "U-17 PreAcademy team."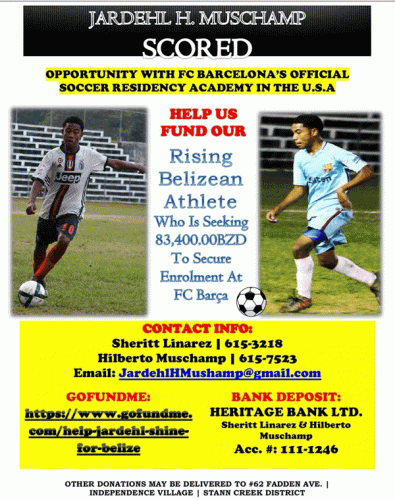 A successful shrimp farm manager in Mango Creek, Stann Creek District, and a football legend in his own right, Hilly, after observing the budding talent in his son, had directed his personal resources to get him to the prestigious Barca Academy Tryouts, August 10-12, in Casa Grande, Arizona, USA. He had previously enlisted no less than the legendary Norman "Tilliman" Nunez/Pipersburgh to work with Jardehl one-on-one in preparing him for the Tryouts; and Norman's assurances that he was ready, after months of personally training Jardehl, were proven to be well founded. In a sense, the Barca Tryout results have also validated the tutoring skills of Tilliman, who has a history of personality conflicts with authority figures of the FFB. But, if they have never figured out a way to employ Tilliman to work with selected members of our national teams, they must now acknowledge the first product of his hopefully soon-to-be-launched football academy in Independence.
But another hurdle remains before Jardehl can take up this historic offer to a Belizean athlete.  According to Hilly, the Academy has provided partial scholarship assistance toward the annual tuition of US$69,500.00 (BZ$139,000.00) for the 2018-2019 school year. The difference of close to BZ$84,000.00 must be raised soon, said Hilly, who is determined and confident that this once in a lifetime opportunity will not slip by, as the Barca Academy team's tournament schedule begins in the third week of September, and the quicker Jardehl joins the team, the better.
The invitation letter says the annual tuition covers the whole package: "accommodations in our dorm rooms with weekly cleaning service, team meals that are nutritionally balanced for an athlete, experienced coaching and training at the number one training facility in the country, access to all sports facilities and resort pool, professional locker, training gear, education at Arizona State University Prep High School with school issued notebook device, tutoring and academic support, college recruitment assistance, NCAA eligibility counseling, SAT/ACT prep, team travel and team transportation, tournament and tournament registration fees."
And the success rate for selected Barca Academy members?  Like 100%, said Hilly. Academy members either go on to full degree courses at recognized universities, or they take up full time professional contracts with MLS or top European league clubs.
Amandala asked Hilly, "How are you raising the rest of the funds?"
His reply, "Right now, asking for donations from anyone."
This sports desk and all of Kremandala express our full support for this trail blazing endeavor which can have tremendous spin-off benefits not only for Jardehl, but for more young and talented Belizean players with ambition, discipline and a positive attitude.
Related Articles
Share
About Author
(0) Readers Comments