BELIZE CITY, Fri. Oct. 13, 2017–Warren Lewis, 26, a former BDF volunteer who has been accused of the August 2009 murder of Albert Allen, filed a bail application through his attorney, Darrell Bradley. Lewis' bail application was heard today at the Supreme Court before Justice Herbert Lord, who has reserved his decision for an unspecified date.
The state was represented by Crown Counsel, Jacqueline Willoughby, who squared off with Bradley, making submissions opposing Lewis' bid to regain his freedom.
In stating the facts of the case in her response to Lewis' bail application, Willoughby said, "On 18 August 2009, the Petitioner (Lewis), along with Cordel Flores, were arrested and charged for the murder of Albert Allen, which is alleged to have occurred in Belize City on said 18 August, 2009. The Petitioner had given both oral and written statements to the police admitting to having killed the deceased, and had even led the police to the body."
Quoting from the documentation of the 2005 Shelton Tillett case, in which Justice Adolph Lucas said, "It is where a person is not tried within a reasonable time that the entitlement of bail becomes ripe," Willoughby continued to argue that a reasonable time is to be judged by the prevailing social and economic conditions. She said that in considering whether a reasonable time has elapsed, "consideration must be given to the past and current problems which affect the administration of justice in Belize."
Willoughby cited the backlog of cases as the reason for the delay — why the Petitioner was not brought before the court for a third trial.
"The Respondent (the State) however, is in no way suggesting that this is an acceptable reason, but it is a factor that the Court should take into account in deciding whether the delay has been unreasonable," Willoughby said.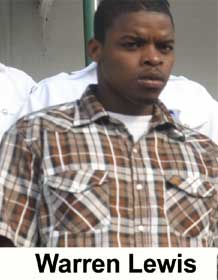 Willoughby pointed out that the Petitioner had received two trials since his incarceration. His last trial ended in January 2015; "and the Respondent has been ready, willing and able to prosecute this matter since then," she said.
The matter was before Justice John "Troadio" Gonzalez, who was approaching his retirement age and had stopped hearing cases in order to write his outstanding judgments.
"The matter is simply waiting the assignment of a judge," Willoughby said.
Willoughby submitted that it is not the Respondent's duty to assign matters or trial dates, and that the Attorney General has indicated that two judges will be hired to assist with the backlog of cases, although this has been disputed in the media.
The Crown also noted that the Petitioner (Lewis) is charged with a serious offense, for which the penalty is life in prison, and if granted bail, the Petitioner may abscond.
"The only special reason advanced by the Petitioner is that he has been continuously imprisoned for 8 years," the Crown argued, "and bail is only granted for murder in exceptional circumstances."
"Granting bail to this Petitioner would open a Pandora's Box to bail petitions for murder," Willoughby submitted.
Bradley, Lewis' attorney, submitted that it can never be disputed that murder is a serious offence. Bradley told Justice Lord, however, that "The Constitution leaves it up to Your Lordship to determine what conditions to impose to protect the general public."
"The Constitution mandates he is entitled to bail. In cases of inordinate delay, an indictment should be quashed," Bradley argued.
Bradley further submitted: "The fact that there was a caution statement, including to what my learned friend stated, that the accused might have made statement contrary to his interest, we submit that is no strong case.
"There is no special reason in her submission why bail should not be granted. We would say that the first reason is 8 years and 2 months. That has to weigh heavy on a person awaiting trial. He was subjected to a psychiatric evaluation because he exhibited signs of mental fatigue.
"The prosecution said that the accused showed no signs of rehabilitation. The accused does not have to show signs of rehabilitation, because he was not convicted of any crime. He has not been given the right of being tried and found guilty."
Bradley also pointed to the fact that "the accused was placed in solitary confinement for 6 months," punishment which he described as cruel and unusual, and a violation of the accused's constitutional rights.
"Every day that he remains incarcerated is an affront to our constitution," Bradley said.
At the last trial of Lewis and his co-accused, Cordel Flores, in January 2015, the jury acquitted Flores and was deadlocked on Lewis.
In March of 2013, Justice Gonzalez had to abort the trial of the two men and declare a mistrial after a juror made a prejudicial remark.
On August 18, 2009, Alberto Travis Allen's body was found at Mile 4 ½, on the George Price Highway, with multiple stab wounds and gunshot wounds.
Related Articles
Share
About Author
(0) Readers Comments