Features
— 23 June 2018
— by Bilal Morris
THE DISPLACEMENT OF THE BELIZEAN IMMIGRANT!
It has been a political pattern now in Belize over the last decade that both political parties in Belize have come to the point of turning their backs on their own people, the Belizean immigrant abroad. Both the People's United Party (PUP) governments under the Price administration and its successor, the Musa administration; as well as the United Democratic (UDP) governments under the Esquivel administration and its successor, the Barrow administration, have turned their backs on their own Belizean people in the diaspora.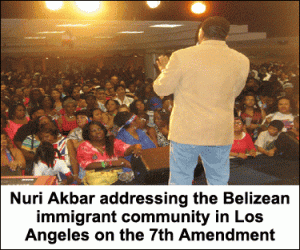 Regardless of the remittances that came flowing in from the Belizean immigrant communities abroad to enrich the Belizean nation state with currency exchange and financial assistance in funding these political parties' campaign, the call of the Belizean immigrant abroad for a better quality of life for their children and loved ones they left behind has been ignored to a large extent. Rather, a slow and systematic displacement of the Belizean immigrant population from the body politic of Belize has been gradual but sure.
The Price administration appeared high spirited and friendly in their political delegation visits to the Los Angeles Belizean community in 1988 and 1991 after their shameful loss to the Opposition U.D.P in 1984, and made many promises to the Belizean immigrant community that they knew they would not keep. There were empty promises of a futile invitation to come home to Belize and invest, but the Belize immigrants found that they were only second class citizens that were shunned and had doors slammed in their faces in some of the most disrespectful rejections of their national patrimony. Many a Belizean immigrant in returning home had come to understand that they were needed for their money and resources only in Belize election times. It was a clear and outright betrayal and rejection of the immigrant Belizean community.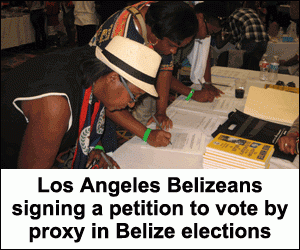 The Opposition United Democratic Party (UDP) had come to win an election finally in 1984, but lost in 1989. Prior to their general election victory in 1993, a visiting delegation of UDP Opposition leaders visited the Los Angeles immigrant community in L.A. and presented some of the most daring promises, better than the ones that the PUP would be making in 1989. It ranged from a better quality of life for all Belizeans at home, and the inclusion of the Belizean diaspora in the economic development of Belize. They never said how they were going to do that, just the usual call and invitation to come home to Belize and invest their hard-earned U.S. monies to buy land and to build homes. These again became false promises that were never met. Belizeans found on their return home the same resentment from their natural-born Belizeans at home who had developed this distancing through hearing the vile political speeches on election times about "the ones who went abroad" and "the ones that left."
To their credit, it had appeared at first that the UDP governments establishing of the first full-fledged Belizean consulates in L.A. through the Esquivel administration's first term, would have further ushered into the Belizean diaspora full citizenship rights as a voter in all general elections with the vote by proxy that many countries in the world have established for their diaspora. But when Prime Minister Manuel Esquivel was asked about establishing the Belize absentee vote in a radio interview on Belize-Caribbean Pulse on KPFK with host Pam Reyes in 1989, his outright rejection of it as an issue that would produce corruption in Belize's electoral system, sent a clear message that there was a point that his government would not go beyond in protecting natural-born Belizeans constitutional rights in the diaspora.
Likewise, when SPEAR"s Assad Shoman, who was once a Minister of Government in the PUP's Price administration between 1979 and 1984, was also asked about his position on the Belize absentee vote for Belizeans abroad on KPFK's BCP, it was shocking to hear him reject it along the same lines of corruption like that of the UDP's Manuel Esquivel. Though Assad had appeared as though he had been converted to this Belizean with revolutionary ideas of change, it became apparent to many Belizeans in the Los Angeles Belizean diaspora that he was not really different as he had claimed to be in separating himself from the general Belizean political status quo. He exposed himself and his true nature as one also that was making it clear to the Belizean immigrant community that there was a point that he would not have gone beyond. And a clear message that the Belizean immigrant is only needed for convenience and nothing else. He should have known better.
The coming of the Barrow administration spelled out a more drastic distancing from the immigrant Belizean communities abroad with its failure to fulfill the dream of a dying man in the spirit of the late Minister Philip Goldson, who had always advanced the rights of the Belizean abroad and protected those rights through his many positions that they should have the same rights as their Belizean brothers and sisters back home. It was the resurrection of the 7th Amendment that would have restored the rights of the immigrant Belizean communities in the U.S. to vote in all Belize elections and to hold political office. Rather than keeping that promise after being given a mandate in the electoral support of hundreds of Belizeans who flew down to Belize to vote for the politicians in the Barrow administration and brought it to power in three consecutive terms, that dream of Minister Goldson appears to be one now that is truly deferred.
Now, come July 2, 2018, the immigrant Belizean communities abroad are not going to be included in the infamous re-registration process that will decide who will vote in the April 2019 referendum to decide if the age-old illegal and unfounded Anglo-Guatemalan claim should go for adjudication at the International Court of Justice (ICJ). It has become an insulting and disgraceful gesture of ungratefulness showed towards the immigrant Belizean community from a government who had promised so much but yet gave back so little. What else can be worse!
Related Articles
Share
About Author
(0) Readers Comments