BELIZE CITY, Thurs. June 22, 2017–Belize City's southside has been known to be one of the locations hardest hit by violent crimes and particularly homicides, but what many people may not know is that it is also the location with the highest child mortality rate in Belize at 22 for every 1,000 children born there, well above the national rate of 12.
A 276-page report launched by UNICEF this morning, looking at the situation of women and children in Belize, unveils the situation of children across numerous indicators; however, key areas in the report focus on the welfare of children, such as early childhood mortality and their nutritional status – whether they are eating well enough to support their wholesome development and a good start in life.
"There are marked differences between the probabilities of dying among males and females. Females are less likely to die before their fifth birthday compared to males," said the report.
It revealed that under-five mortality rates for Belize City's Southside are about three times that of Orange Walk.
"There are also minor differences in mortality in terms of educational level and ethnicity of household head. Children born to younger mothers (less than 20 years) are more likely to die before their fifth birthday compared to those born to older mothers (above 20 years); under–five mortality for younger mothers is 15 per 1,000 live births. The under-five mortality rate is highest among the Creole-headed households (17 p.er 1,000 live births)," the report added.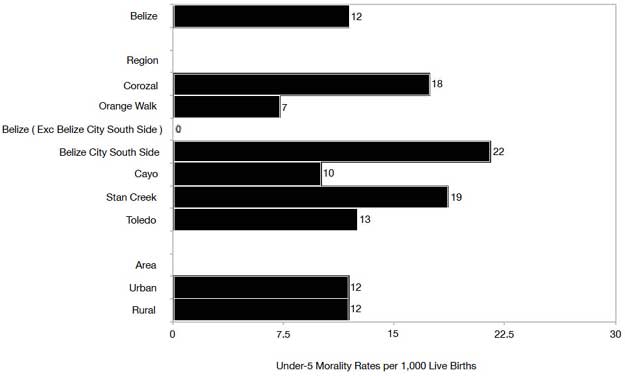 It goes on to say that children in the Toledo District have the highest rate of stunting compared to other children in the country, and similarly, children in Belize City's Southside are more likely to be underweight than other children—but they are also most likely to be overweight.
"In contrast, the percentage of wasted children is highest in Stann Creek region and Belize City Southside (3% each)," the report goes on to say. (Wasting, it says, is usually the result of a recent nutritional deficiency.)
According to the report, Belize City's Southside and the rest of the Belize District reported the highest percentage of overweight children, at 9% and 11%, respectively.
"Boys appear to be slightly more likely to be underweight, stunted, and wasted than girls," the report said, with other highlighted rates being: "…5 percent severe stunting among Mayan children, 15 percent overweight among Garifuna."
Paulette Wade, monitoring and evaluation officer at UNICEF and the focal point for the Multiple Indicator Cluster Survey (MICS), the 2015-2016 study of 5,200 households from which the report was drawn, told our newspaper that whereas the Toledo District shows the highest rate of stunted growth in the country (at 33%, or more than twice the national rate), children on Belize City's Southside are most likely to be obese.
Furthermore, she said, males in particular are more likely to experience physical punishment and most likely to not be in secondary school.
The MICS report says that stunting is a reflection of chronic malnutrition as a result of failure to receive adequate nutrition over a long period and recurrent or chronic illness.
Speaking with a prominent member of the Maya community on his take on the findings on stunting in Toledo, Amandala was told that there are concerns from that community over the categorization of Maya children as stunted, as all ethnicities cannot be fit inside the same mold.
The Maya father, who said that his son is probably fed better than many other children in his community, was also told by a health professional that his child, whose mother is short, is stunted, but he believes that evolution and genetics should be considered, as Maya people generally have a short stature.
Toledo conversely showed strength in breastfeeding. Mark Antrobus, Social Planner in the Ministry of Human Development, told Amandala that, "Toledo actually has the highest rates of breastfeeding, but most of the indicators have to do with wealth and poverty. Because Toledo is generally the poorest district, they generally perform worst on the whole range of different indicators…"
Another area of interest which he highlighted is Belize's "very high" adolescent birth rate – young people between the ages of 15 and 24 having children. Notably, Belize City's Southside reported the lowest adolescent fertility rate at 55, contrasting with Corozal at 104 per 1,000 live births.
Nationally, though, Belize reports that 74 in every 1,000 live births in Belize are to girls 15-24 years old, compared to 80 in Guatemala, but then Barbados is way down at 39, Antrobus pointed out.
"So it's interesting to see where we can compare and to see what countries we can learn from to try and effect change here…" said Antrobus.
Jacqueline Small, demographer at the Statistical Institute of Belize, who was chiefly responsible for organizing and coordinating the MICS5, spoke with our newspaper about some surprise findings in the report. One such interesting finding is deceptive labeling of table salt, said to be iodized when in some cases it actually contains no iodine.
Small said, "…we went into households and we actually tested their salt to see if it had enough iodine in it…. Sometimes we tested the salt, the people would bring their packages that said iodized salt and when we tested it, there is no iodine in it – so that was a surprise for us!"
Small also spoke with us about what the data is saying about corporal punishment in households – something which UNICEF opposes. According to the published data, the rate of severe punishment gets higher moving down the wealth index from richest to poorest, and they are said to be highest among the Maya and Creole, but lowest among the East Indian and Garinagu.
"The majority of the severe punishment that we saw in the survey is actually meted out to younger children, who we think are least able to sustain this sort of punishment so that in particular is something that policymakers might need to look at," Small said.
It is also notable that according to the report, Belize City's Southside and Toledo report the highest rates of children (ages 1-14) experiencing severe discipline, at 9.4% and 16.6% respectively, far above the national average of 6.5%. Although Toledo reports lower rates of violent crimes than Belize City, it is said that that violence in the homes does spill over into the streets.
"Violence perpetrates violence," said Wade, who contends that those children who experience severe physical punishment will grow up thinking violence is a solution to their problems. However, there is another dimension to the vicious cycle of violence: domestic violence in the homes.
"We can't just look at the juveniles committing the crimes, we need to look at the homes from which these children come," said Wade.
Speaking at the launch of the third MICS report for Belize, Dr. Ramon Figueroa, Chief Executive Officer in the Ministry of Health, said that, "Gender-based violence needs to be addressed with more vigor."
"What we have now through the MICS5 report is a clear portrait on the state of our children. We know our strengths, we know many of our weaknesses but we also know some critical areas where we don't know enough," said Dr. Susan Kasedde, UNICEF representative in Belize, at today's launch.
Kasedde said that the MICS5 "…will now serve as a crucial baseline for many indicators on children and adolescents," adding that UNICEF will continue its collaboration with the key partners involved in the process: the Government of Belize, the Statistical Institute of Belize, the National Committee for Families and Children, civil society and children and adolescents themselves.