Sports
— 17 February 2018
— by Dean W. Flowers, Vice-Chair, BFA.
Belmopan, Tue. Feb. 13, 2018– Over a thousand fans from Belmopan and surrounding communities flocked into the magnificent Isidoro Beaton Stadium on Saturday night to witness game one of the finals in the Belmopan Football Association Amateur 1st Division 17/18 Opening Season Tournament. The atmosphere was one of beauty and plenty of colors, accompanied by the deafening sounds of horns and cheers from the audience in attendance.
Referee Josue Rivera, Sr. blew his whistle and just like that game one of the championship series was underway. The game was barely in the 5th minute when a perfectly timed run by Arlin Bautista provided him with a one on one opportunity against Club Atletico's goalkeeper, Orlando Galdamez, but 1st Assistant Referee, Josue Rivera, Jr. questionably flagged him offside. Nonetheless, Valley United kept on pressing and half way through the first half were awarded with a free kick, some 25 yards away from Galdamez's goal. Onan Maldonado stepped up and took a right footed shot which sailed around the wall, beating a late diving Orlando Galdamez, but hitting the right upright post to save the night for Club Atletico.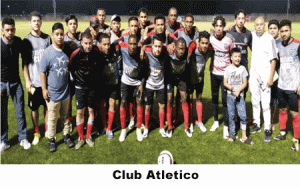 In minute 35, Club Atletico's Mikey Madrid delivered a corner kick just pass the penalty area which was met by the head of an attacking Marlon Miranda who got just enough on it to cause some problems for goalkeeper Randy Dueck who fumbled while attempting to hold onto the ball but managed to recover quickly before any real damage was done.
The closing minutes of the first half was filled with excitement. Valley United FC's Henry Nino mounted an individual effort, getting by two Atletico defenders to fire a grass burner that forced goalkeeper Galdamez into a perfectly timed diving save.
Club Atletico's Tivi Ramos received a long pass from Marlon Miranda in midfield, outmuscled sweeper Olvin Maldonado and broke free for a one on one opportunity with goalkeeper Dueck. But Dueck easily collected.
Mikey Madrid's solo effort resulted in him being fouled about twenty yards out from goal. Madrid's direct shot at goal ricocheted off one of the defenders in a two-man wall, and shifted directions, towards the left of goalkeeper Dueck, who was already in motion to his right. Dueck recovered just in time to get a hand on the ball and prevent Club Atletico from taking the lead.
Valley United and their fans screamed for a penalty when Onan Maldonado appeared to have been taken down inside the penalty area by a tackling German Guerra, but Referee Josue Rivera said, 'play on', and the ball was cleared away from danger. The first half would end 0-0 but not before Valley United's Arlin Bautista delivered a free kick some thirty yards out which almost caught Galdamez, who was cheating off his goal line.
Club Atletico was first on the attack in the second half. Tivi Ramos fired a shot that rebounded off the outstretched arms of Marvin Calderon, who was inside the penalty area for Valley United. Club Atletico protested for a penalty, but Referee Josue Rivera was playing Mr. Scrooge tonight with penalty requests.
Midway through the second half, Valley United's Arlin Bautista, who was arguably the man of the match, "nutmegged" Israel Manzanero and Marlon Miranda, fainted right and dribbled left past a challenging Marcos Lino, and then laid a beautiful cross to Hilberto Gutierrez at the top of the eighteen-yard box. Guiterrez rifled a rising ball which goalkeeper Galdamez barely saved, tipping it over the crossbar. On his next attack, Gutierrez fired a grass burner that was too hot for Galdamez to handle, but the goalkeeper managed to "spit" the ball out to safety.
Javier Carias went down inside the penalty box in the 75th minute, and Valley United's fans screamed out to Referee Josue Rivera for a penalty, but the man in the middle didn't see it their way. Towards the end of the game both teams seemed contented with the 0-0 stalemate, and that's the way it ended. An exciting and intense game one of the 17/18 Opening Season Finals is now in the history books: Club Atletico 0 – Valley United FC 0.
The final game of the series for the championship comes up on Sunday, February 18, 2018, at 4 p.m. The preliminary games will feature TexMar Juniors, the Junior Banana League U17 Champions, and Belmopan City U17 Sub Champions Rising Stars, at 12 noon. At 2 p.m., the 3rd place match will see the mighty Coast Guard FC going up against the exciting Cavetubing.Bz Strikers, who came in third in 16/17 Closing Season edition of the tournament. Then at 4 p.m., it's the Big Dance! Two men enter—one leaves with the Championship!
Reminding players…in the BFA IT'S NOT HOW BIG YOU ARE; IT'S HOW BIG YOU PLAY!
(Editor's note: the above article was slightly edited, condensed)
Related Articles
Share
About Author
(0) Readers Comments