Crime
— 29 July 2014
— by Kareem Clarke
A teenager who inflicted multiple chop wounds upon a Guatemalan national in San Vicente, Toledo, this past Saturday, July 26, is currently recovering from a gunshot wound that he reportedly suffered at the hands of police after resisting arrest in the wake of the chopping incident.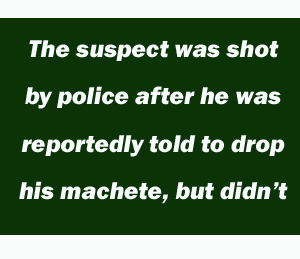 Police reported that they visited a San Vicente church on Saturday and saw Petrolino Lorenzo, 46, of Santa Cruz, Guatemala, suffering from multiple chop wounds to the body.
Lorenzo was subsequently transported to the Punta Gorda Hospital, after which police then pursued his alleged assailant, later identified as Pablo Escobar, 18, who was reportedly found standing under a shed holding a machete in his hand.
Police said that they instructed Escobar to drop the machete, but he instead raised the weapon in the air and attempted to throw it at a police officer who was attempting to subdue him.
The officer then used rubber bullets on the suspect, but police say that it was to no avail.
According to police, Escobar continued to advance towards the officer, which is when the police officer took out his service 9mm pistol and fired one shot at the suspect, which caught him in the upper right leg.
Escobar was then disarmed and transported to the Punta Gorda Hospital.
Amandala understands that both Lorenzo and Escobar were later transferred to the Karl Heusner Memorial Hospital, where Lorenzo remains in a serious condition, while Escobar is expected to be charged with attempted murder upon his release.
Related Articles
Share
About Author
(0) Readers Comments