Wed. Aug. 30, 2017, updated Tue. Sept. 12–We had received reports that former Belize City 1st Division football star of the late 1970's and early 1980's, Christopher Luben, known to fans as "the Greek," was back in his old home town some 34 years after leaving the Jewel; and on Saturday, after watching the BDF vs Bandits game at the MCC, we met and had a long chat with the Greek.
We had gotten the impression that all his 34 years away had been spent locked up, but the Greek told us that, after leaving Belize in 1983, he played ball in Los Angeles, while he was getting involved in the drug business, to which he had been introduced by a Belizean elder. His major crossroads with the law occurred in 1988, when he began what turned out to be 29 years in an American penitentiary.
It has been said that home is a place where, when you go there, they have to let you in. And for sure, the Greek is glad to be back on Belizean soil where he is free, as opposed to being confined to an institution in the U.S. But it will not be easy for the baller who was once a young star on the local football scene.
His bravado and impressive skills on the football field earned the Greek a place in 1st Division football at a relatively young age, and a reputation as being fearless and un-intimidated by the established veteran stars of the day.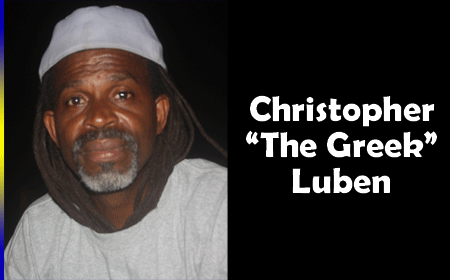 As is the case with many Belizean youth at the time, the Greek joined the "Exodus" north at the first opportunity, so his football career at the MCC was short-lived (culminating with a second place finish for his Fort George United squad in the Belize City competition). But, nevertheless, he left a reputation behind, as being one of the City's premier midfield players.
Thirty-four years is a long time; and Belize today is far different from the Belize that the Greek left behind. Many of those he knew and that knew him, are themselves gone to the States, or have died. Bel-China Bridge, Princess-Ramada Hotel and Marine Parade Boulevard are only a few of the infrastructural changes that have occurred since his departure in 1983. It's a new world.
To make matters worse, Christopher's family had migrated to Belize from Honduras when he was still a child, so he had very few relatives in Belize back then, and fewer now, as most of those close to him have either themselves migrated or passed away.
Getting his feet on the ground, and surviving in this new, strange world, that used to be his familiar "stomping grounds," will be difficult. A whole new generation has grown up.
The fairy tale character, Rip Van Winkle slept for some 20 years; the Greek was in the "pen" for 29. Serving a life sentence for a capital offense committed during a period of heavy drug use, a remorseful Christopher says he experienced an epiphanic moment even before his case concluded, and after numerous attempts for parole, after 29 years he was finally deemed to be worthy of a second chance at life among free people.
In our discourse, the Greek displayed a genuine passion for our troubled youth, whose anti-social and often violent tendencies he understands from his personal journey as resulting from a deep seated anger caused by the emotional pain and hurt they endured at a tender age. Over his many years of confinement, the numerous counselling sessions with behavioral specialists helped him to understand himself and overcome his inner demons. Whatever his distant past, this reincarnation of the Greek is all about helping the healing of troubled youth, through advice and counsel from one who has been there.
The Greek said he arrived in Belize last Tuesday, August 22, with "only the clothes on his back," as his small travelling bag with his few belongings (deportees are allowed 40 pounds of luggage) was unfairly seized by a U.S. immigration officer at the airport before he was placed on a flight to Belize.
Welcome home, brother! The football family, in particular, will hopefully play its part in helping you to chart a safe and productive path forward, as you embark on your new life's journey in the Jewel.
(P.S. We purposefully delayed the release of the above article until we could locate a related Amandala editorial from 1988, titled "A tale of three strikers," which we reproduce below. In the accompanying team picture with that editorial, Turo Leslie is on the far left in the front row, and Christopher Luben is on the far right also in the front row. We are not sure, but it appears that Ricky Gongora is fourth from left in the back row. Team manager Lloyd Flowers is standing at the back.)