BELIZE CITY, Mon. Jan. 18, 2016–Although the prison population at the end of 2015 was about 100 less than the number of inmates recorded at the end of 2012, 2013, and 2014, nearly a third—or one in three—are persons who have not yet been convicted for any crime.
There are 1,404 males and 39 females incarcerated, with 1,009 convicted of a range of crimes, including 124 for burglary, 110 for drugs trafficking, 113 for illegal entry, and 102 for possession of an illegal firearm/ammunition.
The official numbers indicate that there are 118 inmates convicted of murder and manslaughter, while 231 persons are remanded for the same crimes, awaiting the outcome of their trial.
Three persons are remanded for rape, 13 for robbery, 26 for burglary, 13 for theft, and 9 for carnal knowledge – the major categories of crime.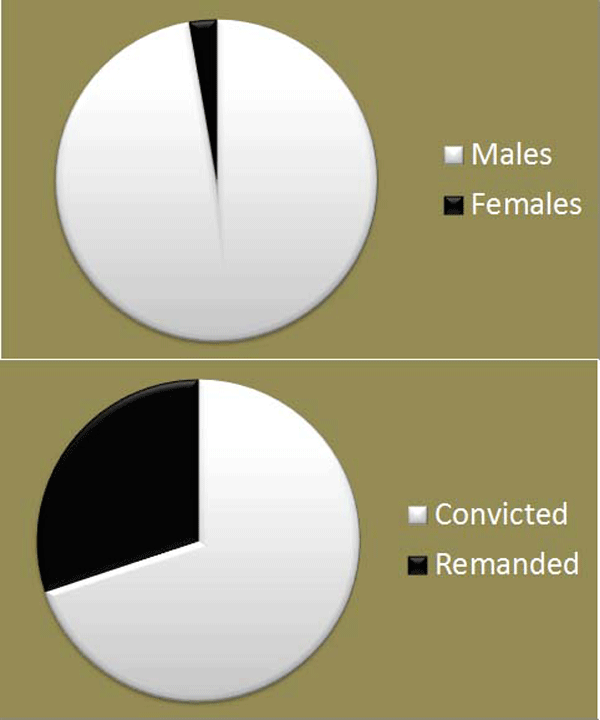 Meanwhile, there are 16 persons remanded on weapons and ammunition charges and 14 for drug-related offences.
Females make up only 3% of the prison population. The vast majority of female inmates are in prison for drug trafficking and illegal entry. There is one woman in prison for 5 counts of abetment to carnal knowledge and indecent assault, and a few others for murder and manslaughter.
The felons with the longest sentences are Fredrick Casimiro, 47, and Fidel Williams, 46.
Back in 2011, Casimiro had been sentenced to 60 years for six counts of carnal knowledge upon an 8-year-old, as well as 15 years for unnatural crime for incidences which occurred between 2007 and 2008. He was sentenced by Justice Troadio Gonzalez to a total of 75 years.
Williams, an ex-soldier, was sentenced to 80 years for 10 counts of rape, but we were told that he has appealed his conviction.
Apart from Casimiro and Williams, there are 37 inmates serving a term of life.