BELIZE CITY, Mon. Jan. 13, 2020– Kenrick Longsworth, 27, a laborer of Lovely Lane Hutments off Pickstock Street, who is accused of bludgeoning his three young stepsons, ages 2, 3, and 4, which resulted in the death of his 3-year-old stepson, went on the run at about 6:30 Friday evening after the children's mother returned home that Friday evening, January 10, and saw the injured children.
Police were alerted and the hunt for Longsworth, the stepfather of the three children who were left in his care, came to a successful conclusion yesterday evening, Sunday, in Isabella Bank. He had been hiding in a farm in the village when he was found and detained.
The children's mother, who was not identified by name, told police that she left the children with Longsworth, her common-law husband, to take care of them while she went out to do errands, and when she came home, she saw her 3-year-old son lifeless on the floor.
She immediately rushed him to the Karl Heusner Memorial Hospital (KHMH), but he was declared dead on arrival.
She went back home and saw her other two children injured. They were also rushed to the hospital, where they were admitted in a critical condition.
The children's father told the media that he did not want to find himself face-to-face with Longsworth, because he would do him (Longsworth) serious harm.
The children's paternal grandmother also spoke, and told the media that she was willing, and able, to look after her remaining two grandsons.
This afternoon, Commissioner of Police Chester Williams strongly rejected the allegation at a press conference, that the three children had been sexually molested. He stated that doctors had examined the boys and did not find anything to support that allegation, and also, he rejected the allegation that the children had been beaten with a hammer.
He said that the weapon appeared to have been something that inflicted "blunt force" trauma.
Compol Williams posted yesterday, Sunday, on his Facebook page, that Longsworth had been found hiding on a farm in Isabella Bank, less than 48 hours after he went on the run. He was arrested without incident and taken to the Queen Street Police Station, where he was booked for murder. He has not yet been arraigned on the murder charge, however, but other charges are expected to be brought against him shortly, pending investigation into the injuries of the other two children, which have not yet been classified.
While Longsworth was on the run, police declared him to be armed and dangerous. A wanted poster was issued for his capture and a $10,000 reward was offered to encourage people to aid in his rapid capture. According to Williams, three persons will share the reward.
Compol Williams admitted that the police used a diversionary tactic to apprehend the suspect. Police made a show of force in "the Jungle," an area off Pickstock Street, encompassing Lovely Lane and the hutments, as though they believed that Longsworth was hiding and being sheltered there by family and residents, but in fact, they knew that he was in fact in Isabella Bank, where members of his family live.
The Commissioner's reason for this was that he feared that members of the area were advising Longworth of their every move to apprehend him, and the deception worked, because Longsworth was captured without any difficulty about 30 miles away from Belize City.
Compol Williams said that Longsworth cannot be considered mentally handicapped, as some reports allege, because after his brutal actions, he ran away, eluding police. He said that a mentally challenged man would have remained on the scene because he would not have been aware of what he had done.
In an interview with us this afternoon, Laverne Longsworth, also known as "Anti Christ", Kenrick's mother, said that she was at a loss for a reason for the horrendous crimes. She has grandchildren and would not want such brutality perpetrated against them, and she sympathized with the family of the abused children, she said. She said that she would not excuse her son's actions or shield him from the law, but she would not abandon him, because he is her son.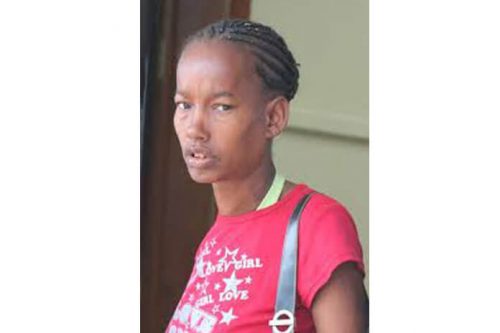 Laverne "Anti Christ" Longsworth, Kenrick's mother, said that she was at a loss for a reason for the horrendous crimes. She said that she would not abandon him, because he is her son. She said, no, her son was not crazy.
Amandala asked Laverne if her son had displayed signs of mental instability, and she said, no, that her son was not crazy.
Lavern Longworth said that she was at home on Friday evening when her landlord told her to go and see what was happening on Lovely Lane, and on her arrival, she saw two of her step-grandsons being held by a woman. She disputed the report that the children were beaten with a hammer.
In fact the post-mortem examination of the toddler, 3, was held today and the results are that the child died of internal bleeding.
We tried to get some comments from the children's mother, but she was devastated and did not wish to be interviewed.
Compol Williams said that members of the public were warned that it is an offense to hide a fugitive from justice, and that they faced jail time of 5 years if found guilty of doing so. A plea was made to the residents to give up Longsworth and take the $10,000 reward.
The residents, however, got angry and told police that they were not hiding him, and they also wanted him to be found. The angry outburst of the residents was captured on video cameras and went viral.
Shortly after the commotion on Lovely Lane, the Commissioner announced that Longsworth had been captured and was being returned to Belize City.
This is not the first time that Longsworth is accused of committing a violent crime. In July 2018, police said that he fired at them and escaped by jumping into the river near the Belize City Swing Bridge. However, he was later captured and charged with 3 counts of aggravated assault.
That morning, Inspector Glenn Caliz and Sergeant Ryan Marroquin were driving on North Front Street towards Swing Bridge when they were stopped and told that a man ahead of them was carrying a gun.
The officers drove up and when they saw the man, who was near the Swing Bridge, they ordered him to stop. The officers said they then got out of the pickup to approach the man, and he fired at them. They took cover and then returned fire at the culprit, who jumped into the river and disappeared.
Police investigations led to Kenrick Longsworth, 27, of Belize City.
Longsworth's mother, Laverne "Anti-Christ" Longworth, was approached, and she cooperated and convinced her son to hand himself in to police.
Longsworth reportedly said that he did not know that police were in the vehicle, because it was unmarked. The case was later dismissed in court.
Feature photo: Kenrick Longsworth captured in rural Belize