Camalote Village, Cayo District, Fri. July 16, 2021– Using funding received from the Caribbean Development Bank (CDB), the Government of Belize has continued the rollout of Phase II of the Education Sector Reform Programme. Through this USD 35.46 million project, the Ministry of Education, Culture, Science and Technology has so far constructed 35 new education facilities, inclusive of 18 new pre-schools.
This week, the Ministry of Education inaugurated five new pre-schools in the districts of Stann Creek and Cayo: San Juan Bosco R.C. Pre-School in Cowpen, Stann Creek; Monrad Metzen Government Pre-School in El Progresso, Cayo; Santa Cruz Government Pre-School and Primary School in Santa Cruz, Cayo; Myrtle Banner Government Pre-School in Camalote, Cayo; and Judy Diego Government Pre-School in Belmopan.
The developments were carried out in consultation with the local community. The stakeholders believe that the investments made in these schools will be beneficial to all nearby residents and communities, who will now have high-quality schools in more accessible areas. The children in the area will thus no longer have to walk incredibly long distances to attend classes. Hon. Rodwell Ferguson, the area representative for Stann Creek West, at the inauguration ceremony, recalled a time when Cowpen village was bereft of electricity, water and main roads, but the developments that have taken place are a testament to the community's constant development, he said.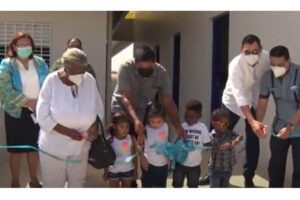 Minister of Education, Culture, Science and Technology, Hon. Francis Fonseca, stated, "The investments we make, as a country, as a people, as a government, in early childhood education will reap dividends for us at every other stage of the education system. I'm very proud to be a part of this effort today. A lot of people have been involved in this project for many, many, many years, and we're glad to see that those seeds that we have planted are reaping fruit."