BELIZE CITY, Mon. Oct. 26, 2020– Over the weekend, the Office of the Director of Health Services announced the first pediatric death associated with COVID-19.
Six-year-old Arturo Godoy died on October 24 while admitted at the Karl Heusner Memorial Hospital's COVID-19 Unit. His hospitalization was first announced by the Director of Health Services (DHS), Dr. Marvin Manzanero, on Thursday evening, during an "Ask the Experts" webinar.
Dr. Manzanero said that the child had been diagnosed with pneumonia and had a pre-existing kidney condition, but was in stable condition.
But by 10:15 p.m. on Saturday night, the Office of the DHS made the following announcement on Facebook: "Unfortunately, we have to convey further bad and sad news but we are recording our first pediatric death associated with COVID-19. This is the 6-year-old child who had been at the KHMH's COVID-19 unit."
Soon after, social media was flooded with messages of grief and condolences.
Young Arturo attended La Inmaculada RC school in Orange Walk Town, and the school released this statement: "La Inmaculada R.C. school family mourns the passing of Arturo Godoy. He will sadly be missed by his past teachers and classmates. It's [at] times like these that we reflect and come to value the true meaning of life. A child is a great gift and Arturo did all the best in sharing that gift of love with everyone. His life was brief, but he brought great love, joy, and happiness to his parents, family, teachers, and classmates."
Commissioner of Police Chester Williams also took to social media to express his frustrations at the lax attitude some members of the public have displayed toward this deadly virus.
He said, "At the end of the day, it is our most vulnerable population, the elderly, those with preexisting health conditions, and now our children who are feeling the brunt of the irresponsible behavior of others. Now for the first time, we have a child 6 years old who died from the virus.
"What is it going to take for some to understand the severity of this virus?"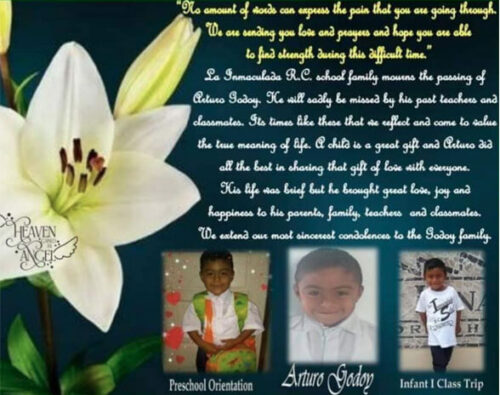 As of October 25, 50 deaths associated with COVID-19 have been recorded in Belize. The most recent death was that of a man in his 80's, who died at the Northern Regional Hospital.
This was recorded on October 25. The death of Arturo Godoy, which occurred on October 24, was thus the 49th death.
Also, on the 24th, two men, both in their 70's, died from COVID-19; they had also been admitted to the COVID-19 unit at the KHMH.
One of them was a diabetic on dialysis and the other, a resident of Orange Walk, was on ventilation support.
Three deaths occurred on October 24. On October 23, one new death was also announced by the DHS. Our case fatality rate currently stands at 1.59 percent.