Photo: Regatta Committee chairman Collet "Bunas" Maheia posed with the young Optimist class competitors
BELIZE CITY, Sun. Mar. 5, 2023
The revitalized annual Baron Bliss Harbour Regatta, 94th edition, the nation's oldest continuous sailing event, was held today in the sea in front of Seashore Promenade in Buttonwood Bay in Belize City.
Under sunny skies with a steady southeast 9-13 knots wind, 4 classes of sailing boats competed in races in a low point scoring system.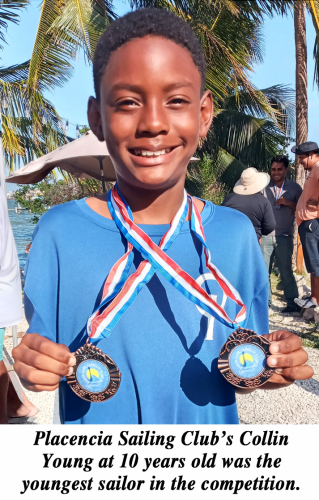 The youngest and most novice sailors competed in 3 races in the Optimist class (ages 8 – 14 years), with George Jackson (12 years old) of the Placencia Sailing Club (PSC), gaining the championship, with Andell Zelaya (11), Corozal Bay Sailing Club (CBSC) second, and Stafford Eiley, 12, (PSC) was third. Jadon Leslie (PSC) was fourth, and the youngest competitor Collin Young (10) also of the Placencia Sailing Club was fifth.
The older boys and girls competed in four Laser races (14 years old and above) with Devaughan Morrison (CBSC) finishing in first place, Antonio Ricardo (Belize Private), second, and Tyson Dempsy (PSC) third. Fourth to seventh place, respectively, were Glen Supal, Jr., (PSC), Jazzamine Brown (PSC), Joshua Marin (CBSC), and Toni Vidal (CBSC).
The sailing dories saw two races for junior and senior or professional classes, with "Sandra" of Gales Point Manatee Sailing Club crewed by Kevin Andrewin, Jr., (Captain), Christopher Welch and Lloyd Andrewin, Jr., winning the Junior Category.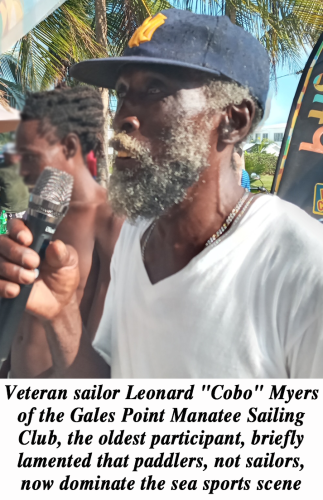 Veteran sailor Leonard "Cobo" Myers (Captain), Artie Myers and Danna Myers, Jr. was the championship crew of "Martin" which won the Senior category.
The Bosuns also raced twice, Roberto Pott and Nicole Solano of the Sea Scouts Association (SSA) taking first, and Kai Pott and Scott Young also of the SSA coming in second.
Collet "Bunas" Maheia is the chairman of the Baron Bliss Harbour Regatta Committee, with Richard Leslie (Safety Officer), Noreen Fairweather (Treasurer), Doug Gabourel and Derek Gabourel (members), and Roberto Pott and Cynthia Blease (Co-Secretaries).