PUNTA GORDA, Toledo District, Thurs. Dec. 12, 2019– Akeem Trapp, 23, a laborer of Flowers Bank, Belize District, has been charged with murder for the death of popular Punta Gorda resident Glenford Hinds, 36, and with attempted murder, use of deadly means of harm, and grievous dangerous harm for shooting Anthony Valentine, 26, a laborer of Punta Gorda, who is fighting for his life in the Southern Regional Hospital.
Police made the announcement on Tuesday at the conclusion of their investigation into the shooting of the two men.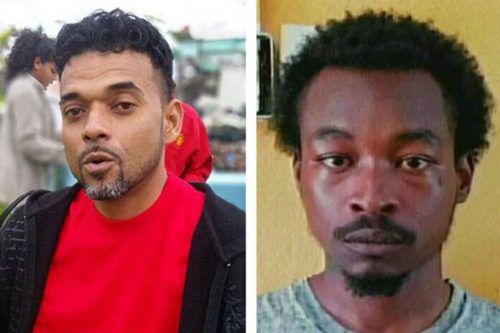 (L-R) Glenford Hinds, Jr., deceased and Albert Valentine
Yesterday, Wednesday, December 11, Trapp was arraigned at the Punta Gorda Magistrate's Court, where he appeared before Magistrate Ivy Pitts, who read the charges to him. No pleas were taken and he was remanded until Wednesday, February 18, 2020.
The two men were shot at about 10:00 Sunday night in Punta Gorda, in Hinds' yard on Cayetano Street. Hinds was in his yard when Valentine, who was walking on the street in front of Hinds' yard, was approached by a gunman on a bicycle, who fired at him. Valentine ran into Hinds' yard for cover and the gunman fired at him, hitting him and Hinds, who was in the line of fire. Hinds was hit in the armpit area and in the lower back, while Valentine was struck in the lower back and arm, and the gunman then rode away.
The police's investigation into the murder led them to Akeem Trapp. Police said that Trapp and Anthony Valentine are known to them.
Feature photo: Akeem Trapp