Headlines for April 2 issue of Amandala:
• D-Day for Belize: On Wednesday at 2:00 p.m., submissions were made for an interim injunction to stop ICJ referendum on April 10. Opposition claimants who had filed a constitutional challenge to the Special Agreement, signed by Belize Foreign Minister, Hon. Wilfred Elrington in 2008, were in attendance at the Supreme Court of Hon. Chief. Justice, Kenneth Benjamin, as attorneys from their side and the government's side made submissions. CJ Benjamin indicated that he will issue a ruling on Wednesday, April 3. The Opposition claimants are Hon. Cordel Hyde, Hon. Julius Espat, Hon. Rodwell Ferguson, Hon. Oscar Requena, and PUP standard bearer for Pickstock, Anthony Mahler.
• Fisherman fined $3,000 for 1 bullet. Shane Morgan pleaded guilty to possession of ammunition without a gun license for a one 9mm round.
• Cousin kills cousin in Sandhill. Deadly violence erupted during an argument between Malcolm Leslie, 19, which resulted in him being stabbed to the chest by James Emmanuel Gibson, 18.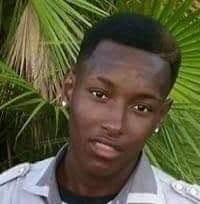 Malcolm Leslie
Headlines for April 5 issue:
• CJ puts April 10 referendum on pause. PUP jubilant; GOB vexed. Monday April 8, date for beginning the hearing of the substantive case.
• Barrow flip-flops on Chief Justice's ruling. The Prime Minister of Belize said, "I was flabbergasted…I would never in a million years have imagined…how on earth a court could stop something like this at the 11th hour…"
• One killed by switchblade; one shot. Marcos Frazer, 24, was stabbed while Eugene Wallace, 40, was shot, in two separate, unrelated incidents.
• HBO legally in Belize; HBO and Belize Cable Television Operators Association signed a two-year contract on Thursday, April 4, at the Best Western Biltmore Plaza Hotel.
Headlines for April 9 issue:
• Wednesday's ICJ referendum "dead". A panel of 3 Court of Appeal Court justices dismissed the Barrow government's appeal against an interim injunction that was granted by Chief Justice Kenneth Benjamin, in a constitutional challenge by the Opposition, PUP to the Special Agreement.
• Fugitive from Argentina found in San Pedro. Alberto Samid, 71, a businessman was wanted by Interpol on an outstanding arrest warrant and Argentine law enforcement authorities.
• Belize is major drug transshipment and money laundering hub, US 2019 International Narcotics Control Strategy report says. The report cites "weak law enforcement institutions…an ineffective judicial system…porous borders, poverty …political interference, corruption."
• Over 7,000 students sitting PSE 2019
Headlines for April 12 issue:
• Barrow to unleash new referendum law Friday. The new referendum law is designed to put an end to the Chief Justice's interim injunction so the government can proceed to hold the ICJ referendum.
• Mother and son alleged police brutality at Mahogany Street Police Precinct. Tifanie Francis said that she and her nineteen-year-old son were beaten.
• Guat Pres. Morales teaches school children to include Belize in Guatemalan map. Morales gave the children a geography lesson when he visited a school in Mariscos Village, in Isabel, Guatemala.
Headlines for April 19 issue:
• Chief Elections Officer accused of political mischief. The voter causing the trouble, it is alleged, "is a well-known member of the United Democratic Party" who could not be registered because he reportedly did not have all the requirement documents.
• Fire destroyed house on Rose Lane; 7 homeless.
• For the second year in a row, GOB hikes fuel prices at Easter time.
• Belizeans on measles alert. The Ministry of Health issued a press release advising Belizeans on the preventative measures to take to prevent contracting measles.
Headlines for April 26 issue:
• GAF gunboat blocks entrance to Sarstoon. The Belize Ministry of National Security has indicated that government will send a strong protest note about the incident to Guatemala.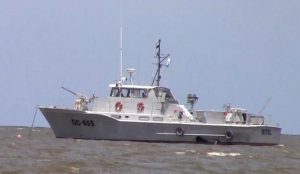 • All roads lead to National Agriculture and Trade Show
• University of Belize hosts its 9th Annual Research Conference.
• Barrow sets May 8 as ICJ referendum date. The government passed a new referendum law to get around the Chief Justice's interim injunction.
Headline for April 30 issue:
• PM Barrow's big ICJ referendum gamble. "Regardless to what happens next week the substantive challenge to the Special Agreement is very alive," Chief Justice, Hon. Kenneth Benjamin.
• Attorney General addresses the media about the Vital Statistics Unit.
• Three more lives claimed in accident at the dangerous San Antonio Bridge in Orange Walk.
• Punta Gorda man murdered in Playa Del Carmen, Mexico; the murdered man was identified as Hakeem Arzu, 24.
Headlines for May 3: 
• Brazen GAF removed Belize flag from Sarstoon Island.
• Belize City man murdered in room in San Pedro; the murdered man was identified as Brandon Humes, 19.
• Judge finds Tevin Andrewin guilty of murder. Andrewin was convicted of the June 28 murder of Myrick Gladden, 28.
• Volunteer soldier shot and killed in Lake I. Hamed Guzman, 23, was walking on Lopez Street, when he was shot.
• Belizeans urged to verify their voting status.
Headlines for May 7:
• 148,500 to decide on ICJ. Belizeans will vote on May 8 to go or not to go to the ICJ to settle the Guatemalan territorial claim to Belize.
• Tragedy at Ocean Ferry Water Taxi, Belize City. A massive explosion claimed the lives of two sisters, Jamiri and Kimberly Guy. Several others sustained burns to their bodies; some tourists were among those injured from the explosion.
• Danny Mason, accused of beheading pastor, hires Guyanese attorney.
Headlines for May 10:
• Belizeans vote "yes" to the ICJ. The ICJ will be tasked to determine, finally, the boundaries of Belize and Guatemala.
• Karl Lamb, 38, shot to death in Lake I.
• Thomas Requena charged for stabbing his wife. Requena allegedly stabbed his common-law wife, Katherine Anthony, 38, during a domestic dispute.
Headlines for May 14:
• Mother's Day stabbing in Corozal. Girl, 19, fatally stabs girl, also 19.
• Alleged robber shot dead on Albert Street; Shemar Nunez, 23, was shot and killed, after he allegedly pointed a gun at a citizen who was armed with a handgun. Police did not identify the man who shot Nunez.
• 4 adults and 3 minors charged with burglary. The oldest of the accused persons is 35, and the youngest, 12. The adults charged are Wilfred Garbutt, Eric Tillett, Kevin Bodden and Tarique Allen.
Headlines for May 17:
• Outrage over Zena's manslaughter charge; members of the public are angry that only a manslaughter charge was brought against Zena Armstrong for 19-year-old Ana Villanueva's stabbing death.
• Andrew Caliz, 47, charged with murder; he is accused of killing his common-law wife, Francisca Caceres, 31.
• Trigger-happy cop shoots man "for nothing". Police shot Vince Martinez inside his home with a pump action 12-gauge. He was released without charge.
• Bus overturns on Boom-Hattieville Road: students, teachers and parents suffer minor injuries.
Headlines for May 21:
• House amends Maritime Areas Act. As part of the ICJ case, the move restores Belize's territorial seas from 3 Miles to its previous 12-mile limit.
• "Belmopan bad man" Lincoln Bejerano, captured after 3 years on the run.
• 9 shot, 2 dead, in another violent weekend.
• Belize Ambassador to Washington suffers heart attack. Amandala has been reliably informed that Ambassador, H.E. Daniel Gutierez had suffered a heart attack.
Headlines for May 24:
• Kyrone Green, 11, paralyzed; school marches in protest. Lake I Methodist School marches to protest the shooting of their student, who is paralyzed from the neck down.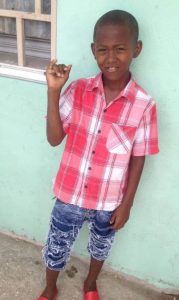 Kyrone Green
• Darrell out, Lee Mark and Leila Peyrefitte "in" contest for UDP Caribbean Shores. Former Belize City Mayor Darrell Bradley, proposed as new President of the Senate.
• PUP abandons constitutional challenge; BPP steps up.
Headlines for May 31:
• Husband and wife, both 74, killed in vehicle accident. Audomaro Chan and his wife Romona died when their pickup collided with a 40-foot tanker truck. The accident occurred between Miles 72 and 73 on the Philip Goldson Highway.
• $16,000 reward for jaguar killer; the jaguar was found decapitated.
• Public advisory on illegal peddling of medicines. The Ministry of Health issued a press release advising the public about the danger to health of buying products that are being sold as medicine. Apart from being dangerous, the Ministry said it was illegal.
Headlines for June 4:
• Baby, 2 months old, dies from "multiple skull fractures". Police are investigating the parents of baby Thevane Banner from Camalote, Cayo District.
• Gerald Henry is new PSU president. Former PSU president Doreth Obermayer lost her re-election bid 209-76.
• Alvin Cumberbatch, 36, fatally shot in Taylor Alley.
Headlines for June 7:
• Heinous triple murder in home at Mile 10 ½. High school principal and two friends executed in house on George Price Highway. The three murdered victims are Alarice Andrewin, principal of Excelsior High School, and her friends Vidal Antonio Yuman Cacho and Maria Delfina Juarez Lucas, both Guatemalans.
• Protest at Belmopan Comprehensive School. The students and teachers protested against the school's board for allowing 17 students who did not meet the requirements to graduate.
• Fined $3,500 for being a gang member. Brian Armstrong, 32, a stevedore, pleaded guilty to the charge, which he has to pay by November 6, 2019; in default he will spend 3 years behind bars.
• Tony Banner, 28, arraigned for manslaughter. Banner is the father of a 2-month-old baby girl who died from multiple skull fractures.
Headline for June 14:
• No justice for Kareem! "Pito" acquitted of murder of Amandala reporter Kareem Clarke, 27. Mark "Pito" Waight was able to beat the murder charge when a key prosecution witness proved to be an uncooperative witness. Orlet Bevans, 54, took the witness stand and denied that she had given police a statement.
• Hypoxia kills Sittee River fish.
• Former Belize City Mayor, Frank Lizama, 88, passes.
Headlines for June 18:
• Female security guard shot dead. Two security guards were shot at workplace; one survived. The shooting incident occurred at Crystal Bottling Company in Ladyville, where Marcia Talbott, 40, a resident of Double Head Cabbage, lost her life.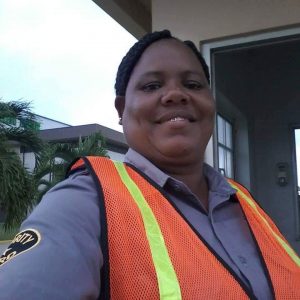 Marcia Talbott
• Bert Vasquez fails at Court of Appeal. Vasquez, 35, failed to convince a panel of Appeal Court justices to admit new evidence in an appeal he has filed against a conviction for forcible abduction, sexual assault and harm for which he is serving a prison sentence of 10 years and 3 years. He was convicted in July 2017 for an incident which occurred in 2012.
• Ernesto Lewis, alleged woman beater, charged with grievous harm.
Headlines for June 21:
• Ohio cops charge Shannon Igol with murder. Igol, 22, is accused of killing his Belizean father, Shannon Callahan, 41.
• 8-year-old dies in tragic accident. Standard 2 student Gabriella Corrales was knocked down and killed in Belmopan by an SUV.
• The body of Travis Cooke found floating near Swallow Caye. The body had an apparent gunshot wound to the head.
• Noreen Bodden: the last farewell! Bodden, who was a member of the gold-winning Belize softball team in 1974, died at her home in the U.S.
Headlines for June 25:
• Floating bodies everywhere! Unbelievably violent weekend. 9 persons killed in 4 days.
• Caye Caulker Village Council election ballots found in classroom. Residents protest, demanding a recount.
• Court of Appeal in ruling recognized the rights of child convicts. Court of Appeal overturned child's conviction and 12-year sentence for carnal knowledge.
Headlines for June 28:
• BTL owes almost 430 million in GST: allegation. BTL "firmly denies" that it owes GST, and the General Sales Tax (GST) office has "no public statement" to make on the matter.
• Christian Espat, 23, hands in himself for San Pedro double murder. A popular Belizean fly fishing tour guide and a well-known and respected American doctor were shot dead.
• Belize City Swing Bridge rotting. For 4 terms the UDP City Council did nothing. Mayor Bernard Wagner will approach Central Government for help in repairing the 95-year-old bridge.