Headlines for Amandala's July 2 issue:
• Cop gets "Woman fum-fum" aboard water taxi. Police have launched investigations, both criminal and internal, into the incident. All hell broke loose on a water taxi between a PC Ralph Gillett and a number of women onboard a boat that was about to depart for Belize City with passengers coming from the Caye Caulker Lobster Fest.
• Rochus Schreiber, BTL's CEO, resigns. Schreiber cites personal reasons for his resignation from Belize Telemedia Limited.
Rochus Schreiber, BTL CEO
• Lee Mark beats Leila Peyrefitte in UDP Caribbean Shores convention.
• Gilbert Craig, 32, charged with theft of BTL copper wire.
Headlines for Amandala's July 5 issue:
• Notorious Felix brothers executed. They lived by the gun and they died by the gun. Maurice, 34, and Emory Felix, 33, both residents of southside Belize City were gunned down at a northside club where they had gone to play pool. A pair of gunmen ambushed the two brothers and shot them dead. The Felix brothers were out on Supreme Court bail, after being on remand for a number of years for the murder of Mark Vernon, aka Mark Gentle. After 3 Supreme Court trials, the brothers were acquitted of the 2006 murder of Mitchum Heredia.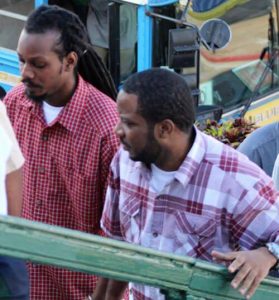 Emory and Maurice Felix deceased
• Jermaine Balthazar Flores, 44, found murdered in Frank's Eddy, Cayo District.
• Bestiality in Ontario: man on the run after raping piglet. Albert Ara's father reported to police that he caught his son having sex with a pig.
Headlines for Amandala's July 9 issue:
• Sargassum nightmare threatens Mexico's Yucatan Coast. The terrible threat, the size of Jamaica, may also affect Belize's tourism and fishing industry.
• James Escarpeta, 35, shot; under police guard after Puma Buca Gas Station robbery.
• Raymond Lamb, 32, remanded for $42,000 burglary.
• Tourist tragically drowns off Caribou Caye while snorkeling. Germma Paybarah, her husband and six others were snorkeling when she went missing.
Headlines for Amandala's July 12 issue:
• Sanctuary Belize fraud — FTC fingers Barrow-led government in bankruptcy court.
• 25 years for 25 cents; Erlin White, 47, was convicted of murder for 25 cents.
• San Jose woman, Yanira Novelo, 26, found in cane field murdered; 4-year-old son stabbed in the abdomen, but survived.
• Budna recaptured in Belize; Joseph Budna, a Belizean, escaped from a hospital while serving a prison term in Guatemala.
Headlines for July 16 issue:
• Attorney Oscar Selgado, 49, arraigned. He was charged with abetment to murder.
Attorney Oscar Selgado being escorted by police
• Half of missing 15-year-old Doren Grinage's body found. The Sandhill youth had been missing since Tuesday, July 9.
• "We want our pension; we deserve our pension!" KHMH workers union flexes muscle over lack of pension policy in one-hour walkout.
• Constables Hallet King and Leonard Nunez guilty of Hilberto Sotz's death. Sotz, 18, died in a cell at the Caye Caulker Police Station.
• "Nazy" executed in hospital parking lot. Edwin Felix Nasario, 45, was shot to death in the parking lot of the Southern Regional Hospital, in Dangriga Town.
Headlines for July 19 issue:
• Trigger-happy cop kills teacher. Allyson Major, a school teacher and tour guide, was shot in the head through the rear windshield of his vehicle near the Swing Bridge's southern approach, amidst pedestrians and other vehicles.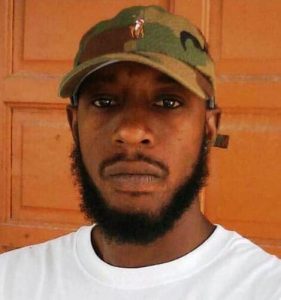 Allyson Major, deceased
• PUP defies PM Barrow; the PUP is not deterred by threatening letters from Barrow's law firm, Barrow and Williams. The Opposition called a press conference to elaborate on allegations made in a US federal court against members of the Dean Barrow-led UDP government.
• Chester pulls out the "curfew" to deal with crime. Curfew in the city is for persons 18 and under.
Headlines for July 23:
• Central Bank Deputy Governor new liquidator for Choice Bank; Kareem Michael resigned his post at the Central Bank to take up the post of liquidator for the defunct Choice Bank.
• Vega ordered to pay back $400,000. Supreme Court Justice Courtenay Abel ordered Andre Vega to pay back the money he had received as compensation for a parcel of land on the Philip Goldson Highway, near Haulover Bridge. Justice Abel found that it was unjust enrichment for Vega, a son of former Deputy Prime Minister Gaspar Vega, area representative for the Orange Walk North constituency.
• Judge ruled not to admit confession statement in Danny Mason murder trial. Mason and 4 co-accused are accused of cutting off the head of popular Dangriga pastor Llewellyn Lucas.
Headlines for July 30 issue:
• 4 die in horrific accident on Philip Goldson Highway; all the victims were young men from Belize City, ages 18-22. The car split in half and the bodies were scattered, 2 on the highway and 2 in the bushes. The victims were Leith Bermudez, Deandre Lamb, Gian Martinez, and Malijah Gill.
• Elijah Burke, 27, gets 20 years for killing his sister. Burke said that he chopped a woman in a robbery attempt; he then found out that it was his sister, Juliann Burke. The incident occurred in March 2017.
Headlines for August 2 issue:
• $1.686 million of NHI funds for minister's brother? Not a chance!
• Jamaican dub poet Mutabaruka celebrates Emancipation Day with UBAD Education Foundation (UEF).
• Darwin Rocke, 31, found dead near Burrell Boom Bridge.
• Dr. Candice Pitts endorsed as PUP standard bearer for Mesopotamia constituency.
Headlines for August 6 issue:
• The dying New River: Residents of Orange Walk Town and surrounding areas are beginning to direct their anger and frustration at the Department of the Environment.
• PUP leader John Briceño and driver suffer minor injuries in road accident. Briceño's Toyota Prado overturned near Rhaburn Ridge and the two were rushed to the Northern Medical Plaza, in Orange Walk Town.
• 7 Aloe Street is scene of fire again!
• Tourist caught drinking and urinating at archaeological site.
Headlines for August 9 issue:
• Small riot at Central Prison; dissatisfied with their treatment at the Kolbe- managed prison, 8 remanded prisoners riot.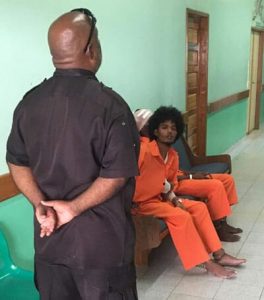 Marvin Phillips and another inmate being guarded by prison officer at the KHMH
• Brian Armstrong, 32, fatally shot in Gungulung, Belize City.
• Jordy Bainton, 44, dies in road traffic accident.
• Ladyville Village Council begins new life with $560. That is the balance left by the UDP in the country's biggest village's bank account, Chairman Bennett confirmed.
• The New River is polluted: So says the Department of the Environment.
Headlines for August 13 issue:
• Amandala celebrates 50th anniversary. Amandala continues to mean "power to the people."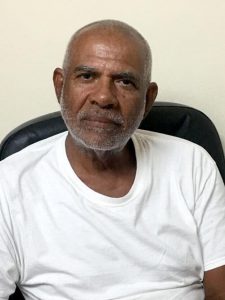 Evan X Hyde, Amandala Publisher and Kremandala Chairman
• Guatemala elects new president: Alejandro Giannattei.
• Main suspect in Derrick Ramirez's disappearance "disappears."
• Stephan McLaren, 20, executed on New Road.
• Amandala's 50th Anniversary — August 13, 1969 – August 13, 2019.
Headlines for August 16 issue:
• Cops get 16 months for killing man in police cell: Sotz's family not happy with judge's sentence for constables Hallet King and Leonard Nunez.
• Ofella Cruz, 69, hammered to death in her house, in Sandhill.
• Mayor Bernard Wagner joins in celebrating Amandala's 50th anniversary.
• Denzel Usher and "DJ" Peyrefitte remanded for alleged rape.
Headlines for August 20 issue:
• The strange death of Danielle Hall, 9: The child died suddenly in her home in San Ignacio; post-mortem exam results revealed she died of strangulation.
• Clive Hyde, 47, murdered at a bus stop in Hattieville. Hyde was shot dead.
• $100 million loan for Sarteneja Road upgrade. The loan triggers fiery debate at House meeting.
Headlines for August 23 issue:
• GOB writes off Cab Sec's son's $40,000 student loan! The son of Cabinet Secretary Carlos Perdomo, working abroad, hasn't repaid a penny of his loan. Yet, according to PM Barrow, the write-off has the recommendation of the Cabinet.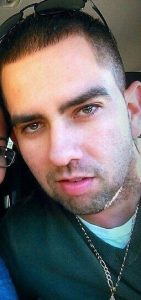 Joshua Perdomo
• Fernanda Garcia, 64, stabbed by grandson: She refused to give him money to buy drugs.
• Barrow gives away $90 million, and borrows $100 million. Barrow could have reacquired the land in lieu of the unpaid tax, says Lake I area representative Hon. Cordel Hyde.
• UDP under pressure for "Yellowman's" vulgar behavior.
Headlines for August 27 issue:
• Fish dying by the ton in severely polluted New River! Orange Walk residents are not satisfied with DOE efforts to address New River pollution; even crocodiles are dying.
• Belize Women U-17 qualifies, thanks to Kaite Jones' 4 goals against St. Kitts.
• Faber distances himself from Barrow on Cab Sec's son's loan write-off. Hon. Patrick Faber says student loan write-off for Cabinet secretary's son is "unfortunate," and he would not have supported it.
• Nelson Flores shot to death; daughter, 12, injured.
Headlines for August 30 issue:
• Orange Walk environmental crisis: "I jumped in the river and my skin started to itch me all over; it was like acid going through my pores," a business owner who lives on the bank of the river told Amandala.
A milky New River – a view from Toll Bridge
• NICH to standardize the Belizean flag: A Statutory Instrument will legally fix the color scheme of the flag and establish a protocol for flag re-creation.
• Burglar found in ceiling of ex-girlfriend's house.
Headlines for September 3 issue:
• $40,000 for Joshua Perdomo; $0.00 for poor school children. At Ladyville Seventh Day Adventist Primary School, poor children are being denied an education due to unpaid bills, while Cabinet Secretary's son was given a write-off of $40,000 by Cabinet.
• Bus owners threaten national shutdown. They say that they expect that our security forces will be used against them.
• Rasheed Pollard dies hours after his 27th birthday in road accident.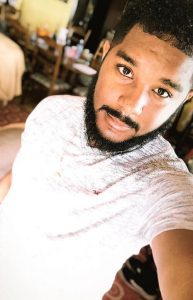 Rasheed Pollard
Headlines for September 6 issue:
• Waterloo wants to build cruise port: The Belize Port Limited is still in receivership; PM Barrow asked in the House, "How Ashcroft get fi own di Port?"
• Kimberly Santos Queen of the Bay 2019-2020.
Kimberly Santos, Queen of the Bay 2019
• Polluted New River forces school's closure; La Inmaculada School students cannot bear stench of the river; it will take years for the river to recover, says Chief Environmental Officer.
Headlines for September 13 issue:
• Four foreigners remanded for drug plane landing: Police seized 1,341 kilos of cocaine worth approximately US$190 million.
• Adamira Choc, 19, missing, after getting into vehicle outside nightclub.
• Belizeans celebrate 221st anniversary of Battle of St. George's Caye.
Headlines for September 17 issue:
• Belmopan gunman executes two cousins, 16 and 17: Police say the suspects are 13 and 18 years old. Herman Valladarez and Lizandro Delgado were shot near a creek in Belmopan.
• Adamir Choc, 19, found decomposing.
• Two die in Civic Center scaffolding accident. 6 workers fell from 50-foot-high platform; 4 injured. Orlington Stuart and Roque Jimenez fell to their death.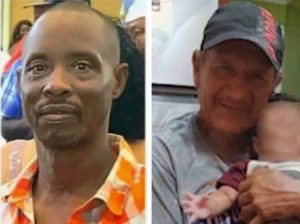 (l-r) Orlington Stuart and Roque Jimenez, deceased
• Roberto Nah, 14, is missing from San Pedro.
Headlines for September 20 issue:
• GOB declares partial state of emergency. The prolonged drought has caused losses to farmers in excess of $50 million.
• Nelson Espinoza, 22, arraigned for the murder of Adamir Choc.
• Mirna Young, 58, dies after gun attack in Santa Elena; another victim, Angel Martinez, 21, was admitted to the hospital in a critical condition.
• Accused US sex offender, Lad Duane Ottofy, who fled to Belize, apprehended.
Headlines for September 27 issue:
• Belize Tax Service's Reynaldo Verde jailed in the US. FBI agent details Verde's extortion scheme; he only collected $1,000 out of a $350,000 extortion demand.
Reynaldo Verde
• US Federal Trade Commission settles with Atlantic International Bank Limited (AIBL) for US$23 million.
• The 5th anniversary of Special Constable Danny Conorquie's murder.
• Reuters lists Belize among "sudden stop" investment countries.