BELIZE CITY, Tues. Mar. 10, 2015–While Belizeans went to the polls on March 4 to elect local governments across 9 municipalities here, the country's Ambassador to the US, Permanent Representative to Organization of American States (OAS) and High Commissioner for Belize in Canada, H.E. Nestor Mendez, underwent a three-hour long intensive session with representatives of 33 delegations at the headquarters of the OAS in Washington, D.C., where he made out his case in trying to convince his peers why he should be elected to serve as Assistant Secretary General of the OAS next Wednesday, March 18.
Permanent Representative of Guyana, Bayney Karran, is also making a bid for the job, and both Mendez and Karran put forward their statements and took questions from representatives of OAS member states at last Wednesday's special meeting of the OAS.
"Today I have to convince 33 delegations that I am the one for this job!" says Ambassador Mendez
Ambassador Mendez has represented Belize at the OAS since 1999, when he served as Belize's alternate rep. He became the country's permanent rep in 2007. Mendez said that over the last 15 years, he has seen the organization evolve into what it is today; and he is prepared to work to transform the OAS into the organization that they all want.
"I want to promote actions that will change the organization and the conversation about the OAS, from its perception as a slow, cumbersome political apparatus, to one that profiles an agile, efficient, modern organization that functions well in the 21st century and preoccupies itself with the new age manifestations and challenges of poverty, crime, the erosion of faith in the democratic creed, and in the arena of human rights. Like all of you, I want to transform the OAS into the organization that we need, and I am convinced that together we can do exactly that," he said.
Mendez noted that the office of Assistant Secretary General occupies a very strategic position in the architecture of the OAS, and it is the first point of contact between the Permanent Council and the Secretariat. The Assistant Secretary General chairs the Permanent Council, he noted.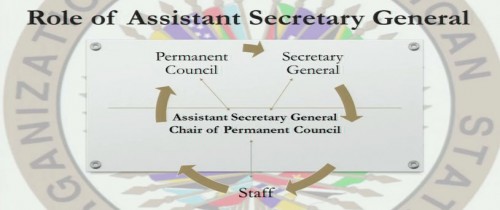 Ambassador Mendez noted that the process of modernization of the OAS's management has begun, and he has committed, if elected, to expedite the implementation of the recommendations in the report of consultant Julian Murray, especially those that require only administrative action. Included among recommendations Mendez highlighted is that which calls for the appointment of an "ombudsperson" – to ensure that rights of staff members are recognized and protected. He expressed "zero tolerance when it comes to harassment in the workplace," saying that such behavior has no place in an organization like the OAS.
He also said that the inspector general, referenced in the report, should be elected rather than appointed, allowing for more independence in functions, and added that while the existence of national OAS offices is now under scrutiny and some believe they should be closed down, he would urge that national offices be given a clear mandate and then properly assessed before a decision is made – particularly in light of the political sensitivities associated with many of these offices.
For his part, Karran expressed that, "I firmly believe that we must enhance the capacity of the General Secretariat to monitor, anticipate and head off potential threats to constitutional order in our member states by refining early warning systems and promoting dialogue mechanisms among all national stakeholders."
Whereas Belize and Guyana have put forward candidates for the position of OAS Assistant Secretary General, Uruguay currently is the only country with a candidate for the position of Secretary General. This is because Guatemala's candidate, Eduardo Stein Barillas, the former vice president of that country, announced a few months ago that he had to retract his candidacy for Secretary General due to health reasons.
Belize has said, even before Stein had announced his candidacy, that it would support the candidacy of Luis Almagro, Minister of Foreign Relations of Uruguay. After a bilateral meeting held last August, both Belize and Uruguay had expressed solidarity and mutual support in their bids to seek administrative office at the OAS headquarters in Washington.
In his presentation last week, Mendez noted that the Assistant Secretary General has to work "very, very closely" with the Secretary General.
"They must have a very good working relationship; they cannot have a competing vision or agenda," he said, adding that "…a ship cannot sail in two directions at the same time."
The current Secretary General of the OAS, José Miguel Insulza of Chile, and his deputy, Ambassador Albert R. Ramdin of Suriname, complete their two-term tenure in 2015. Mendez had previously told Amandala that Insulza would demit the office of Secretary General around mid-May 2015 and Ramdin around July 2015.
Belize has said that its candidate will be supported by Central America as a bloc, but CARICOM has not arrived at a consensus decision.