BELIZE CITY, Thurs. May 14, 2015–Weather forecaster Frank Tench today presented nearly 60 years of historical data on cyclone activity in Belize, revealing all the tropical storms, hurricanes and intense hurricanes which have crossed the country since 1954. There have been a total of 29 such cyclones, 12 of which were tropical storms and 12 of which were hurricanes, apart from 5 of the hurricanes which were intense hurricanes, categories 3 and higher.
Tench's presentation—which was made this afternoon at the 5th Annual Belize Esri User Conference held at the Biltmore Plaza Hotel in Belize City—looked at how the El Niño Southern Oscillation (ENSO) cycle in the Pacific – which fluctuates between a warm phase (El Niño – Spanish for 'the boy'), a neutral phase, and a cool phase (La Niña – Spanish for 'the girl') – correlates the frequency of storms which have impacted Belize. He showed that most of those storms have occurred during the neutral phase, and the fewest have occurred during the El Niño phase.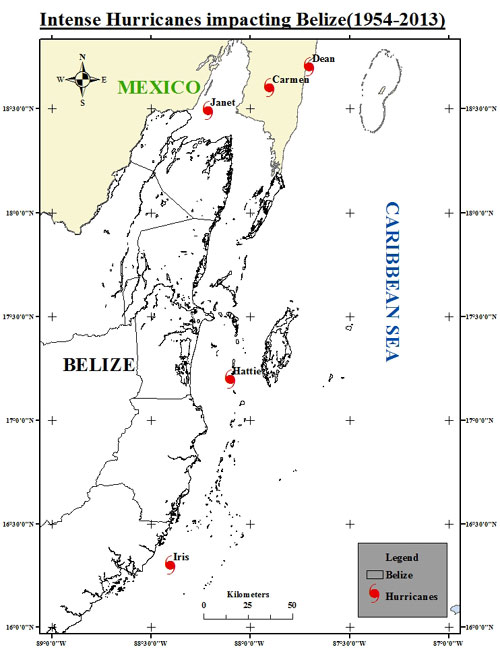 The good news is that we are currently in the El Niño phase, which Tench said is expected to persist throughout the hurricane season. This, Tench said, ties with predictions that this year's hurricane season will see below normal cyclone activity.
As we reported back in April, a single major hurricane is predicted to form in the Atlantic Basin this year, but the forecast also calls for 7 named storms and a total of 3 hurricanes.
The data set for 1954 to 2014 indicates that for that period 12 storms formed during the La Niña years, 16 storms during the neutral phase and only 1 during the El Niño phase. That 1969 storm, Francelia, just happened to impact Southern Belize during what has proven to be the most active month of the year for tropical cyclones impacting Belize: that is, the month of September.
Tench said that data published by NOAA (National Oceanic And Atmospheric Administration) put peak cyclone activity at September 10 – which is also the date that the unnamed 1931 hurricane, said to be the worst in the country's history, swept ashore in Belize City (then Belize Town) killing over 1,500 Belizeans on St. George's Caye Day.
Tench said that as a general rule, during El Niño episodes, fewer tropical storms form over the Tropical Atlantic and Caribbean and the opposite appears to be true during La Niña years.