Falls 3-nil to Verdes in PLB  Week 12
BELIZE CITY, Mon. Apr. 10, 2017–The Premier League of Belize (PLB) 2016-2017 Closing Season regular season is near its end. After Week 12 games this past weekend, and one brought-forward Week 14 game last Thursday, two teams have secured a playoff spot – Belmopan Bandits SC and Police United FC. The other two spots will be decided this week. Week 13 games are mid-week, and Week 14 games, to end regular season, are on Easter Sunday.
BDF blues
The long-range plan in their mid-season change of coaching staff was supposed to be built around team discipline, but some chemistry might have been sacrificed in the process, as BDF FC is now 0 and 2 in second-round action at home at the MCC Grounds. A couple weeks ago, on March 26, they were humiliated by defending champions Belmopan Bandits SC by a 4-0 score. And yesterday, in another pathetic display by BDF on their home turf, it was visiting Verdes FC coming away with a 3-nil victory.
---
Bandits and Police in playoffs; 2 reg. season games remain for Verdes, BDF and FC Belize to decide last 2 playoff spots
---
In first round action, BDF won all 3 home games at the MCC. They have 4 scheduled home games in second round, and already they have lost 2 of those without scoring a goal. If this drought continues in the remaining 2 home games of regular season; the playoff picture will not include the soldiers.
Week 14 game advanced
In an unusual move, at the request of Placencia Assassins FC, their Week 14 game, scheduled for Holy Saturday night, was brought forward to last Thursday, and so Belmopan Bandits SC travelled to Independence, where they recorded a 2-1 win over the Assassins, courtesy of goals from Elroy "Bibbs" Kuylen (15') and Jairo Rochez (49'); while Gilbert Rivas (19') netted for Placencia.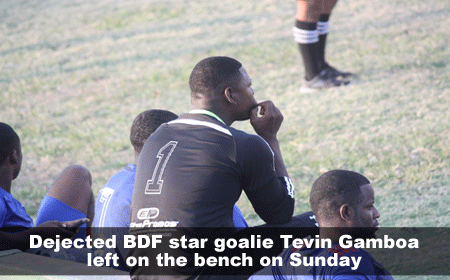 Week 12 results
In Week 12 Saturday night action, Belmopan Bandits SC kept their undefeated record intact, when they hosted P.G.'s Freedom Fighters FC and dealt the visitors a 4-1 beating at the Isidoro Beaton. Brazilian striker Aloisio Teixeira had a hat trick (6', 31' PK & 90+1') and his Honduran teammate Jairo Rochez (56') got the other for the Bandits; while young Jarren Lambey (52' PK) got the sole tally for Freedom Fighters. Meanwhile, at their home field in Independence, it was Placencia Assassins, 2-0, over visiting Wagiya, with a goal each from Dellon Torres (73') and Luis "Baaka" Torres (88').
On Sunday, out west at the Norman Broaster, it was a see-saw affair, before home standing Police United came out on top with a 3-2 win over FC Belize. Russel Cassanova (40') put the visitors in front, but leading goal scorer Danny Jimenez (44' PK) equalized from the penalty spot before halftime. Police took the lead early in second half through Jalen Myers (58'), but FC Belize goalkeeper Rodrigo Vasquez (70' PK) converted a penalty to tie things up again. The game winner for Police United came 5 minutes later from midfielder Andres Makin, Jr. (75'); and that sealed a spot in the playoffs for Police United. Meanwhile, in a thoroughly lackluster BDF performance, Verdes FC tightened their grip on a playoff spot with a 3-nil win over the army. BDF star goalkeeper Tevin Gamboa was relegated to the bench for the whole game, and the squad looked worse than they did against the Bandits; so Gamboa is not the problem. Rookie BDF goalkeeper Brenton Garcia ran into some confusion with his defence line, and Verdes' Carlos Vasquez (55') and Darrel Myvette (90+2') pounced on loose ball opportunities; while Gilroy "Bredda" Thurton, on a hard angle on the right side, exploited the space left by Garcia who was too far from his post, and Bredda (60') blasted a shot through the opening from 20 yards out.
Standings and remaining games
Having already played their Week 14 match, both Belmopan Bandits and Placencia Assassins will complete their regular season with upcoming Week 13 matches on Wednesday of this week. The Bandits are already in the playoffs, and the Assassins are out. Police United have also secured their place in the playoffs. (See standings below.)
N.B. Week 12 Standings includes Week 14 game – Bandits vs Assassins.
The double round-robin regular season ends with Week 14. Two playoff spots remain, and 3 teams are still in the hunt – Verdes FC, BDF FC and FC Belize. Their last 2 regular season games this week will decide their fate.
Home vs home
If BDF beats FC Belize on Wednesday, BDF clinches a spot and FC Belize is out of the playoffs.
FC Belize must win on Wednesday to keep their playoff hopes alive. Theoretically, it is BDF's home game, and they get the gate receipts. But the MCC Grounds is also the home field of FC Belize, so this should be a really interesting match-up.
Remaining regular season schedule:
Wednesday, April 12
7:30 p.m. – Wagiya FC vs Belmopan Bandits SC – Carl Ramos Stadium
7:30 p.m. – Freedom Fighters FC vs Placencia Assassins FC – Victor Sanchez Union Field
7:30 p.m. – BDF FC vs FC Belize – MCC Grounds
7:30 p.m. – Police United FC vs Verdes FC – Norman Broaster Stadium
Sunday, April 16
4:00 p.m. – Verdes FC vs FC Belize – Norman Broaster Stadium
4:00 p.m. – BDF FC vs Police United FC – MCC Grounds
4:00 p.m. – Freedom Fighters FC vs Wagiya FC – Victor Sanchez Union Field