Photo: A sparse crowd filed in to view the match-up, including some from Belmopan …
Belize Elite Basketball League 2023 Tournament Schedule and Results
Fri. Mar. 11 (Results): Western Ballaz 64, Griga Dream Ballers 74 (Sacred Heart Auditorium); Benny's Belize Hurricanes 105, Belmopan Red Taigaz 64 (Belize City Centre).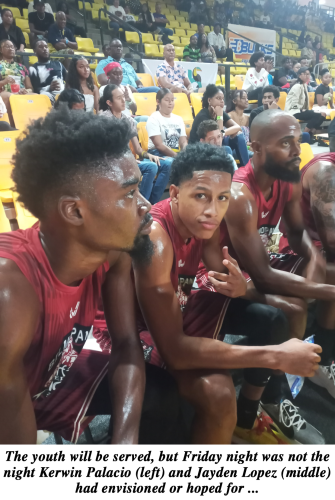 Sat. Mar. 12 (Results): San Pedro Tiger Sharks 87, Belize City Defenders 83 (San Pedro High School); Orange Walk Running Rebels 132, Punta Gorda Panthers 68 (OW Multi-Purpose Complex).
Fri. Mar. 17 (Schedule): Orange Walk Running Rebels vs Western Ballaz (OW Multi-Purpose Complex); Benny's Hurricanes vs Punta Gorda Panthers (Belize City Centre).
Sat. Mar. 18 (Schedule): Griga Dream Ballers vs Belize City Defenders (Russell Chiste Garcia Auditorium); Belmopan Red Taigaz vs San Pedro Tiger Sharks (UB Gym).
Western Ballaz 64. Griga Dream Ballers 74
San Ignacio, Fri. Mar. 11
The game was originally scheduled as a Griga home game where they had been riding a 3-game home win streak that had catapulted them among the tournament leaders, while the Western Ballaz needed an Rx for more than a slew of nagging injuries that had seen them spiral from the top to near the bottom of the standings.
But the confines of the Sacred Heart Auditorium did not provide that good old home cooking, as the Dream Ballers left with their fourth straight win, and a solid share of first place.
It was the Ballaz who were keeping the dream of victory alive with Mark Gordon, their uber scorer, lighting up for 9 points, 2 steals, 3 boards and a first quarter lead 13-11. The visitors, however, soon adjusted to their host's 1-3-1 zone and then their abortive trap, and behind Henderson, Woodson, Mitchell, Campbell and Conorque soon had a steady 8-point lead (36-28) at the half, and one they would maintain (52-44) through 3 and finish at 10 points (74-64) at the buzzer.
Their balanced attack was led by Devon Campbell's 16 points, 11 each from Daniel Conorque and Henderson, and another double-double from big man Dominic Woodson, whose statistics again did not appear in the posted official league box score.
Along with 11 apiece from Darnell Oden and Jamie Carbajal, Mark Gordon led all scorers with 23 points.
Benny's Belize Hurricanes 105, Belmopan Red Taigaz 64
Belize City, Fri. Mar. 11
A sparse crowd of less than 500 turned out to see the Benny's Hurricanes maintain its share of the tournament lead with an easy 105-64 near wire-to-wire victory over the youngsters of the Belmopan Red Taigaz tonight at the Belize City Centre.
The 'Canes' starting five of Americans Jamell Harris and Kris Frazier, Belizean Americans Alex Carcamo and Eyan Rene, and Belizean guard Glency "Coope" Lopez took an 11-10 lead 3 minutes into the game and they never looked back.
With the entry of Belizean American Tyrie "Harlem Kid" Orosco, who substituted for Carcamo, it was a 10-point lead after a quarter (27-17), 23 at the half (54-31), 36 at the end of the third (84-48), and they won by 41 (105-64).
The core of the Belmopan Taigaz are a group who have won the Association of Tertiary Level Institutions of Belize (ATLIB) tournament and the Ahmadiyya Basketball League tournament, probably the only tournaments recently available and held in Belize post-pandemic. They are led and under the guidance of Bernie Tarr, and several are either students or graduates of Galen University.
I particularly wanted to see Jayden Lopez because I knew and vividly remember his father, the late Aubrey Lopez, who was murdered, shot dead in the streets of Belize City. Aubrey was a talented basketball player and the type of personality who was unforgettable once you met him.
Lopez 17, Harris 16, and Frazier 19 points all helped Orsoco's 27 points, (11-14 from the field, 3-3 from the line) out of reach for the Taigaz who missed 41 shots from the field and could only