BELMOPAN, Thurs. Aug. 31, 2017–The Belize Billiards Sports Federation's (BBSF) 20th Annual National Belikin 8-Ball Tournament was held in Belize City at the St. Catherine Auditorium on Saturday and Sunday, August 19 & 20, with the champs of six districts, in addition to Belmopan and San Pedro, competing with their eyes on the prizes and big bragging rights. Here's how it went in a double-elimination format, and race to 3 for individual and team scores.
Match #1: BRC Shooters of Belmopan started with the right shots, as they easily hammered Haneen Shattaz of Corozal, practically saying, Belmopan is back, with big players like Tim Banman, Wayne Wiltshire, Oscar Avelar and Mark Trujillo representing.
Match #2: It Is What It Is of Cayo walked over Picame of Orange Walk, as players like Juan Villanueva, Jimmy Rudon, Erwin Fernandez and Erwin Woodye played huge for Cayo over the BBSF President's team from O.W.
Match #3: Long Island of Belize City showed they are defending champs, as they turned it up on Challengers of Toledo.
Match #4: One Shot One Kill of San Pedro sailed past Big Mangoes of Mango Creek.
Match #5: In the first elimination match, it was two teams of the north serving on the table; and it was Corozal who sent Orange Walk home, saying the salt water from the sea is better than sugar today.
Match #6: Two teams of the south played to see who would be out; but when the dust settled, it was Toledo eliminating Stann Creek.
Match #7: Two teams of the west met to see, who was the best in the west but Belmopan calmly cooled down Cayo.
Match #8: Two teams of the East played to see, who was the best in the East but Belize City remained big and bad, as they reeled in San Pedro.
Match #9: After losing their first match, Corozal had sent home O.W, and now they sent San Pedro fishing early in the tournament.
Match #10: Toledo utilized their experience and sent Cayo back to the hills, keeping the south alive.
Match #11: Two undefeated teams met, but it was the old capital with the bad boys of Belize City burning the new City of Belmopan. At this point, the winner from this match had secured a spot to the finals.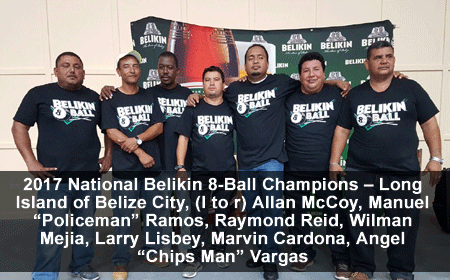 Match #12: It was exciting, as the game went down to the wire; and when everyone thought Toledo would advance, the big names from Toledo trembled, as it was Corozal with the big shots, to rise to the top, thus eliminating Toledo.
Match #13: Corozal vs Belmopan to see who goes on to play in the finals. And, yes, Corozal once again displayed they've got skills, as they hurt Belmopan and moved on to the finals.
Match #14 and the Final one was all set, as Belize City was waiting to go up against Corozal, who had won them in 2014 in Corozal. So, you could hear the Belize City team saying it's pay-back time. In the first game, Mark Reyes of Corozal won Wilman Mejia of Belize City, 3-2. The second game saw Larry Lisbey of Belize City tie up the match, as he nailed Miguel Trejo of Corozal, 3-2. Then, Joshua Kuylen of Corozal gave his team the lead once again, as he man-handled Manuel Ramos, 3-1; but in game #4, Angel Vargas of Belize City tied up the match again, as he went over Joel Andino of Corozal, 3-1. It was down to the last game, and rack, but Allan McCoy of Belize City was the best anchor for his team this tournament, as he displayed his skills and showed he has the heart of a champion every time he was called upon, as he dropped Raul Montejo, Sr. of Corozal, 3-2.
And, it was all over; Long Island of Belize City, back to back champs, as these guys are on a roll; Haneen Shattaz of Corozal – 2nd place; and BRC Shooters of Belmopan – 3rd place. The MVP for the tournament was Carlos "Larry" Lisbey, who had a score of 4-0.