BELIZE CITY, Thurs. May 30, 2019– This past Saturday, the Belize Cancer Society held another of its Cancer Walks in which thousands of Belizeans walked from the starting point in Ladyville, in front of Celina's Bar, to the headquarters of the Belize Cancer Society on Mercy Lane, in Belize City, a nine-mile journey to spread awareness of the deadly disease.
Heather Reneau, the senior administrator for the Belize Cancer Society, told Amandala this afternoon that the Cancer Walk is one of the biggest activities that the society does annually to build awareness of the burden of cancer.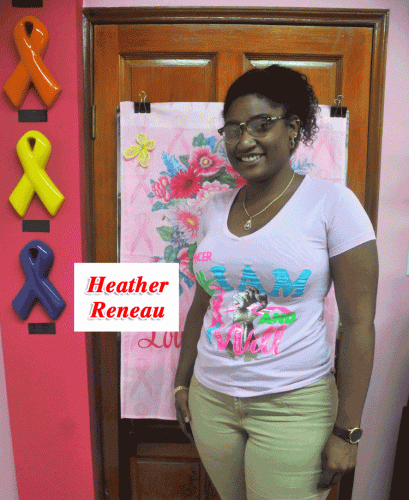 We asked Reneau to describe the logistics of the Cancer Walk.
"We take about 20 to 30 buses to the starting point in Ladyville. The buses start running from around 3:15 a.m. and we start our walk at exactly 5:00 a.m." Reneau explained.
Reneau added, "It's a lot of moving pieces that we have to put together and I have to say thanks to the government, the private sector and business community and all the other NGO's which contribute to the walk."
Reneau went on to explain that a lot of companies don't have money to give, so they give in- kind contributions, and Premier Charters is one of those businesses which contribute annually. "Mr. Leo Batty provides buses and we pay for the gas. Mr. Batty even drives one of the buses himself. So that is one of the ways people contribute. That is the type of support we receive from the community. "And I can honestly say that this was one of our biggest walks," she said.
Reneau said that they had expected in excess of 4,000 participants this year.
We asked Reneau to what they attribute the success of this year's Cancer Walk.
"A lot more people in the society are understanding the effects of cancer, because a lot more people in the community are being diagnosed, a lot more adults and a lot more children are being diagnosed. A lot more people are losing their quality of life or not living the quality of life they had before. So raising the awareness is resonating in our society; only when we rely on each others' strength can we win the fight against cancer. Cancer is catastrophic, it's a devastating disease and it costs millions and millions of dollars to control it, even the richest countries are not able to control it," Reneau pointed out.
"We need to make sure that the people in our community have access to the best health care, not because they might be impoverished or they don't have insurance, but as a community we try to come together to try to support these people," Reneau stated.
We asked Reneau what healthcare options are available for someone who is diagnosed with cancer in Belize.
"In Belize, treatment is available; there is chemotherapy, and there is surgery. The only thing that is not available in Belize is radiation treatment; however, it is available in our neighboring countries, but it comes at a cost. For a person diagnosed with cancer that does not have a savings, does not have insurance and probably does not even have a job or access to funding, that patient is not just cast on the sidewalk. That patient is navigated through the system to ensure that he/she remains with that dignity and respect. We have to say kudos to the Dangriga Cancer Center. So even when we have a patient who does not have even a dollar, they are cared for, but somebody has to pay for that treatment out of the different initiatives that cancer groups are having. We ask you, please support, because it might save a patient's life," Reneau replied.
Reneau said that the Belize Cancer Society has to thank the Mexican government, which provides direct access to the cancer hospital. "Belize now has a dramatic decrease of children diagnosed with cancer. Once a child is diagnosed with cancer that child gets immediate access to the hospital. So they simply pick up a package and they walk straight into the hospital. Not even Mexican patients get the authority to do that. The Cancer Society covers their full cost," she said.
Reneau said that there was a fund from the Belize Social Security Board which covers the bills as well as the travel allowances of such patients, but that fund is now exhausted.
"So we need to collaborate and we need to chart out a plan so that these children continue to receive their treatment and we are able to support our adults as well," she commented.
Reneau said that some of the cancer survivors can't walk, but they are happy to see people out there walking for them.
We asked Reneau how many persons are diagnosed with cancer on an annual basis in Belize.
"I can tell you that since this year, we have already referred 11 children to Mexico for treatment, and we are just in May, and we have referred 12 adults for chemotherapy. So think about that for the month. It's an average of two adults and two children, without the funding," she said.
We also asked Reneau about the number of persons who die in Belize annually from cancer.
"The Ministry of Health controls the mortality rates and because some of our patients die over the border, and according to the universal health law, where you die is where your death is registered. So the Ministry of Health would have statistics," she said.
Reneau disclosed, however, that the Cancer Society of Belize is in the process of tracking deaths. "That is in the process right now. The ministry has already procured servers and there are meetings with stakeholders, civil society and NGO's like ourselves, Belize Health Care Partners, because private has to be involved," she explained.
Reneau admitted that that is another shortfall that the Belize Cancer Society has — "because sometimes we are able to track the patients that come through the health care system, but there are patients who go outside the country," she said.