Nothing was decided, and it is not known when another meeting will be held
BELMOPN, Tues. Oct. 9, 2018– An unusual gathering of politicians representing different political parties, along with representatives of activist organizations, all heeded the call of the Belize Peace Movement this morning, when they arrived in Belmopan for a meeting to join forces in the one thing which they all have in common — their opposition to taking the Guatemalan claim to the International Court of Justice (ICJ).
Leader of the Belize Peace Movement, Robert "Bobby" Lopez, opened the meeting with a prayer, after which he spoke briefly about his experience with his "No ICJ" float in the citizens' parade on Independence Day in Belmopan, when he was harassed and threatened by law enforcement and traffic officers.
"It's going to get worse," Lopez said.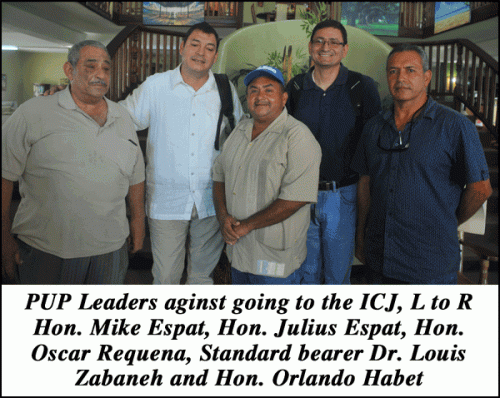 The meeting was dominated by the presence of some Opposition People's United Party (PUP) parliamentarians, especially its Southern Caucus, which was the first group from the Opposition to register its "no" to the ICJ. Other political parties represented at the meeting were the Belize Progressive Party (BPP) and Vision Inspired by the People (VIP); the activist groups included Citizens Organized for Peace through Liberty (COLA) Belize Territorial Volunteers (BTV), Belize Peace Movement (BPM) and Northern Territorial Volunteers (NTV).
The meeting followed a format that allowed each representative to make a short presentation on their no to the ICJ referendum, which has been set for April 10, 2019. After the presentations, suggestions were put forward for the proponents of the no to the ICJ to follow up in their campaign.
As a party, however, the PUP was taken to task for not having a definite policy where taking the Guatemalan claim to the ICJ is concerned; one presenter even suggested that the PUP not only abdicated its responsibility, but has betrayed the principle for which its late Leader, Rt. Hon. George Cadle Price, stood firmly against; that is, "the territorial integrity of Belize is not for negotiation nor litigation."
Some of the objectives put forward by the informal coalition were to find out what is the true position of the PUP, by holding a meeting with the PUP's leadership; target women voters; extend the call to the Belize National Teachers Union and the Belize Chamber of Commerce and Industry; seek to establish transparency for the funds that have already been granted; internationalize the process; and attend government educational presentations.
Former PUP Cabinet Minister, Hector Silva, aka "Don Hector," was the first to be called upon to speak. Silva said the ICJ vote is the most serious problem Belize is facing since independence, and that the Guatemalan claim has to do with oil, the bulk of which lies in the south, between the Temash and Sarstoon Rivers, running into the Bay of Amatique. He supported his thesis by citing a meeting the then Premier Price had with an oil expert named Bill Swan, at which he (Silva) was present. Silva said Swan told Price that he had just returned from Holland, and presented Price with a geology map of Belize. Silva said the ICJ is an international conspiracy. He said, "We are squatters in this country. Our Foreign Minister tried to warn us, when they asked him what would happen if the ICJ voted against Belize, and he said we would be refugees."
Hon. Oscar Requeña, PUP area representative for the Toledo East, remarked that if we have such a tight case, why is Guatemala so adamant about taking the matter to the ICJ? He said that Belize's Constitution defines the borders of the country, "so why are we going to a court to question that?"
Hon. Mike Espat, PUP area representative for Toledo East and chairman of the PUP Southern Caucus, told the group, "When you go to court, it's all based on evidence. The judge will rule on the evidence that is presented to him." He said that our political leaders seem to be under pressure to say yes. "Our Leader's position [John Briceño] is yes, but he said that he would let people vote their conscience. I question that; how can somebody vote their conscience in ignorance?" Hon. Espat said Guatemala wanted more access to the sea, and we gave them free access through the Maritime Areas Act; other countries have to pay for that.
He also said that he had attended a meeting with Guatemalan President Serano, and that he got a map from Serano which laid out all that Guatemala wanted. Espat said he gave the map to the Ministry of Foreign Affairs, but now the map appears to have been lost when he wanted to try to get it back.
Espat explained that the 1859 Treaty was not with Belize: it was between Guatemala and Great Britain. From the beginning, it was compromised all along the way and that is unfair to the Belizean people, and that is why I am saying no, he said.
Hon. Julius Espat, PUP area representative for Cayo South, said the PUP Leader has his own personal opinion on the ICJ; "There is no official position as to the PUP." "We are looking at foreign entities to determine the future of Belize. And if you look at how colonialism has worked in the past, it has always been to the benefit of the foreign power. Let us be real; the United Nations is run by foreign powers and some of them have veto powers." "The ICJ judges are humans and they can be influenced, and have been influenced in the past. Financial interest is what drives human beings. Why go to litigation if you don't have to?" Espat said that he has been hearing that we have exhausted negotiations, but Belize is only 37 years old. Right now, we have two leaders, but somewhere in the future, we might get two leaders who are willing to negotiate …we have been so concerned about this that we are sometimes looked upon as rogues, rebels, he said.
The Cayo South area representative said that in his constituency there are a lot of immigrants who are nationalized Belizeans who come from countries where there were revolutions, and most of them would not vote to go back to that. These people have suffered and they would never ever vote yes to going back to where they came from.
"I think we should leave our Foreign Minister as the vocal person for the ICJ, because I think that is a great thing for us if we want a no vote; every time he opens his mouth more people would vote," Hon. Espat said.
PUP standard bearer for Dangriga, Hope Creek and Sarawee, Dr. Luis Zabaneh, said he had a meeting in his constituency as recently as Saturday, and it was clear from the majority of people that they are not convinced to vote yes.
"Trying to calculate the risk of something that has not yet occurred, you have to add in the greater uncertainty," Dr. Zabaneh said.
Dr. Zabaneh shared information from a report of the International Institute for Sustainable Development that questioned the activities of the judges themselves. The judges are not supposed to be taking on additional work, because it questions their integrity and this is what the judges have done, in contravention of the rules, he said.
Dr. Zabaneh said he now wonders if Guatemala has the support of the USA and Israel, two countries who are dominant in world affairs.
Northern Territorial Volunteers' leader, Giovanni De La Fuente, said that we depend on foreign ideas to the extent that we even import our heroes.
"I think as Belizeans we are to chart our own destiny. I think that going to the ICJ is a gamble that we are not supposed to take part in," De La Fuente said.
As land owners we need to occupy our land, the 165 miles of border that Belize shares with Guatemala, he said.
BTV Leader, Wil Maheia, said that what we need to do now is to unite to fight this ICJ issue.
Maheia said that when the government propagandists come to the villages in the Toledo District, he follows them around. Maheia explained one instance in which a villager had planned to vote no, but he was given 10 tamales, and he came out of the room saying that he is going to vote yes, because he got tamales. Maheia said the government is spending a lot of money to get a yes vote. Our aim right now is to try to defeat the ones who are saying yes, Maheia said.
Hipolito Bautista, the BPP representative, questioned the PUP's position. "Any Belize risk that involves land cession is too high. The Foreign Minister is using scare-monger tactics. Guatemala is giving up nothing; we are the ones who are being asked to put up our entire country. We are convinced that the 1859 Treaty is being downplayed." Bautista said.
COLA representative Rufus X said that before he made his presentation, that he wanted to ask the politicians present a question: Mr. Politician, has anyone put a gun to your head and told you that you have to represent them? Rufus X went on to say that he has been predicting on social media that the ICJ referendum vote will be an 89 percent no. Mek we "play crazy" and go to the ICJ: we will deliver Belize on a platter to Guatemala. Belize is a wealthy country. It is not Guatemala who wants it; it is the mighty United States of America that we are so in love with, he said.
Attorney Dickie Bradley attended the meeting and was called upon to speak. Bradley said that the leaders of the PUP who are present are miniscule: "they cannot fight this battle," he said.
Bradley narrated a story that he said was told to him yesterday by a magistrate whose office he had visited. According to the magistrate, at her church on Sunday their pastor urged them to vote yes in the ICJ referendum, and when she approached him and asked, where that instruction come from, she was told that it came from the government. Bradley said that is not the only pastor who had agreed to do it [to tell the congregation to vote yes]; in a much bigger denomination, another church leader had put the matter to his congregation.
Bradley cautioned the group not to underestimate the governing party. The United Democratic Party and the leaders in that party are committed to getting a yes vote, Bradley said. Do not have any illusion that they are going to leave people to vote how they want.
"The People's United Party is playing some serious 'Anancy' with the people of Belize, because they are also in favor of getting a yes vote. And the reason I came here, because for the first time in our history a handful of persons who are part of the PUP machinery have publicly said they are in favor of no. God be praised, because without that, 'all a wi just di run off wi mouth.' We cannot defeat the political people when referendum morning comes. The referendum law in Belize has been changed to support a simple majority. The PUP and the UDP have joined forces; they know about the compromise; supported the compromise; and they are committed to getting a yes vote.
"The Party Leader has expressed his personal views, but the party had not yet taken a position. That is amazing. The compromis was signed in 2008, and they nuh have a policy, they really di insult we. Don't insult us by telling us that the PUP no tek wah position," Bradley said.
Hon. Julius Espat said he was a little more optimistic. "But we do need help. We need the people from the outside to pressure the party. Hon. Espat said he has proposed to the party to request a simple vote of the 31 standard bearers, and that is the key to democracy. If we achieve that, then you will see what the real PUP position is. In the south, the four area reps have said no. The Belmopan standard bearer has not declared as yet," he said.
Espat said that the PUP Leader has said they will decide in January, "but I have told him that we can't wait until January.
The meeting ended without any agreement on a follow-up meeting, but all participants signed a book in which they placed their email address and cell phone numbers.
Following the meeting, which lasted almost 3 hours, some participants answered questions from the media. BTV Leader Maheia explained what the Belize Peace Movement is all about.
"The Belize Peace Movement is actually a movement with Belizeans who are opposed to going to the ICJ, and Belizeans from across the country. It's not a political movement. It's a movement of Belizeans who are concerned about the way this country is going right now. I want to thank the PUP members of parliament that showed up today. I mean, they didn't have to show up, but they showed up because they know that we are about not going to the ICJ and they know the hardships that we are facing as we try and educate the people about why we should not go to the ICJ," Maheia said.