BELIZE CITY, Wed. May 27, 2015–The Statistical Institute of Belize (SIB) indicated earlier this year that climate changes had actually triggered a halt in orange production in 2014, leading to a downfall in production, but a strong rebound in the citrus industry has yielded a major expansion in orange production—up by 129% for fruit and 121% for citrus concentrate—for the first quarter of 2015.
This has helped to fuel a promising 7.0% growth in the Gross Domestic Product (GDP)—which quantifies the value of what the country earns from goods and services—for the first three months of the year, according to data just released by the SIB. The production of total goods and services for the 1st quarter of 2015 totaled $733.8 million, $48 million more than the same time last year.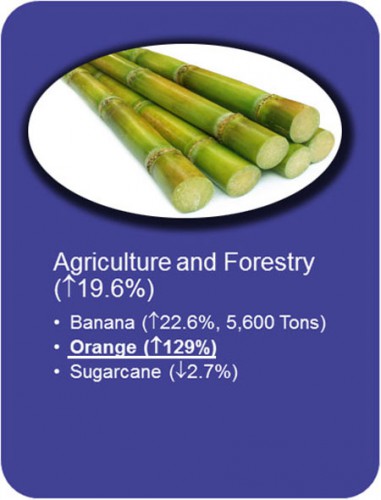 When we reported on the GDP figures last year, the news from the agriculture sector was grim. Production in the three major sectors—sugar, banana and citrus—was down by about 30%, leading to a fall in the value of primary agricultural products by a reported $26 million.
In fact, the agricultural sector had been struggling since 2013 and part of 2014, and it was on its fifth consecutive decline when we reported on its performance last May. The news is much better this year, as the Statistical Institute of Belize is reporting a strong 20% first quarter growth for the sector, with production of bananas up by 22.6% or 5,600 metric tons and sugar production up by 7.7% despite a decline in sugarcane delivery by 2.7%. Citrus production, meanwhile, registered at 114,500 metric tons or about 252 million pounds.
Angelita Campbell, Statistician II, attributed the increase in sugar production to greater extraction efficiency at the factory and a higher percentage of clean, fresh and mature cane being delivered.
The most marked decline this year was seen in the electricity sector, down 32% due to lower water storage at the hydroelectric facilities, which Campbell said had adversely affected hydro-production.
Meanwhile, the production of petroleum, which peaked at 385.2 thousand barrels in 2010, had plummeted to its lowest level since, at 143.9 thousand barrels for the first quarter of this year.
The first quarter GDP growth was also bolstered by a 10.5% increase in cruise tourist arrivals due to an additional 33,000 more visitors compared to the same period last year, leading to an increase of 6% in production in the hotel and restaurant category. Meanwhile, there was no significant change in the amount of overnight tourists.
The SIB also reported today on April external trade data and the consumer price index.
Statistician Tiffany Vasquez said that while Belize imported $647.2 million worth of items for January to April, an increase of $45.1 mil or 7.5%, domestic exports were down by $10.7 million or 5.2%, to $197.2 million.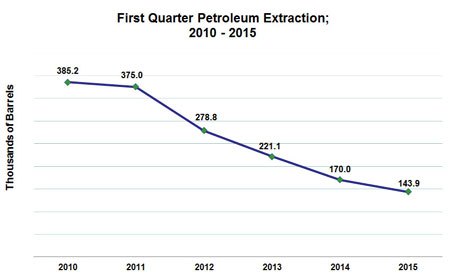 The fall in domestic exports was led by a decline in petroleum exports of $23.8 million, representing a drop of 70% in petroleum earnings, due both to a fall in world market prices as well as lower production in the sector.
However, all other major exports categories saw an increase: citrus showing the largest increase of $12.1 million or 22%, followed by bananas ($5.7 million or 17%) and sugar ($3.9 million or 21%).
Marilyn Pinelo-Lee, Manager – Economic Statistics at SIB, reported that the inflation rate for the month of April stands at -1%, which means that on average, prices are 1% lower than they were in last April.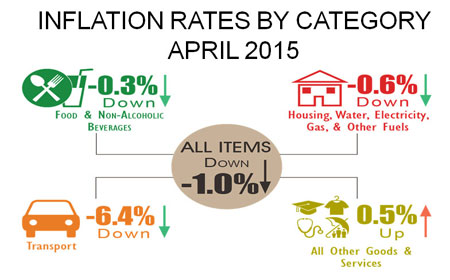 Consumers have seen substantial decreases in the price of liquefied petroleum gas (LPG), a mixture of butane and propane used for cooking, as well as fuel products, which also led to a fall in transportation costs.
While prices were down in three of four categories—food and non-alcoholic beverages (-0.3%); housing, water, electricity, gas and other fuels (-0.6%); and transport (-6.4%)—prices were up in the category of all other goods and services (+0.5%), which Pinelo-Lee explained, covers things such as school fees, medical fees and garments, along with other goods and services.
The Belize City area saw the greatest price ease, largely due to savings in transportation costs, while Dangriga saw the highest inflation rate of 0.8%, due to increases in prices in the transport and food and non-alcoholic beverages category.
Belize's April inflation rate was the lowest recorded for the Central American region, Pinelo-Lee said.