Sports
— 01 August 2014
— by Kareem Clarke
In May of 2012, Devin Daly, one of Belize's most promising young basketball players, who at the time was a fourth form honor student of St. John's College in Belize City, happened to be one of 15 junior 'ballers who were selected to represent Belize at the King James Amateur Athletic Union Classic tournament in Akron, Ohio, and later got an opportunity to further his educational studies in the United States, as well as to gain international training and exposure.
Based on a spectacular performance on the court among some of the best young talent in the United States, the 6 foot 3 inch rising star was recruited by a top university in Michigan, and Daly was therefore awarded with a full athletic scholarship to attend Lake Superior State University (LSSU) to play basketball while earning a Bachelor's Degree.
The young Belizean hopeful, who was 17 at the time, signed the contract and subsequently traveled to Michigan to enroll in the university, and today, Amandala met Daly, who is now 19 years old, as he made a short 2-week visit to his native soil, and he told us what he has been up to since his departure.
He said, "The winter has been very rough, but apart from that, I've definitely adjusted well in both academics and sports. I've really polished up my basketball skills, especially my 3-point shooting, and also my dribbling skills."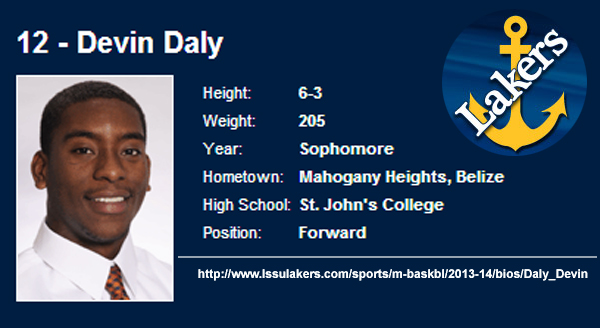 Daly currently plays the guard position for his school, and while has not made it on the starting lineup as yet, he has stepped up to become the equally important 6th man on the LSSU basketball team.
He is about to enter his third year of studies at Michigan's Lake Superior State University, and is majoring in Conservation Biology with a minor in Fish Management, which he explained, was influenced by the fact that there are scarcely any Belizeans who engage in that essential field of study.
After completing his studies, Daly aspires to either play professional basketball if possible, or continue school to procure a Master's Degree.
His message to young Belizean basketball aspirants who wish to someday make it to the big leagues whether in Belize or the US is: "Stay in school and make sure you get good grades because that way, you will be setting up yourself to get a scholarship if the opportunity arises, and always be positive and look on the bright side of things."
Devin, who hails from Mahogany Heights in the Belize District, was born to Jackie Graham and Henry Daly of Belize City.
We wish him all the best in his endeavors to achieve recognition as one of Belize's best young 'ballers.
Related Articles
Share
About Author
(0) Readers Comments