BELIZE CITY, Thurs. Aug. 9, 2018– Volleyball is not our national sport, but you couldn't tell yesterday evening after nightfall, as international volleyball fever apparently took over Belize City, and a record crowd of over four thousand fans poured into the Civic to support our national women volleyball team in their medal bid in the final game of the 20th Central American Women's Volleyball Championship against the Guatemala national team.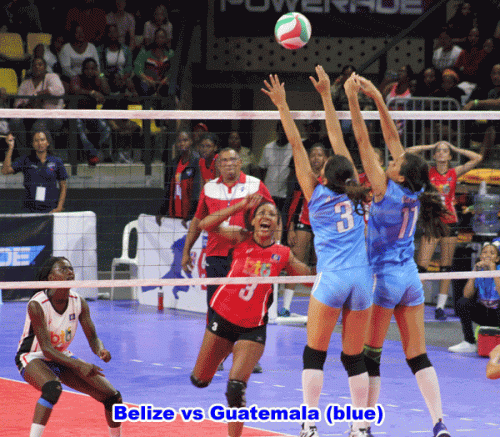 Despite gusty winds and sprinkling rain from a passing tropical wave after nightfall, fans lined up the entire length of the Civic Center outside western corridor to buy tickets, and traffic slowed to a crawl as vehicles filled the Civic parking lot and adjacent spaces on Central American Boulevard. Belize against Guatemala in any sport is a cause for excitement in Belize, and the medal situation indicated, according to Belize Volleyball Association (BVA) president Allan Sharp in a radio promotional interview that morning, that a victory was sorely needed for Belize to have a chance at the gold medal, after a history making performance on Tuesday, defeating perennial champion, Costa Rica, 3-1.
An unprecedented medal was on the line; Belizean fans answered the call; and our women responded.
Going into the final game of the tournament, El Salvador sported a 4-1 record, having suffered their first loss earlier in the evening to Cost Rica, who also ended the tournament at 4-1, after their big upset by Belize the previous day. Both El Salvador and Costa Rica had defeated Guatemala, whose record then stood at 2-2; while Belize had a 3-1 record going into the final game, our only loss being to El Salvador. A Guatemalan victory over Belize would put us both at 3-2, in a doubtful scramble for the bronze, leaving Costa Rica and El Salvador to share the gold and silver at 4-1.
Energized and inspired by the home fans, Belize jumped to a first set 25-23 win; but the more experienced and highly ranked Guatemalan team bounced back with two straight set victories, 25-23, 25-20, to lead 2-1 going into the fourth set. And it looked like it was all over for Belize when Guatemala sported an 18-14 lead. Somehow, our girls battled back to tie at 20-20. Again Guatemala jumped out to 23-21. We need to watch the replay; but Belize held on, and pulled out another 25-23 win, to knot the sets tally at 2-2. It was almost the same in the decisive game 5, which went to 15 points. Guatemala led 13-11, I think, and it seemed all was lost. But each time heartbreak seemed imminent, one of our super girls would come through, and usually it was our star spiker, Sherika Burton, electrifying the fans and stimulating the performance of teammates with her infectious enthusiasm and fighting spirit. Remarkably, Belize now led, 14-13, after another remarkable comeback. Would Guatemala tie, our could Belize garner the game winner?  It was a prolonged and nerve-testing see-saw rally that, appropriately, culminated with one final spike by Sharika. Pandemonium in the Civic!! Belize had won!! The place just went crazy with joy and jubilation, including tears of happiness and relief by players and fans alike.
It was a night to remember in Belizean sports history. "The noise was so loud, I couldn't hear myself think," remarked BVA president Allan Sharp after the game, acknowledging the great help the fans gave to the team in their quest for glory.
With three teams – Costa Rica, El Salvador and Belize – having similar 4-1 records, a comparison had to be made to the sets won-loss record, where both Costa Rica and Belize were also deadlocked with a difference of 7 (Costa Rica 13 games won and 6 lost, for a difference of 7; and Belize 14 games won and 7 lost, for a difference of 7). The final tie-breaker was made with the actual points tally in the different games, where Costa Rica had a slight edge, and thus took the gold; Belize received the silver; and El Salvador got the bronze.
 It didn't matter that much, not getting the gold, though it would have been great. Belizean fans got what they came out for, a victory over Guatemala and a first time medal in this tournament, after a splendid and memorable performance by our volleyball women, who made a mark in Central America with back to back victories against two of the top ranked teams, Costa Rica and Guatemala. A motorcade is reportedly planned for next Monday to celebrate our volleyball women heroes.