From 13 to 2! Club Atletico makes it to the fifth consecutive finals!
BELMOPAN, Wed. Jan. 23, 2019– The home and away championship series of the Belmopan Football Association (BFA) 2018-2019 Amateur 1st Division Opening Tournament kicked off on Saturday night, January 19, featuring defending champions and five-time finalists Club Atletico going up against a young and upstart Roaring Creek United, who have been missing from the finals for well over three years. (The tournament commenced in October, 2018, with 13 teams.)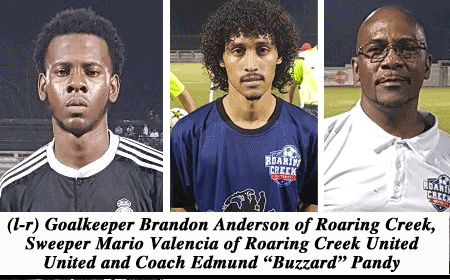 Entering their fifth finals in three years, and strengthened by the best acquisition of the offseason in striker Tyriq "Hammer" Ciego, Club Atletico looked all set to repeat as champions, making it two in five tries. However, Coach Edmund "Buzzard" Pandy and the young Roaring Creek United had other plans, and stood firm against the more experienced Club Atletico, who were out-hustled in the middle of the field. Roaring Creek proved that they are no longer young and innocent by their 3-0 global-score win over one of the tournament favorites, Wingz Stop Police, in the quarterfinals, and reinforced this assertion by clobbering Galacticos CF by a global score of 11-3 in the two-game semifinals series. It was no surprise, therefore, that the former youths and future stars from Valencia YWAM Boyz, who now form the core of the Roaring Creek United squad, held their own and matched up evenly to their experienced counterparts in Club Atletico.
As was expected, the Isidoro Beaton was flocked by hundreds of screaming fans from across the Roaring Creek Bridge, who easily drowned out the loyal city fans of Club Atletico. Game one proved to be an evenly balanced game where opportunities were concerned, with Roaring Creek United having more possession, but unable to create clear chances to get the ball past back-to-back and defending Best Goalkeeper, Orlando Galdamez in goal for Club Atletico.  Galdamez was tested on a few occasions by the attacking duo of Clifborn Neal and Ajani Garbutt of Roaring Creek, but neither striker was fortunate enough to break the tie. On the other end, Club Atletico suffered an early blow when the hired gunner, Tyriq Ciego had to abandon the match in the first fifteen minutes with a hamstring injury. This took away from Atletico's attack and ability to break down the Roaring Creek backline, anchored by a relentless Wallace Williams and a solid performance from sweeper Mario Valencia. Still, with capable strikers such as Julian Maldonado from Cayo, and Johnny Cardenas from Orange Walk, Club Atletico made every effort to establish dominance in the last quarter of the field; but the more energetic and quicker youths of Roaring Creek would have none of it, and were easily able to contain any attack from Atletico.
Sweeper Mario Valencia of Roaring Creek United was unquestionably the Player of the Match, and displayed exceptional calmness and ball handling skills and techniques whenever he came under attack. Also worth mentioning is goalkeeper Brandon Anderson, who, unlike previous occasions, was confident and flawless in goal for Roaring Creek.
At the end of ninety minutes, neither team was able to break the deadlock, setting up what is expected to be a hotly contested, nail-biting match this coming Sunday, January 27, at 4:00 p.m.  For Roaring Creek, captain and leader Jarrel Young will have to step up big in midfield to create better chances for his strikers. Alongside him, Jevon Scott will be required to cover and ensure that he neutralizes Myvette Paguada and Best Midfielder contender Amir Torres for Club Atletico. A lot will rest on Coach Buzzard Pandy, who must be complimented for his patience and the exceptional work he has done in turning the young men from Roaring Creek into skillful and disciplined warriors on the pitch. Coach Pandy will need to use his knowledge and experience to outsmart his counterpart, Micky Chavez of Club Atletico, to come up with a game plan that does not solely rely on speed.
Football fans in the capital and surrounding communities are excited, with most yearning to see the dethroning of Club Atletico; but it won't be easy. Reaching the finals for the fifth consecutive time is no easy feat, and speaks loudly of the continuity, key acquisitions, and superior management skills of Club Atletico manager, Roberto Copo.
The preliminary match at 2:00 p.m. will be the battle for third place, and will feature Galacticos CF of Spanish Lookout/Duck Run 2 going up against tournament favorites Juventus FC BMP, who were upset in the semis by none other than Club Atletico. The monster match-up comes up at 4:00 p.m.
If you are not there… you are nowhere!