BELIZE CITY, Mon. Jan. 27, 2020– The country saw a total of 4 execution-style murders, and another shooting victim, after 38 days, finally succumbed, all in the 4-day period from Friday to Monday morning.
The latest victim, Ronald Anthony Michael, Jr., 28, a laborer of Giles Street, died this morning, Monday, after a gunman shot him in a yard on Ordonez Street.
Yvonne Michael, his mother, told us that she had a premonition that something bad was going to happen to him, and warned him to be careful. Last night he called his sister and told her and his mother not to worry about him, because he was fine and was being careful.
At about 10:00 this morning, Michael was cutting grass in a yard on Ordonez Street when a gunman came from behind a house on Police Street, separated two sheets of zinc to gain entry into the yard, and shot Michael in his head from behind. The gunman then escaped back into Police Street and disappeared.
Michael's friend, a girl whom he was assisting in cleaning the yard, said that she was on the verandah and a little fire, which was burning bush and other material that had been gathered as part of the yard-cleaning, was ablaze near the house, and she went inside briefly, and then heard an explosion, and she thought that it had been caused by some object that was in the flames, but when she came out to check, she saw Michael on the ground, bleeding.
The girl called police, who went to the scene and took Michael to the Karl Heusner Memorial Hospital. At the hospital, however, Michael was pronounced dead.
Police believe that Michael was killed because of an ongoing feud between rival groups in the area. So far, no one has been arrested.
Michael's death devastated his mother. On our visit to the family this afternoon, there were many friends and relatives who came to sympathize with the family.
Ronald Michael, Jr., the father of two children, 1 and 8 years old, is survived by his mother, Yvonne; his father; 5 sisters and 2 brothers. He is also survived by a host of cousins, nieces, nephews, uncles and aunts.
Ronald Michael is not believed to have a police record.
The string of executions started at about 6:30 Friday evening in Dangriga. Darrell Bermudez, 32, a shop owner, was shot to death in his store, Hide and Seek.
Bermudez was serving a customer when a gunman entered the store and shot him multiple times, after which he escaped out of the shop.
Bermudez was struck in the head, back and upper right hip. He fell to the floor and died almost immediately.
A member of Bermudez's family who was alarmed by the gunfire rushed to the store, where she saw Bermudez lying on the floor in pools of his blood. He was already dead.
Bermudez's family and the police are at a loss for a reason for the senseless shooting.
Bermudez is not known to police, and his family said that he was a hard-working businessman, and that he was not a violent person, and was not affiliated with any gangs.
Bermudez's murder occurred at 6:30 on Friday evening, but at about 10:30 that same Friday night, businessman Ernesto Williams, 44, came out of a building on Cemetery Road and was walking to his vehicle when a gunman who was waiting by his vehicle shot him multiple times and then escaped into nearby Trench Alley, also known as Pregnant Alley.
Williams was shot three times in the head and died almost immediately.
Police from the nearby police booth located on Cemetery Road rushed to the scene, and found Williams lying on the street near Trench Alley. He was rushed to the Karl Heusner Memorial Hospital, but was pronounced dead on arrival.
Police said that the motive for the shooting did not seem to be robbery.
Williams was the owner of Sky Deck Lounge on Baymen Avenue, where the Felix Brothers were executed on the evening of July 19, 2019, while they were playing pool in the upper flat of the two-flat building.
The reason for Williams' fatal shooting is not known.
Then, at about 7:30 last night, Sunday, a gunman invaded a yard on Toucan Street in Punta Gorda and shot to death Denroy Nicolas Sambula, 23, a laborer of Punta Gorda.
Sambula was rushed to the Punta Gorda Town Community Hospital, but he was declared dead on arrival.
ACP Joseph Myvett of the Police Department said that Sambula had just exited his mother's house and was going into his house in the same yard, behind his mother's house, when the gunman, who was lurking in the shadows, shot him in the chest and escaped.
On their arrival on the scene, police saw Sambula lying on the ground in the back yard, face up, with a gunshot wound in his chest.
Police have detained several persons in connection with the shooting, but the motive for the shooting is not yet known. Myvett said that Sambula was to have appeared in the Supreme Court on a charge of attempted murder, and they are looking at this angle, which may have been a factor in the murder. They are surmising that Sambula's shooting could have been an execution.
Additionally, Brian Harris, 37, a laborer of Belama, Belize City, who was shot in the chest and abdomen by an unknown gunman at about 9:00 Monday night, December 16, 2019, in the Mile 17 area of Hattieville, succumbed to his injuries yesterday at the the Karl Heusner Memorial Hospital.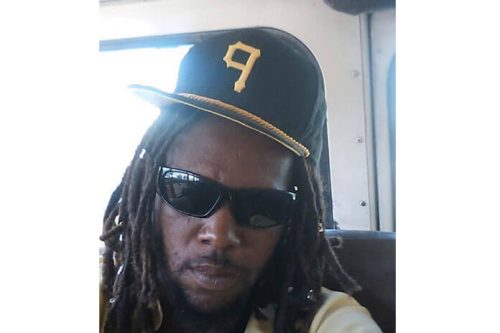 Brian Harris succumbs 38 days after being shot
Harris, after he was shot on December 16, fell into the bushes on the roadside and was found the following morning, Tuesday, December 17, by a man who was walking on the road.
After he was found, Harris told police that while he was walking on a picado (narrow road in the bush) in the Mile 17 area, he heard a barrage of shots, and later realized that he had been hit.
Harris was rushed to the Karl Heusner Memorial Hospital, where he was admitted in a serious condition.
After 38 days, however, his condition took a turn for the worse, and yesterday, Sunday, January 26, he died.
No one had been arrested for Harris' shooting.
Feature Photo:  (l-r) Ronald Michael, Darrell Bermudez, Ernesto Williams, Denroy Sambula.