I first met Bert Tucker when I was a teenager in 1981 in Belize City. Tucker was approachable, and while all the talk was of him working as an advisor for two of the most dynamic Caribbean PM's in recent history, Michael Manley of Jamaica and Maurice Bishop of Granada, he was relatively grassroots.
He was the first to introduce me to SWAPO (Southwest African People's Organization). In Namibia, SWAPO was waging a military and political struggle against the aggression and repression of the apartheid regime in South Africa. As a front-line state, Namibia was being punished for its support of the African National Congress (ANC) struggle in South Africa, and for being in alliance with those African states that opposed the racist and tyrannical government in Pretoria.
Tucker was frequent around the Islamic Center in Belize City, where several prominent black intellectuals and activists would gather at the Salaam restaurant located on Racecourse Street for rap sessions.
Tucker's contribution to BREDAA was in refinement of the organization's objectives and implementation. To this end, in December of 1985, while on one of his frequent visits to LA and meeting with BREDAA members, he introduced the organization's members to a prominent Pan Africanist activist and professor, Ron Wilkins, in Los Angeles. Wilkins was an influential and respected activist in the black progressive circles in the city and had national and international connections with the Pan African struggle. He was also a popular host of a radio show called "Continent to Continent" that centered on Africa and the global black diaspora and was broadcast on Pacifica Radio KPFK 90.7FM in Southern California. This was a pivotal connection for the young group that would later catapult BREDAA to prominence by making history with the launching of the Belize Caribbean Pulse radio program on KPFK in Los Angeles.
The man Ron Wilkins chaired an active grassroots Pan-Africanist group called the "Patrice Lumumba Coalition" that would sponsor the annual African Liberation Day on May 25th that recognized the African nations' struggle for independence and political and economic freedom from European colonization in the black diaspora. The Patrice Lumumba Coalition had chapters on the east coast in NY and Washington DC. In 1986 the Patrice Lumumba Coalition invited BREDAA to deliver the main address at what would be our first African Liberation Day participation held at the Black Employees Association auditorium on Crenshaw Boulevard in South-Central Los Angeles.
The United Black Association for Development (UBAD) was the first Belizean group to celebrate African Liberation Day in Belize City in the early '70s. All the militant and black-conscious organizations in Southern California would be present and, as chairman of BREDAA, I was tasked with delivering this important message to our black brothers and sisters in the struggle. This was a time when the anti-apartheid struggle and cries for American corporations to divest were reaching fever pitch. I requested assistance from Bro Ishmael Shabazz, a former officer of the Belizean 60's black group (UBAD), and Bert Tucker in framing the right tone and message. Tucker wrote an original draft of the speech which became the foundation of the African Liberation Day address delivered on May 25, 1986. This event gave BREDAA more exposure and credibility, and enabled it to build new alliances within the black struggle in America and globally.
The Black Employees Association headquarters, located in the heart of the Black business core of the Crenshaw district in South-Central LA, is a powerful voice that defends black employees against age, race, and sex discrimination in the workplace. It was headed by a strong, confident, and conscious African American brother named Clyde Johnson, who became an important ally of BREDAA. Mr. Johnson, via his close associate, Ron Wilkins, gave the BREDAA organization unimpeded access to the BEA building headquarters to hold meetings and host various town hall events at no expense. It was at the BEA auditorium that BREDAA hosted a SPEAR (Society for the Promotion of Education & Research) delegation from Belize in November 1989 and a historic town hall meeting on the (MAA) Maritime Areas Act in 1991.
A building down from the Black Employees Association was the Black culture and cuisine restaurant, the famous Cafe Afrique. Its owner, Bro Shaheed, was extremely supportive of BREDAA's work and a fan of the Belize Caribbean Pulse radio show. He brought with him from Georgia the deep southern cooking style coupled with Caribbean influence from its Guyanese master chef, BREDAA's own officer, Michael Branche. The Cafe Afrique was popular with college students and had live music and poetry presentations on weekends. This was the unofficial place of meeting for us, where we entertained Belizean visitors and guests like Mose Hyde and Andy Palacio, among others. The owner made the Café space available to the organization, and we held several fundraising events there.
Building this working relationship within the broader American black community gave BREDAA leverage, credibility, and access way beyond the Belize Caribbean diaspora. This also led to BREDAA working with the (AAPRP) All African People's Revolutionary Party, led at the time by the late, great Stokely Carmichael, aka Kwame Ture.
The AAPRP's West Coast representative was a colorful brother, Ken Carr, aka Dedon Kamathi, who also hosted a popular show on KPFK (Freedom Now). Carr, an African American graduate of UCLA who interestingly works on the side as a real estate agent and surf buff, grew up in Venice Beach, California. Carr was a high-energy brother who was a strong ideologue of scientific socialism and Pan Africanism. He was brilliant and well-traveled in Africa and an expert in geopolitical matters relating to the African continent and the black diaspora. The AAPRP joined BREDAA in co-hosting the SPEAR delegation visits to the Belizean community in Los Angeles in November 1989, and its members, dressed in brown fatigue, provided security for the events. Ken Carr would later accompany members of BREDAA to Belize in May of 1990 at the invitation of SPEAR to participate in the African Liberation Day celebration. It is worth noting that SPEAR had earlier invited and hosted Stokely Carmichael in Belize in 1987.
A week before the September 4th general elections in 1989, Bilal Morris became the first Belizean journalist to conduct a full week of live coverage of election analysis on the air from Belize City via BREDAA's Belize Caribbean Pulse radio program, reaching a diaspora and beyond. The news bulletin on the elections was shared across all five stations of Pacifica from the West Coast to the East Coast. It was historic and unprecedented. This, of course, was before social media, through which anybody can spew whatever they believe as facts without context or source.
In March of 1990, when an unknown Haitian priest visited Los Angeles, he reached out to us from contacts we had established with Haitian representatives on the Belize Caribbean Pulse over the years. His team contacted Pacifica Radio for a possible interview. They were recommended to the popular radio magazine that catered to a black and Caribbean audience, the Belize Caribbean Pulse. Future president, Jean-Bertrand Aristide of Haiti, was entertained in an exclusive in-depth interview with live call-in listenership participation. It turns out that was his only media coverage in the city. Months later, when Aristide won a landslide victory, all of the so-called mainstream media were chasing him.
That same year, BREDAA had obtained press credentials from Pacifica Radio for one of our officers, Michael Branche, who was visiting Jamaica, where he was granted an exclusive live interview with then Jamaican foreign minister, Bruce Golding, for the Belize Caribbean Pulse.
In June of 1990, a few months after Nelson Mandela was finally released from prison after 27 years, on his first visit to the United Nations, Belize Caribbean Pulse carried his full speech live. For BREDAA members who had played significant roles in the anti-apartheid student movement, it was a major victory.
BREDAA also cultivated relationships with various Central American progressive movements such as the Farabundo Martí National Liberation Front (MFLN) and the Sandinistas that had local support and support groups in Southern California. On November 27th, 1991, BREDAA, Architects & Planners in Support of Nicaragua (APSNICA), and Nicaraguan Elections Information Project (NEIP) jointly hosted Ray Hooker, Nicaraguan congressman in the national assembly, executive director on the National Commission on Autonomy, and director of community development programs for the Atlantic coast. Mr. Hooker is a black/Miskito Indian from the area of Bluefields, Nicaragua. He became internationally known in 1984 when he was abducted by the Contras and taken to Honduras. He was later released due to the international campaign to save his life. Ray Hooker as a member of the Sandinista revolutionary government represented the Bluefields area on the Atlantic coast of that country. The event was held at the oldest historic black activist First A.M.E. church in Los Angeles and included a cultural presentation organized by BREDAA of a Belizean Garifuna dance group under the leadership and direction of the late sister, Dana Martinez. In addition, I interviewed Mr. Hooker as a special guest on the television version of the Belize Caribbean Pulse program produced by BREDAA.
1991 was a high-powered year in Los Angeles, and BREDAA was extremely energized and active. While the radio show BCP on KPFK was at its zenith, there was controversy brewing. Nevertheless, the organization was fully deployed in the community.
The (MAA) Maritime Areas Act became a major political issue in Belize during this time, but there was little information provided to the Belizean diaspora. Guatemala has a long-standing claim to Belize as a part of a dispute originating between colonialist countries, Spain and Britain. After Guatemala attained its independence from Spain in 1821, they renewed the claim to Belizean territory that dates back 200 years.  Over the decades, various military regimes in Guatemala have made numerous threats of invasion, and there have been failed negotiations, including the Webster Proposals and Heads of Agreement, to name a few.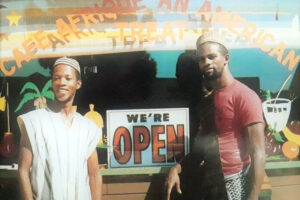 Britain, whose agenda it was for Belize to go to the ICJ, also initiated an international campaign to push the Price/Esquivel/Musa/Barrow governments to agree to taking the "claim" to the U.N. court. The contentious debate to take the dispute to the (ICJ) International Court of Justice in 2019, which BREDAA campaigned against, was approved through controversial referendums in both countries.
Guatemala demanded that Belize lower its referendum threshold from 60% to 50%, making it easier to achieve. In addition, thousands of Guatemalan citizens who resided in Belize legally and illegally voted in the referendum, while Belizean citizens abroad were rejected from participation. The government of Belize capitulated and made the adjustment to accommodate the intransigent Guatemalan regime. The referendum was eventually approved by a small majority of those who participated. The fate of Belize now hangs in the hands of a foreign jurisdiction at the U.N. ICJ court.
However, in 1991 via the Belize Caribbean Pulse, we did our best to keep the community informed, but it was a challenge. BREDAA concluded that since the local consulate office was not being proactive on the subject and other Belizean groups were muted, we would organize a town hall meeting for Belizeans to come out and discuss this especially important issue that could have long-term effects on Belize's future. The event was held at the Black Employee Association building and was hosted by Nuri Akbar and included panelists Kenworth Tillett, Nuri Muhammad, and a representative from the Guatemala Maya refugee community, Mr. Philippi Rojas. Kenworth Tillett was one of the youth leaders that had led a mass uprising in March of 1981 against the proposed "Heads of Agreement" to allegedly settle the territorial dispute between Belize and Guatemala. Nuri Muhammad is a former Minister of the original Nation of Islam (NOI) in Belize, a community activist, and had recently become one of the volunteer hosts of the Belize Caribbean Pulse radio program. Philippi Rojas is an indigenous Maya who represented the Guatemala Cultural Committee of Los Angeles. He made a historic presentation repudiating Guatemala's claim to Belize and chronicling its military regime's history of genocide against the indigenous Mayan people.
In many respects the meeting was historic; it was the first time Belizeans were hearing directly from the voice of the indigenous Maya who make up 43% of the Guatemalan population. Sadly, no government official felt it necessary to brief or consult with the Belizean diaspora. None of the other prominent Belizean groups, including the bloated Belizean Consortium, initiated any form of outreach education on the MAA in the diaspora. This docility was partly influenced by the party politics of Belize and the manner in which that partisanship tentacle extends to impact social movements in the diaspora community. It also reflected the regressive and archaic thinking of having a love/hate relationship with its Belizean family abroad.
The MAA legislation seeks to delimit Belizean maritime territorial waters and mineral rights under the seabed, among other things, to accommodate Guatemala's demands. Despite local opposition in Belize led by prominent Belizean politicians, Hon. Philip Goldson and Hon. Derek Aikman, and the lobbying efforts of BREDAA from abroad, the legislation became law and remains so to this day. Both the People's United Party (PUP) and United Democratic Party (UDP) leaderships joined forces and supported the MAA.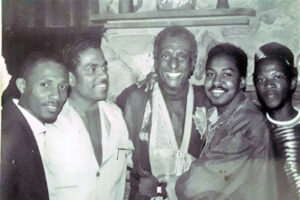 The townhall was an overwhelming success in that the Belizean people came out, demonstrating their active interest and voicing concerns of being left out of the debate. In addition, having a native Guatemalan Maya as a panelist was unprecedented. BREDAA took the effort further by recording the entire townhall using multiple camera angles with an ally who is a professional filmmaker and documentarian, Jamaal Gorey, and directed the production for the new television pilot version of the Belize Caribbean Pulse that was in negotiation with Continental Cablevision based in Los Angeles. The town hall series was later broadcast in Belize on Channel 7 television and via audio on the Belize Caribbean Pulse on KPFK in Los Angeles.