Edward A. Laing was one of Belize's finest minds and intellects who rose to the highest levels of international jurisprudence when he was elected with the highest approval to the International Tribunal for the Law of the Sea and the International Court of Justice at The Hague. He also taught at several universities in the U.S. and served as Belize's ambassador to the United State and the United Nations.
Laing was the brain behind the concept and birth of the Belize Consortium which was an idea to organize a transcontinental Belizean organization that could leverage the human capital from Belizean abroad, become a lobbying force on behalf of Belize interest, and support various economic causes in the homeland.
Brilliant idea, but in hindsight there were several endemic impediments such as toxic party politics, the perception of elitism, and, in my judgment, the most damning the lack of youth participation. These were not faults of Laing, but the tragic residual effect of a "settlement mentality" that Belize has not been able to shed despite its political independence over a quarter-century ago on Sept 21st, 1981.
A major conference that was to focus on organizing Belize diaspora as a precursor to the launching of the Consortium was scheduled for Sept 28th, 1985 on the campus of UCLA. The conference was billed as the "Conference on Participation in Belizean Development," and the occasion would be BREDAA's public debut.
The meeting had as speakers international law expert, ambassador, and professor, Edward Laing; Ms. Dorinda Henderson, an executive banker; Belize's iconic politician, Hon. Philip Goldson, Minister of Social Service in the 1984-89 UDP government and advocate of Belizean diaspora participation; Robert Bennett; Kenrick Leslie; Clive Gillett; Roland Yorke; Lillian Steele; Sonia Goff; Sedrick Arnold; LA City Council member Robert Farrell; Elaine Middleton; and Belize's honorary consul, Paul Warren.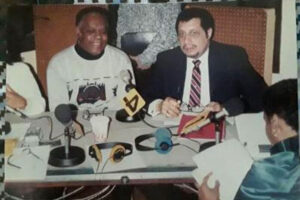 BREDAA felt this was the perfect venue to introduce its presence and a task force was given the responsibility to draft a presentation paper to be delivered by the new chairman, Nuri Akbar. BREDAA was not involved with setting the agenda for the conference and we were not tabled to officially speak. We understood there was going to be an open session for participants to speak and dialogue. BREDAA was not attending to ask questions but to make a statement regarding land redistribution, land rights, and land ownership by Belizeans at home and abroad and to draw attention to absentee landlords who were not utilizing these lands while Belizeans were being neglected and landless in their own country.
Based on previous experience with the various Belizean town halls and the Stalinist tendency of the party hacks at meetings, we were prepared to speak come hell or high water.  The land is a highly explosive issue in Belize when it comes to black people's rights and access to ownership while everybody else seemingly gets a free ride.  We felt this was the right moment to bring this agenda to the forefront. A carefully drafted statement by BREDAA outlining these concerns was approved by its new executive.
BREDAA was the sole youth representation in attendance at the conference despite its being held on a college campus. On the day of the meeting, after sitting through hours of several presentations, none of which dealt with land rights or land access for Belizeans at home and abroad, BREDAA members present were in disbelief.
Then there was the atmosphere of curtailing the input of young people, and particularly BREDAA, by some individuals associated with the Belize Concerned Association, who were a part of the conference planning.  Again, Professor Laing, who was not Los Angeles-based, was totally unaware of the local politics being played out and how it would later prove debilitating for the Consortium's efforts and longevity.
The only speaker whose message reverberated with BREDAA members present was Ms. Dorinda Henderson, who attacked and undressed the banking institutions in Belize as predatory, not being transparent, and not publishing their annual/quarterly financial reports for the general public to see exactly whether these banks were redlining and discriminating against certain Belizean communities in their lending, investments, and loan practice.
By late afternoon when the open session finally came, instead of standing in the audience to speak, I walked up on stage shadowed by Edgar X Richardson and Ishmael Shabazz to the podium and gave a firebrand lecture that left organizers stunned and unsettled even some of BREDAA new members.  I began reading the prepared statement and then the ancestors' warrior spirit enveloped me, and I went into defensive and war mode and drifted off-script. But while delivered with passion and illuminating our core values, I broke BREDAA's protocol. I railed against the exclusion of youth participation, lack of interest in the economic situation impacting black Belizeans and land redistribution in the conference agenda.
However, interestingly, a key organizer present was not unsettled. Ambassador Edward Laing approached Shabazz and myself after the "outburst," as a few detractors described my performance, and stated how impressed he was with the spirited energy and points I highlighted in waking up the audience. He also made an apparent reference to UBAD and told Bro Shabazz, "You know how to find them," and referred to the legendary militant youthful UBAD leader from the '60s and 70's, Evan X Hyde, who was just 21 when he took the reins of UBAD.
Also in attendance was Miss Alexandra M. Coye, better known as Sandra Coye, a Belizean legendary longtime activist and prominent academician, Resident Tutor at the University of the West Indies Department of Extra-Mural Studies (UWI), and thinker who was visiting LA and known to us sat among BREDAA members at the conference.
After my unsanctioned lecture, Sister Sandra Coye rose to speak and in her own eloquence gave some needed "backative" to my earlier statements and BREDAA position.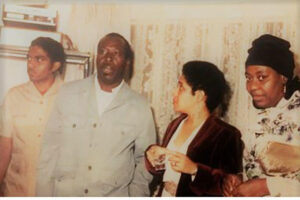 Coye had had a cordial relationship with Bro Shabazz and me that dates back to Belize. In 1980 as an art student of the great Philip Lewis, I had worked with Sandra Coye, artist/painter Philip Lewis, Louis Belisle and Dickie Straughan, among others, to campaign for the former Seaview Hospital site to become a cultural center.  The group's lobbying effort was ignored by the hirelings on Independence Hill, and Instead, the property was made available to the Mexican government for a cultural center.
In the extended months Coye was in LA, she attended a few BREDAA meetings and engaged in some serious discussions relating to the challenges facing the black struggle and its future.  We respected Sandra Coye for being real and black-conscious and for never wavering or apologizing in her support of issues that are important to and affect black people in Belize.
Over the years we received word that our sister, Sandra Coye, has had some health challenges relating to her eyes, thus affecting her vision. Belize is a country that has few safety nets for its citizens and tragically has a history of neglecting its "diamonds" of human capital.  The tragic case of Belize's first Governor-General, Dame Minita Gordon, reflects the fact that Belize is still captive to a "neo-slave settlement mentality" perpetuated from one generation to the next by its colonialistic education system administered via religious institutions with pedagogy from the 15th century.
Despite these new physical challenges, Sandra Coye continues to be a voice of conscience and radical thought via the radio waves dispensing her ideas, critique, delineation, and solutions emanating from her years of experience and her brilliant mind.
It was also my first encounter with Professor Edward Laing, and would not be the last. Laing gave me his business card and we began exchanging correspondence where I sent him the material of BREDAA's work in the community. We had no idea that this would lead to some intriguing family discovery in the years ahead that we were indeed blood relatives and first cousins.
I endured some admonition from senior brothers Shabazz and Edgar X, who did not disapprove of the content of what I said but the fact that I went off-script. Later the organization began preparation for the upcoming Consortium formation conference scheduled for later that same year.  Whether the Consortium would embrace what we presented was left to be seen. BREDAA's presence was felt and it shook things up while setting the tone for what was to come in the intervening years ahead.  Shabazz was fond of saying the struggle is not a sprint, but a marathon.
While Ambassador Laing expressed his appreciation for what was said, it created an image of the young members of BREDAA as militant and gave credence to the criticism by some older traditionalist folks who were in the leadership of the Concerned Belizean Association (CBA) and its president, Roland Yorke, Dellone Pascasio, Bob Bennett, and Paul Warren, the first Belize consulate rep in LA, among others. Instead of embracing youth participation, they challengeed it.  The attempt at marginalization of the youthful leadership of BREDAA became contentious over the years as the organization grew in strength, popularity, grassroots credibility and prominence in launching the Belize Caribbean Pulse in the communities in Southern California.
But the unspoken root motivation behind their criticism was "political" and the fact that BREDAA was a genuine "nonpartisan" group and we were adamant in maintaining that position. The position was an integral part of our strength and a bold step in breaking that old debilitating chain of the party before the nation.  Putting the Belizean people first over toxic party politics was our blazing sword.  The older political party affiliates could not grasp this novelty and it sent them insane. The position went against the norm with the Belizean organizations in the diaspora. While they claim to be politically impartial, in truth their leadership was mostly represented by political party hacks aligned with the old National Independence Party (NIP) and its offspring, the United Democratic Party (UDP).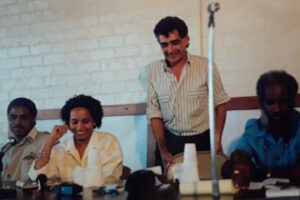 Some historians have argued that this is the result of the long political dominance of the People's United Party (PUP) and its political victimization years. Many of these older Belizeans who fled had worked in the civil service sector of Belize when it was still a crown colony of Britain in the '60s and '70s, and Rt. Hon. George Price was the PUP's Maximum Leader. Whether accurate or not, a vast majority of black Belizeans abroad were decidedly sympathetic to the NIP/UDP.
As we moved into the late '80s and 90's the political polarization in the largest Belizean diaspora in America began to show a glimmer of political maturity. This was manifested when BREDAA set the example by hosting and accommodating representatives from both the Government and the Opposition and the Society for the Promotion of Education and Research (SPEAR), former Minister turned activist, Hon. Derek Aikman, and in more recent years members of the Belize Progressive Party.
We gave equal time on Belize Caribbean Pulse and provided access to KPFK radio through long established contacts with the station and hosted them in other town halls and community events in Los Angeles.  In spite of the fact that old habits die slowly and hard we remain hopeful. Even if it is a small step into the future, we believe that BREDAA's decade-old popular radio magazine on KPFK 90.7 FM and its content of non-partisanship and a focus upon Belizean nationalism and issues-oriented had a significant impact in shaping the new mature vibrations among Belizeans in Southern California where party politics are concerned.