BELIZE CITY, Thurs. May 2, 2019– Though originally scheduled for 3:00 p.m. on Labor Day, the Belize District 2018-2019 1st Division Closing Season championship final between defending champion Barrack Road FC and Caesar Ridge FC did not get under way until around 3:30 p.m., the once traditional time for some epic football battles at the MCC in years past; and Belize City football fans were treated to an exciting contest that ended dramatically in overtime. Though the quality of play was not impressive, and the playing surface atrocious, with clouds of dust a regular occurrence, there were some individual displays of football skills from a few players that makes the prospect of a new Belize City semipro franchise seem feasible.
Harold Thompson gave Barrack Road the lead at the 12th minute, but Sydney "Buck-it" Bradley equalized for Caesar Ridge at the 30th minute; and the score remained deadlocked at 1-1 the rest of the way in regulation.
The same two teams had met in the semifinals of the Opening Season back on December 22, 2018; but Buck-it had been ejected from that game, where Barrack Road prevailed 3-1 over Caesar Ridge, and went on to the championship of the CYDP 1st Division Tournament that was endorsed by the BDFA as its Opening Season. Earlier in that playoff, in the quarterfinals, Buck-it had risen to stardom, after scoring the tying goal, sending the 2nd leg quarterfinal against City Boys into overtime; and then scoring the game winner in overtime.
Yesterday "in money time" at the MCC, Buck-it again delivered; and displayed a tenacity and ability to rise to the occasion reminiscent of a few great strikers of the past.
Our Amandala story, "Buck-it is a star…" from our December 20, 2018, issue was no idle claim.
Belize is a strange place, that tends to overlook our "wealth untold." We saw another superlative young talent, Orlando "Bredda" Velasquez among the fans at yesterday's game, and had to wonder at the potential being wasted and untapped in Belize football. Incidentally, Buck-it was not the only outstanding double-talent in the Caesar Ridge line-up; San Pedro Tiger Sharks' young point guard, Francis Arana, who debuted briefly with FC Belize as a 17-year-old a few years ago, was the right defender yesterday for the champion Caesar Ridge football team.
Early in the second half of overtime yesterday, Buck-it had sent what could have been the game winner just over the cross bar after a scramble at the edge of the eighteen, as he was too eager with a right foot shot at an open goal.  When his second opportunity came a couple minutes before the long whistle, with Barrack Road goalkeeper Derol Roches coming out to narrow the angle along with support from recovering defenders, Buck-it was calm under pressure, feinting right, then going left with one touch, before driving a low left foot shot into the undefended corner… goooaaalllll!!
Also among the fans at yesterday's championship game was youth football coach Elmer Rhaburn, who had brought out the 11-year-old little Buck-it on a Caesar Ridge Under-12 championship team back in 2007; and Elmer was thrilled to witness another exuberant display of consecutive acrobatic summersaults by Buck-it in celebration of their victory and championship.
FFB Senior Vice-President Marlon Kuylen and Vice President Cruz Gamez were on hand at the post game awards ceremony, where Derol Roches of Barrack Road received the trophy for Best Goalkeeper, and Deon Cacho for MVP of the regular season; while Sydney "Buck-it" Bradley got the Playoff MVP trophy.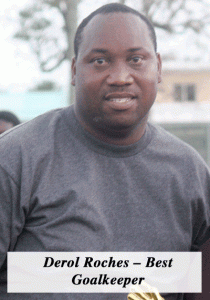 Both teams, Opening Season champions, Barrack Road FC, and Closing Season champions, Caesar Ridge FC will now represent the Belize District in the Football Federation of Belize (FFB) sponsored 1st Division Inter-District Championship, which is expected to commence next weekend with home-and-away knockout series.