BELIZE CITY, Thurs. Nov. 24, 2016–On Saturday, November 19, the 34th Central American Senior Table Tennis Championships concluded in dramatic fashion at the SCA auditorium in Belize City. Beginning on Wednesday, November 16, it was a historic moment for Belize to be the host country with seven nations and their respective teams participating.
In the men's championships, Mexico's Jose Ricardo Villa Can placed first; and in the female championships, Estefania Ramirios from El Salvador topped the tournament. In men's doubles, the Mexican duo of Jose Ricardo Villa Can and Miguel Lara Escalante brought home the gold; while in the female doubles, Estefania Ramirios and Emme Arias delivered the victory. In mixed doubles, Guatemala's Kevin Montufar and Mabelyn Enriquez were victorious. The overall TEAM category saw Mexico as champions for the male division, and Guatemala as top finishers for the female division.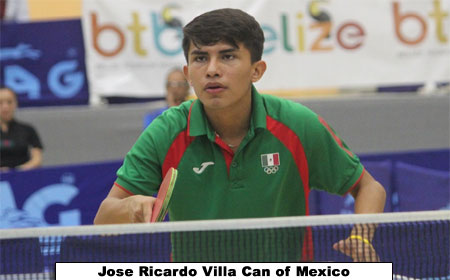 One of the big stories of the tournament is the emerging young TEAM Belize, featuring all junior players – Latrell Solis, Taye Parkinson, Terry Su, Manuel Castellanos, Amiri Hoare, Kevin Chen, Devesh Hukmani and Rohit Pagarani. Belize's participation in these championships is a bold move on the part of the Belize Table Tennis Association (BTTA), showing a strong sign of confidence in our youth, and speaks to the deliberate focus on pushing for youth development in our sport. Our team was coached by Gabriel Guerrero and Juana Barbara.
Of course, a tournament of this magnitude could not have been possible without the full support of the Association and the generosity of our sponsors. We are grateful for the support of the Belize Olympic Committee, Belize Bank, BTB, Benny's, BTL, Brodies, Atlantic Bank, Crystal, Powerade, KBH, Courtenay-Coye, BEL, Mikado, Brothers Habet, Barrow and Williams, Smart, Mirage, Gentrac, Fantasy 5, and Best Western.